What's up Goal.com readers!
I'm back to share some more stories about my time as professional soccer player. Excited to see that MLS is almost back. The Whitecaps are a bit underrated heading into the new season but I enjoy that fact. Let's take a few teams by surprise. Have questions or thoughts about my blog? Be sure to follow me at (
@D6MERIT
) on Twitter. Let's get this started.
I am proud to wear the Wisconsin armband and represent Green Bay.
No, there isn't actually an armband that I wear under my sleeves, but it's just a pride thing from making it in soccer from Wisconsin.
Because of the city's intense following of the Packers, everyone automatically assumes that Green Bay is just a football town. That is true to an extent but there is a lot of good youth soccer played out here as well. It wasn't weird for me growing up as a young soccer player. In fact, I was a huge Eric Cantona fan. I loved his swagger. Who else can hit a spectacular strike just past the goalkeeper then pop his collar and stare at the fans?
Not that I wanted to be cocky or arrogant, I just dug his confidence as a player.
Follow JAY DEMERIT on

That being said, I am a huge Packers fan at heart. Cheesehead all the way and yes I was pretty disappointed that the team didn't repeat this year.
In fact one of my top three moments in sports happened at Lambeau field.
As I am sure most of you are aware, there is a 150 year waiting list to get Packers tickets. Families spend generations hoping to get their chance to see the Green and Yellow. After playing in the World Cup almost two years ago, I was invited to sing roll out the barrel in front of 70,000 fans after the third quarter.
It might appear to be pretty intimidating but I wasn't nervous.
"Thank you tailgating!"
In true Green Bay style, we like to go for the traditional beers like Pabst Blue Ribbon, Old Milwaukee and Budweiser.
Kids under 21 years of age should have no knowledge of this but I think Wisconsin consumes more beer than any other state in the United States, so I think that's a honor that we're all proud of. Here's a picture of my singing: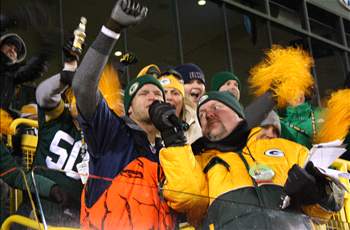 That ranks up there with playing in the World Cup and winning in the playoffs to get Watford promoted into the Premier League.
But back to my early days in soccer,
believe it or not I actually did play some American football freshman year.
The problem was I didn't really size up when I was 16. I was 5'5 at the time (I'm 6'1 now). As you guys already know from Rise and Shine, I'm kind of a late bloomer. I didn't really get into a high standard of soccer until I went to the University of Illinois- Chicago.
As difficult as it was for me to eventually get a chance with a team like Watford, I appreciated how those habits I learned continue to stay with me. Guys who are late bloomers, we don't have the benefit of time. You have to learn and learn quickly if you want to stay in the game. That's a mentality that I've had to keep. A rule that I've had to live by.
Not being on the radar for a long time allowed me to focus on developing my game and improving.
It can be difficult being in the spotlight from an early age.
I look at Omar Salgado's situation and some of the expectations that are being put on him as a teenager are unfair.

Omar's situation is always going to be a tough one because you put a lot of weight on his shoulders when you select a 17-year-old as the number one overall pick in the draft. The reality is that it is very rare for a 17-year-old year old to make an impact in his first year. That was the chance that Vancouver took but I also don't think that Vancouver expected him to be a superstar in year one. Two or three years down the line if he hasn't matured into something that really helps us as a team then you can start to ask questions.
In the first few years of his development, I think people forget what they were doing at 17. I look back at my own career at 17, I couldn't even imagine being the No. 1 pick in the MLS Draft.
Still, he's isn't here for no reason. He's good enough. It's up to him to develop his own qualities to make sure that he is a polished player after year two or three. For me, Omar is a work in progress. He's someone that can control his own destiny. The risk is at 17 is you get a big contract, you get all of the lights of the camera on you. There's all that pressure and some people don't do well under that. I think the ball is in his court as to how good he can be.
However, you can't teach his size. At 6-feet-4 and he's still growing into his body, he's a big guy.
He hasn't learned how to be physical yet. But I think that'll come in the future. His best quality is that he has a nose for goal. Especially in games, when he gets chances he finishes. But his biggest challenge will be getting into games. There's a lot of firepower upfront and there's going to be a lot of guys pushing for minutes in the two or three forward spots.
As much as you can talk about his youth, he's still a professional now. In a professional environment, you need to create competition and be a part of that competition. It's going to be up to him and his hunger to get one of those spots. Right now, it looks like he's going to be working really hard for one because he's with the U-20s at the moment and he's been coming off the bench. So it's a great challenge for him.
Yet, with the combination of his physical tools, there aren't many out there who can reach his potential especially in MLS. In MLS, there are usually two types of strikers, target men or guys who try to get behind defenders. Omar can be much more rounded as a forward. He's definitely got a lot of potential.
That's all I got for you this week.
Keep on Rising and Shining,
Jay