Eduardo Sebrango simply can't bear to bring his Montréal Impact career to a close.
It isn't for a want of trying on his part.
He retired last April after the Impact released him at the end of the 2010 campaign. The permanent transition from goal-scoring forward to youth team coach lasted two months before the Impact asked him to reconsider his decision.
He braced himself for another departure when last campaign concluded and the Impact entered MLS. Another try at coaching looked far more likely than continuing his career with a leap into the first division at 38.
But then Impact coach Jesse Marsch threw the former Cuban international striker a somewhat unexpected lifeline. The new boss thought Sebrango's performances for the second division side (six goals in 13 appearances) warranted an opportunity to impress on trial.
The odds were still stacked against Sebrango when he joined the Impact training camp, but he displayed his fitness, overcame any lingering doubts about his abilities at a higher level and secured yet another unexpected extension of his career. The club announced on Tuesday that Sebrango has signed a deal to remain with the team in 2012.
"I am really excited, happy and proud to be part of the Impact in MLS," Sebrango said in a statement released by the club. "I've been with the club for a long time and it's special for me to be a part of its first season in the top league in North America. I will try to do my best to represent all the former Impact players that wore the team's colors proudly over the years."
(Note: Spare a thought for two veteran defenders that failed to make the cut: club captain Nevio Pizzolitto and Simon Gatti. Pizzolitto, 35, played 17 seasons for the Impact, while Gatti, 31, joined the club in 2006. It is worth noting here that Marsch enjoyed plenty of choices at the back and considerably fewer options up front. Both Gatti and Pizzolitto are currently weighing offers to remain with the Impact in other capacities, according to the
Montréal Gazette
.)
Sebrango's chance to continue as an Impact at such an advanced age places him on the cusp of the MLS record books.
Despite his extensive spell in American and Canadian soccer, he has yet to feature in a MLS match. If and when he does so, he will immediately carve out a place among the oldest players to make their first appearance in the league, according to a survey completed and maintained by Elijah Miller of
Climbing the Ladder
and
MLSsoccer.com
.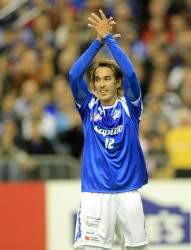 If the veteran striker takes the field against his former (second division) employers in Vancouver on March 10 or at any other point during the first two months, Sebrango (DOB: April 13, 1973) will become the fourth oldest player to make his MLS bow. Only Kasey Keller (39), Lothar Matthäus (39) and Faryd Mondragón (39) will have debuted at an older age.
(Note: Sebrango could vault over Matthäus into third place if Marsch waits to hand him his first appearance until May. That belated debut would also make Sebrango the oldest field player to start his MLS career.)
The prevalence of golden oldies pushes Sebrango a bit further down the list of oldest players ever to play in a MLS match. He will start the season outside the top 10 in that particular category – perhaps in the 13th spot between current MLS coaches Robert Warzycha and Robin Fraser – despite his vintage. If he plays in one match and retains his spot on the Impact roster until the end of the season, then he would climb up the charts and displace former Colorado and Toronto FC defender Rick Titus for seventh spot on the list.
Those particular milestones say just as much about Sebrango as a character and a player as they do about his advancing years.
Sebrango could have finished his career a couple of years ago and looked fondly upon his spell in soccer. He racked up more than 20 international appearances with Cuba before he emigrated to Canada in the late 1990s and established himself as a prolific scorer in the second division (104 goals in 270 games). Sure, he wouldn't have featured in MLS if he retired at that point, but that blemish wouldn't obscure his significant accomplishments in the game.
Instead of settling for that finale, Sebrango pushed forward and secured an improbable denouement through sheer force of will. For his persistence, he will likely conclude his career by playing a part in the Impact's long-awaited transition to MLS. It seems like a fitting ending for a player that couldn't walk away from his club and the game a moment too soon.
Kyle McCarthy writes the Monday MLS Breakdown and frequently writes opinion pieces during the week for Goal.com. He also covers the New England Revolution for the Boston Herald and MLSsoccer.com. Contact him with your questions or comments at kyle.mccarthy@goal.com and follow him on Twitter by clicking here.