Sporting Kansas City star forward Teal Bunbury revealed that New England Patriots wide receiver Chad Ochocinco remains in touch with the club that gave him a shot at a soccer career.
"It's not often, but from time to time, he'll reach out to myself or some other guys on the team," said Bunbury to Goal.com. "I'd say once a month or every other month."
During the brief NFL lockout, Ochocinco created major buzz for Major League Soccer and Sporting KC by announcing that he would like to tryout for the team and practice to stay in shape. The six-time NFL Pro Bowler is known for his passion of soccer, as he is good friends with Real Madrid star Cristiano Ronaldo and has traveled to Spain to take in the El Clasico between the capital side and Barcelona.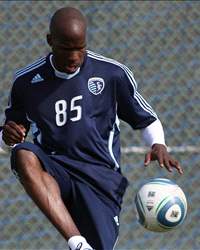 While Sporting KC's players and coaches were impressed with Ochocinco's superb athleticism, it was clear that the 6-foot-1 wideout lacked the technical skill needed to play professional soccer. Still, highlights of him bumbling the ball with his feet during a preseason warmup made national headlines and gave MLS and Sporting national coverage - something rare for MLS teams.
Bunbury said that he hasn't spoken to the 34-year-old over the past few months. When asked whether or not he reached out to Ochocinco ahead of the Patriots appearance in the Super Bowl against the New York Giants, Bunbury replied, "I'm sure he had enough distractions."
Bunbury, however, revealed that Ochocinco stayed in touch with teammate Kei Kamara as Kansas City made a surprising run to the MLS Eastern Conference final.