Last Friday, the Portland Timbers announced that offseason acquisition Jose Adolfo Valencia would undergo knee surgery and miss six to 12 months.
Valencia's loan from parent club Independiente Santa Fe had to be amended as the 20-year-old Designated Player was likely to miss the entire season before he could even make his Timbers debut.
Questions and concerns about the loan and the injury began to spring up on Twitter.
As he is wont to do, club owner and president Merritt Paulson took to his Twitter account following the announcement, answering inquiries from fans and media alike. There was
one tweet
, however, which Paulson did not take kindly to:
"Can somebody explain to me how a kid who never practiced once needs surgery, out for a year? uh, medical? Valencia in Portland," tweeted Eric Wynalda, former U.S. international and
Fox Soccer
analyst.
Paulson
responded
.
"I will explain it to you if you can learn to read before tweeting first. Seriously, you are a frickin twitter trainwreck."
"He pissed me off," Paulson said in an interview with Goal.com. "It was an opinion based on absolutely being uninformed when he's a member of the media and should have been informed before he went out and tweeted about it."
Paulson went on to add that he had no personal issue with Wynalda and admitted that his response "maybe wasn't the most professional," but his comments definitely got some attention and served as another great example of the impact that MLS executives can have when using Twitter.
Paulson and Sporting Kansas City minority owner Robb Heineman represent a new breed of hands-on MLS owners who want to develop a more intimate connection with their respective fan bases. For them, Twitter is an ideal vehicle towards accomplishing this goal.
"Our philosophy is 'Why not be very open with our fans?'" Heineman said to Goal.com. "Sometimes it's probably going to bite us, but for the most part I think fans appreciate it and it provides a different level of trust that they have in the organization.
"It made sense for us when we already had a philosophy of being very transparent with our fans that Twitter would be a primary platform for us to break information."
Heineman will tweet
hints at transactions
, like in November when he revealed that Sporting KC
made an offer
on a Spanish Designated Player, leading many to speculate that former Real Madrid star Guti -- who was out of a contract at the time -- could be on his way to Kansas City.
Heineman said that Guti was not the player who received the offer, and the transaction fell through after the player was injured.
"We were looking at a different guy and unfortunately the guy blew out his knee," he said.
Paulson did more than just hint at a transaction back in December, when he
tweeted
: "Young DP player signed soon. world-class potential..big addition for us and league. turning 20 soon."
Though his tweet had its intended consequence of causing a buzz amongst Timbers fans and league followers, Paulson was taken aback when only hours after he sent the tweet, several sleuths had already identified the player as Jose Adolfo Valencia, two weeks before the signing was officially announced.
"Our fans picked up on who it was and like two hours later the Colombian media were all over his former team. So my tweet created an issue on that," Paulson said.
"It didn't jeopardize the signing but it was just telling to me how powerful Twitter is."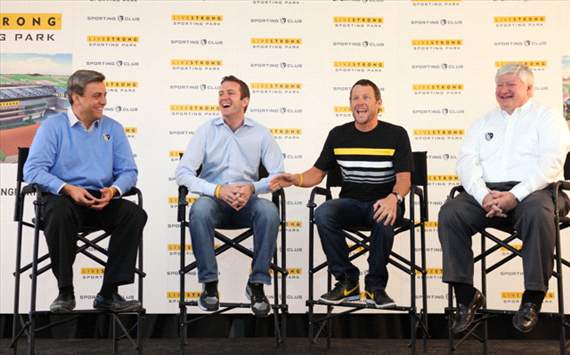 Heinemann (far left) at the Livestrong Sporting Park naming announcement last year.
Heinemann used the power of Twitter last fall to tackle criticism of the pitch at the team's brand-new stadium, Livestrong Sporting Park (the naming rights for which, by the way, were announced on Twitter).
"We had a number of different factors which caused our field to be in less than stellar shape midseason," Heineman explained. "We had a hot summer, we had a lot of events, a new field, all those sorts of things."
And so amidst the concern about the field, Sporting Kansas City's owner held an open Q and A session on Twitter, which the team promoted on its official website, and answered any and all questions about the condition of the field.
"We just thought the best way to get out in front of it would be to be very open and share information around what we were doing and what the options were," he said. "I think it was pretty well received."
Paulson sums it up best: "Any time you tweet, it's a mini press conference."
When rumors spread that Timbers coach John Spencer could be fired last summer, Paulson, in lieu of an actual press conference,
took to his personal Twitter account
to address the rumors.
"It is a really effective easy way to get news out that the Timbers FC Twitter feed might not be the appropriate vehicle for," Paulson said."For instance, when there were all kinds of rumors about us firing Spencer last year midseason, a little thing from me saying the coach is in a great position is an easy way to handle that." Still, despite its effectiveness in buzz and in messaging, there are still not many MLS executives who utilize Twitter.
Jose Domene
of Chivas USA,
Chris Canetti
of Houston,
Brian Bilello
of New England and
Tim Hinchey
of Colorado are a few of the front office types who've joined recently, in addition to Montreal owner
Joey Saputo
, but there are a far greater number of executives and owners yet to catch on.
"People always have the concern around saying too much or saying something they shouldn't say or giving up some sort of a competitive advantage or whatever it may be," said Heineman.
Heineman also personally took credit for Paulson joining last summer, saying, "I gave him such a hard time, I think I guilted him into doing it."
"Robb certainly pestered me about it," Paulson said. "But he must have a very healthy opinion of his influence if that's what he told you," he added with a laugh.
Despite some off-the-cuff comments, Paulson believes that Twitter has been invaluable for his team.
"Have I made mistakes? Should I have said 'Twitter train wreck' to Eric Wynalda? Probably not. So I've certainly made some mistakes," he said. "But on a whole, it's been a big net positive."
Follow SETH VERTELNEY on

or shoot him an

email