All 19 teams will have left Kansas City with a positive feeling about their draft classes and most of them shared why with the Breakdown.
KANSAS CITY, Mo. – The past few days mark the golden age of the 2012 MLS SuperDraft.
Every coach admires his new options. Every executive believes his selections will reinforce the squad. Every player brims with confidence about his impending transition to the next level.
Sure, there are thoughts about the could have, the should have and the might have. Drafts always inspire that sort of second look, particularly if a possible destination fell by the wayside or a potential pick came off the board one spot too early for an interested club to nab him.
Those misgivings do not dampen the promise at this point. Hope springs eternal right now. Before training camp starts, there is no wrong, only right.
Such happiness can only last so long in a professional environment. Reality often dashes those dreams far earlier than any coach, executive or player would like. The odds for sustained success remain long. Few players will reach the heights expected of them.
It is far too early to evaluate the success or the failure of each of these draft classes, but the Breakdown casts its glance over each team to review its lot before the start of training camp.
Chicago:
Austin Berry (9) stands out as the primary catch in a three-man haul that also included second-rounders Hunter Jumper (28) and Lucky Mkosana (23 – SI). The former Chicago Fire PDL player represents a known quantity for Fire coach and technical director Frank Klopas and supplements a defensive group in need of another option or two at center back.
"It was good for us because there were really no surprises from the early picks," Klopas said. "Maybe you're hoping there'd be some surprises like there were in previous years, but things went basically according to the way we had ranked the players. For us, it's good because we know Austin very well. He's played against us many times. We know that program at Louisville very well. We feel very confident because he's a solid defender and very good in the air. He comes in as a mature player and I think one that can step in from that standpoint and contribute right away."
Chivas USA:
Red-and-White coach Robin Fraser opted to strengthen his depleted forward line with his only selection. Casey Townsend (5) scored plenty of goals at Maryland, but his desire to get onto the end of service inside the penalty area distinguished him from other potential picks, according to Fraser.
"I'm really excited about him because he is unbelievably competitive," Fraser said. "The kid is relentless. If you can think about another forward in U.S. history who works really, really hard like him and gets on the end of everything and manages to score a few goals, I'm sure there are a few interesting comparisons you could draw to mind. I just think he's the type of player who will be very, very good for us because he'll be ultra-competitive, he will find ways to get in front of goal, he will find ways to finish – he is a good finisher and he's about winning. At the end of the day, we want to add winners. We want to keep adding winners. Today, I feel like we did."
Colorado:
In his first draft as Rapids boss, Oscar Pareja wanted to show that his talk about changing the club's approach isn't just rhetoric. Adding the skillful Tony Cascio (14) to bolster his wide options serves as a reasonable first step in that direction, even if it requires leaning on a former Real Salt Lake youth player to get the message across.
"That (approach) fits perfectly for me," Cascio said. "I love attacking, I love going at people. I look forward to learning from a new coach and (having) a new experience."
Columbus:
Few players fit the Crew's industrious, team-first approach better than Creighton forward Ethan Finlay (10), while Kevan George (29 – SI) and Aubrey Perry (26) will offer athleticism and versatility off the bench if they can make the squad.
"I think more than anything about Finlay, he's not only very opportunistic, but he's very intelligent," Crew coach Robert Warzycha said about his new forward. "You saw it in the Combine. The way he's moving off the ball, the way his timing is and the way he finished with not just his stronger foot. It was great. He's a very smart player. You talk to him, he's very smart. He transfers that on the field. When you're watching him play, it seems like he's ahead thinking-wise. He's one step ahead."
D.C. United:
Ben Olsen's side desperately needed an attacking option from this draft given the paucity of choices currently available within the squad. Nick DeLeon (7) fits the bill with his ability to feature in several different attacking spots, though he projects as a wide player at the next level.
"If you look at the guys physically coming out of college, we always said that he was one of the guys who was pro-ready, ready to jump in physically at the next level," Olsen said. "We'll test him mentally now to see how quick that can happen, but he seems like a kid that has stepped up in big games. You look for all of these things, but we're very, very excited. We didn't think we'd be able to get several guys, and he was one of them. We're very happy with where we're at right now."
FC Dallas:
Most observers would have pegged Matt Hedges as a likely top-10 pick before his underwhelming Combine showing. FCD should benefit by picking up the seasoned North Carolina center back (11) to supply more depth in the wake of George John's loan move to West Ham last week.
"I know (John's) game a lot," Hedges said. "I feel like we're pretty similar. I'm just excited to get the opportunity to even be compared to him."
Houston:
While Dynamo executives couldn't pull off a deal to move up the draft board or seal Brian Ching's return to Texas, they did pluck a potential contributor at forward (Colin Rolfe, 18) and select a versatile Combine star (Warren Creavalle, 37) to temper some of that disappointment.
"I think (Rolfe's) a good player," Houston coach Dominic Kinnear said. "He's done well in college. The jump to the pros can be a big gap, but we think he's going to be able to handle it OK."
Los Angeles:
It takes a certain type of player to fit into Bruce Arena's star-laden Galaxy, but college gamers Tommy Meyer (19) and Kenney Walker (38) might just fit the bill. Meyer could prove particularly useful with Leonardo still iffy to return for the start of the season and Omar Gonzalez ruled out for some time after his recent misfortune in Germany.
Montréal:
Impact officials wanted Andrew Wenger (1 – Generation adidas) enough to muddle through the questions about his position at the pro level and wait for his arrival after the spring semester wraps up at Duke. Callum Mallace (20) will ensure at least one immediate contributor comes from the SuperDraft, but he may find it difficult to carve out a spot straightaway in central midfield.
"It's an honor, but it's exciting to get going and play," Wenger said. "There's lot of potential for the team. I'm ready to go up there and have a successful year."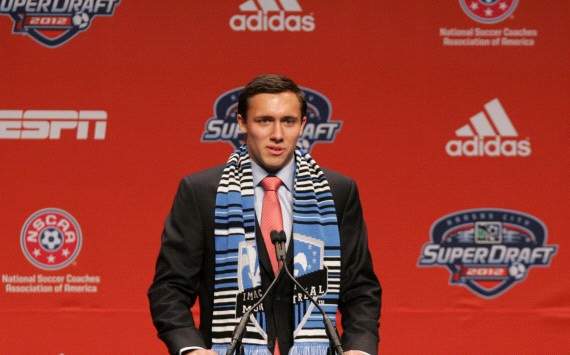 New England:
It doesn't get a whole lot simpler than the straightforward pair of selections made by the Revs: the best player available with the third pick (Kelyn Rowe – Generation adidas) and the last remaining Generation adidas player on the board at 22 to bolster the scant options currently available at left back (Tyler Polak).
"I did get a chance to talk to Jay (before the SuperDraft) and he explained that he looked at me as a soccer player, and a good one," Rowe said. "He wanted me to play with guys like Benny Feilhaber in the middle and make plays going forward. That's something he wants to put into the game here in New England."
New York:
Most of the attention swirled around the acquisition of Kenny Cooper (and its corresponding impact on Juan Agudelo) from Portland and the impending departure of Tim Ream, but the Red Bulls also made a second-round selection on their busy Thursday. Fordham goalkeeper Ryan Meara (31) currently holds the number one shirt for a side still discussing a possible move for an American shotstopper based in Europe and a potential (and more prudent) return for incumbent Frank Rost.
"Todd Hoffard, our goalkeeping coach, has been following him for a long time," New York general manager and sporting director Erik Solér said about Crestwood, N.Y. native Meara. "We think he's the best goalkeeper in the college system. He's big, he's strong, we need a goalie and he's from New York. Every factor that we looked at was there. He was the player we wanted most from the draft, simply because we need a goalkeeper and, realistically, there were a bunch of others we couldn't calculate on getting. So we went here with a positive attitude and we got the best out of what we could get."
Philadelphia:
Combine sensation Chandler Hoffman (13 – Generation adidas) will join former UCLA teammates Kyle Nakazawa and Amobi Okugo in Chester to present yet another different look for the Union up top, while Ray Gaddis (35) and Greg Jordan (32) strengthen the fullback and central midfield options, respectively.
"I had known Rob (Vartughian, assistant coach and goalkeeper coordinator) through the recruiting process actually when I went to Maryland," Hoffman said about when he learned of the Union's interest in his services. "(Wednesday night) down in the lobby, I saw him for a minute. He said that I don't think you'll slip to us, but we definitely have interest in you. That's when I knew that if I fell to them, they'd be interested in me."
Portland:
Timbers general manager and technical director Gavin Wilkinson pulled a fake-out in the press to disguise his side's interest in central defender Andrew Jean-Baptiste (8 – Generation adidas) and guarantee the opportunity to address a glaring need in that department with the preferred candidate. He didn't need to deploy any such tricks to throw other interested parties off the scent for second-round selection Brendan King (27).
"As I was watching the video (of Portland) with my brother, I was like, wow, that stadium's nice," Jean-Baptiste said about his new home. "The fanbase, I can tell, is going to be loud."
Real Salt Lake:
Sometimes, the draft unwittingly pairs a player with his perfect team. Enzo Martinez (17 – Generation adidas/SI) slipped down draft boards due to doubts about where he would play at the next level. No such questions will arise when the skillful Uruguayan steps onto the field in the Claret-and-Cobalt's midfield diamond.
"I think he's a fit for our team," RSL coach Jason Kreis said. "Is he a fit for every team? Probably not. But he's a very good soccer player, very technically gifted. He's a guy that works extremely hard. Probably more important than both of those things is the fact that he's a fantastic kid that wants it in the worst way. We're very, very pleased with our first selection."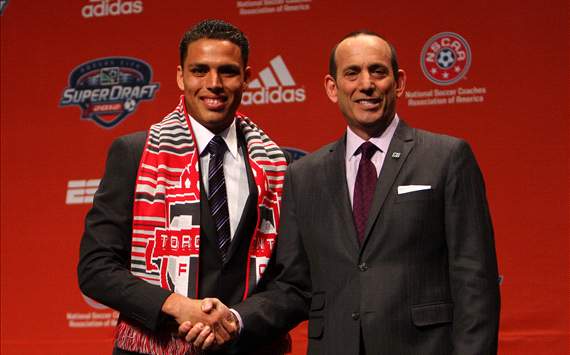 In addition to snapping up the budget-friendly Martinez, RSL picked up athletic fullback Diogo de Almeida (24) and recent team combine participant Sebastian Velasquez (36) in the second round.
San Jose:
It isn't surprising to see the Earthquakes opt for a goalkeeper in the wake of David Bingham's recent quad injury (Chris Blais, 33), a midfield option (Jake Hustedt, 25) or a speedy forward (Sam Garza, 6). All three players could increase the depth for a group that has already made strides after the arrivals of Honduran internationals Marvin Chávez and Victor Bernárdez in December.
Seattle:
The expensive composition of Sounders FC's first-choice side makes the SuperDraft particularly important in terms of rounding out the squad with suitable depth players. With both of its selections, Seattle managed to acquire decent cover in somewhat thin spots. Versatile defender Andrew Duran (15) can operate as a center back or as a right back, while Babayele Sodade (34) will provide a second robust option up front.
Sporting Kansas City:
Top pick Dom Dwyer (16 – Generation adidas/SI) may not count on the roster, but he will have to show well to merit one of those precious international spots for a club that likes to use them. Second-rounder Cyprian Hedrick (30) presents another physical presence in central defense.
"He's very hungry for goals," Sporting KC manager Peter Vermes said about Dwyer. "Obviously, we've got a lot of guys away for national team duty and things like that. You just never know where you stand with health and everything with your guys. We have to be careful – especially with the way that we play – not to fall off from where we are."
Toronto FC:
Technical qualities tend to trump all others for Toronto FC. One of the two selections appears to satisfy the usual metrics. Luis Silva (4) suits the Reds well with his cultured play in central midfield, while central defender Aaron Maund (12) will face the rather more straightforward issue of stopping the opposition first and building out of the back second. Maund's arrival could pave the way for Andy Iro to seek a new club, if the scuttlebutt holds true.
Vancouver:
Whitecaps technical staffers played the waiting game to learn whether Wenger or Darren Mattocks would fall to them with the second overall pick. In the end, they ended up with the speedy Mattocks (2 – Generation adidas/SI) to stretch defenses with his vertical runs. Second-round pick Chris Estridge (21) presents the ideal bench option at fullback because he can play on both sides.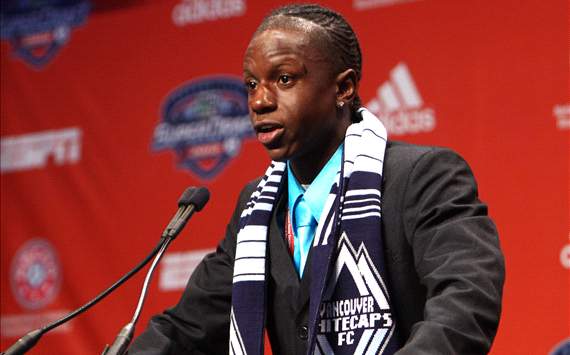 "He's different to those (other options up front)," Whitecaps coach Martin Rennie said about his new forward. "He's a guy who looks to get in behind a lot more, where those guys maybe show to feet and play in front of the back four little more. He can definitely fit in."
Kyle McCarthy writes the Monday MLS Breakdown and frequently writes opinion pieces during the week for Goal.com. He also covers the New England Revolution for the Boston Herald and MLSsoccer.com. Contact him with your questions or comments at kyle.mccarthy@goal.com and follow him on Twitter by clicking here.