At this point in the calendar, the focus on this particular Thursday usually falls squarely on the MLS Player Combine and the buildup to the MLS SuperDraft.
Not this year.
Notable tidbits sprouted from all corners of the country (and a few European destinations) to divert some attention away from the critical player evaluation process ahead this weekend in south Florida.
The Friday Five won't ignore the Combine entirely before it treks to the greater Fort Lauderdale area on Friday morning, but it has also scanned the entire scene to discuss a few other pressing matters ahead of the congregation of collegiate talent:
1. SuperDraft hopefuls arrive in south Florida for Player Combine:
Prospective MLS starlets will display their wares for discriminating coaches and executives on Friday, Sunday and Tuesday. Potential top pick Andrew Wenger (Generation adidas/Duke) reportedly won't join the assembly, according to a dispatch from
Soccer By Ives
on Thursday night, but most of the notable players available in next Thursday's SuperDraft will attempt to impress this weekend. Expect the nervous interviewees to work out the jitters on Friday before giving a more truthful account of their abilities over the following two sessions.
(
Helpful note
: For more coverage on the Player Combine and the SuperDraft, check Goal.com for daily updates from Lauderhill and Kansas City.)
2. MLS releases its schedule with plenty of time to spare:
All of the traveling supporters around the league can now plot their years accordingly. This modest space doesn't provide enough room to do a deep dive on the fixture list, but suffice it to say that most observers breathed a significant sigh of relief when the complete slate of games entered the public realm more than two months ahead of First Kick.
3. Europe takes its shot at three promising American defenders:
Substance has seemingly replaced speculation in the battles to sign Omar Gonzalez, George John and Tim Ream. Gonzalez linked up with German side 1. FC Nürnberg on a brief loan deal and promptly limped out of his first training session after taking some friendly fire on his knee from U.S. international Timmy Chandler. John – like Gonzalez – passed up on a chance to pursue his international dreams this month to secure a move, but he looks likely to end up in England with West Ham United, according to several reports. To cap it all off, Ream continues to find himself linked to Bolton Wanderers by the British tabloids, though those same flacks can't seem to pinpoint how he'd overcome his considerable Work Permit issues to seal the deal (or stop pinching quotes from American journalists interviewing American players overseas, for that matter).
4. Retirement isn't for Brian Ching just yet:
In the latest display of brinksmanship in the ongoing tug-of-war between Houston and Montréal, Ching told the
Houston Chronicle
yesterday that he planned to report to Impact training camp and start collecting his $450,000 salary for 2012 in Québec. At some point, one of these two clubs needs to blink (read: Montréal) and realize this shakedown hasn't helped either club. Maybe Ching's tactical admission will finally inspire some movement, because his arrival in camp would would drain $115,000 from the Impact's ample allocation coffers and limit the scope of potential player acquisitions for budgetary reasons. Logic, however, has yet to prevail in this particular imbroglio.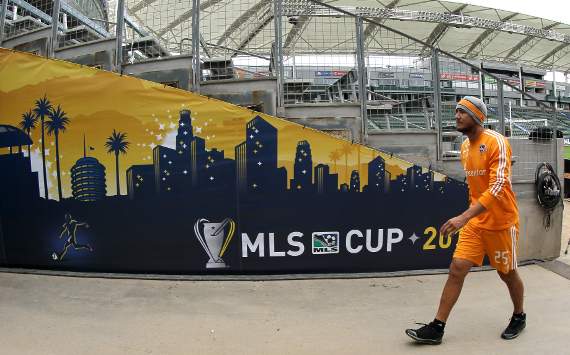 5. Is there a culture change ahead in Colorado?:
Oscar Pareja's appointment as the new coach in Colorado prompts that all-too-complex question. It's far too soon to tell whether idealism or pragmatism will win out in the short-term as the former FC Dallas academy director and reserve team coach takes the helm. Pareja's devotion to a possession-oriented approach with his wildly successful youth sides isn't a secret. The solution to the personnel issues he must now confront – e.g., the significant turnover of key and popular figures required to implement a similar vision in Colorado – is considerably more difficult to discern.
Kyle McCarthy writes the Monday MLS Breakdown and frequently writes opinion pieces during the week for Goal.com. He also covers the New England Revolution for the Boston Herald and MLSsoccer.com. Contact him with your questions or comments at kyle.mccarthy@goal.com and follow him on Twitter by clicking here.