Apparently, soccer in Paris just doesn't appeal to David Beckham the way soccer in Paris Hilton's backyard does.
The lure of Hollywood and inevitably MLS ownership in the not-so-distant future should lead Beckham back to the Los Angeles Galaxy. Reports out of France this week are that Beckham has decided not to sign with the Paris Saint-Germain and instead is in talks to return to his adopted hometown in the United States.
That's great news for Major League Soccer, the Galaxy and in some ways the future of soccer in the U.S. Beckham may be past his prime but he's still a valuable player as evidenced by the clubs in Europe that were after his services once his MLS contract expired.
Beckham gives MLS credibility and makes the Galaxy, which also features Landon Donovan and Robbie Keane, the league's biggest attraction. And if the New York Red Bulls can ever get their act together – I know that's asking for a lot – MLS will have strong clubs and high profile superstars in its two most important markets.
Follow FRANK ISOLA on

I was convinced that Beckham was headed to Paris. His work in the United States was done. He increased the popularity of the league and was leaving as a champion, having led Los Angeles to the MLS Cup in November. In the fifth and final year of his contract, Beckham was named comeback player of the year and was tied for the league lead in assists. And to top it off, he played the championship match with a hamstring injury and performed well. That's the mark of a true champion.
Mission: accomplished.
Resuming his career in France made perfect sense since Beckham had already conquered England, Spain, Italy and the U.S. Plus, Beckham would be a short train ride from training with England's national team as they prepare to play in the London Olympics.
In fact, Tim Leiweke, president of LA Galaxy investor/operator AEG, confirmed that the club fully supports Beckham's dream of representing his country at the Olympics. The London Games will provide Beckham and MLS with a big stage to market the league and its most popular player.
"We are being supporters and fans of the Olympic Games in London," Leiweke told the
LA Times
. "We helped put up seed money for their bid and [AEG's] O2 Arena in London is hosting gymnastics and basketball. We could not be bigger supporters of the Olympics."
Beckham's expected return to MLS also makes perfect sense. He plays for a great club in a great city surrounded by celebrity friends. And his kids have essentially have grown up in Los Angeles and are comfortable there. As much as Beckham's image is about fame and fortune at his core he is about family and football, in that order.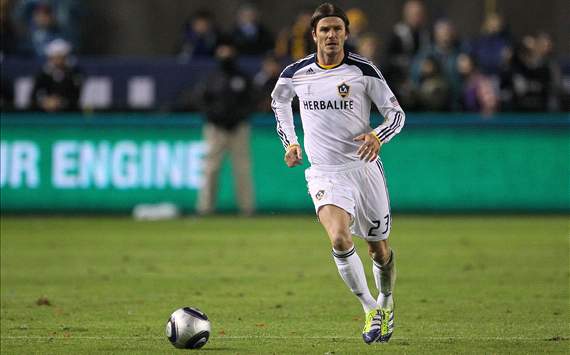 Financially, the 36-year-old Beckham will continue to be MLS's highest paid player. According to numerous reports, Beckham and the league are working on rolling one-year contracts that will pay him an annual base salary of $6.5 million. PSG, whose Qatari owners have spent more than $100 million on players during six months in charge, were willing to double Beckham's MLS salary.
Then Beckham is usually one step ahead of everyone when it comes to money. His deal with MLS includes a clause that gives him the option to buy a club when he retires.
No one buys tickets to see a famous owner. Just ask Michael Jordan about attendance at Charlotte Bobcats games. But Beckham has the cache and the financial backing to do something Jordan can't: attract world renowned stars to his team.
Beckham knows all about star appeal. He'll make a great owner. That's even better news for MLS and Commissioner Don Garber. Not a bad way to start 2012.
"I believe we're heading in the right direction," Leiweke said. "I'll repeat what I said in November: I believe David Beckham will play for the LA Galaxy this year."
I'm glad he was right.