The Sounders coach spoke with Goal.com about the team's offseason plans, whether or not Montero has reached his potential, Jurgen Klinsmann and last season's early playoff exit.
Sigi Schmid is pissed.
Not known for sugarcoating, the Seattle Sounders boss isn't happy at how things ended for his team last season. For the third consecutive year, Seattle crashed out of the Major League Soccer postseason in the preliminary round after having an impressive regular season. Schmid wants that to change this season.
"Last year, we thought we could do something," Schmid told Goal.com in a phone interview. "It hurt...but the pain for me was good because that will be the motivation for this season."
Follow ALEX LABIDOU on

Schmid on recruiting a new DP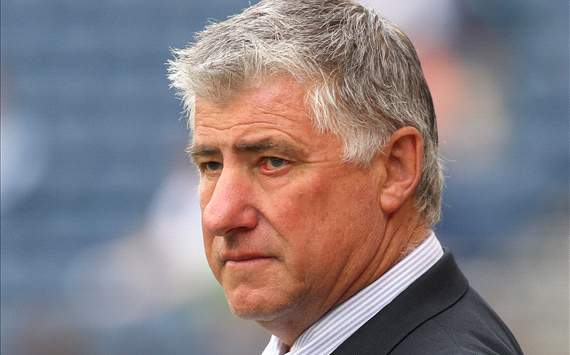 "Right now, Mauro's new contract throws him into the DP slot I believe. With [Fredy]Montero and [Alvaro] Fernandez, we'd have to eliminate one. We're pretty content with those three guys."
- Sigi Schmid

In the 2011 season, Seattle finished with its highest point total in club history with 63 points and led the league in scoring with 56 goals. Yet, regular season success hasn't been a problem for the Sounders.
In its inaugural season in 2009, the club finished only two points behind the league leading Columbus Crew with 47 points and has gone to the playoffs every season. Seattle's accomplishments have resulted in it having the best fanbase in MLS, averaging nearly 40,000 fans each match, and even gaining praise from NBA commissioner David Stern who called the club, "the best expansion franchise in American sports."
Yet, those same fans are beginning to become impatient. Three straight early exits has had many wondering whether or not the club is starting to stagnate.
Schmid addressed those concerns as well as his expectations for star striker Fredy Montero, the team's offseason recruitment plans and whether or not those Jurgen Klinsmann assistant rumors were true with Goal.com:
(Note: Interview has been edited for length purposes)
Last year obviously didn't end the way you would have liked. There are some who are wondering how this team can improve for next year, what are your thoughts on this?
I think we're still a work in a progress. What's important to remember is every year as a franchise, we've gotten better. Last year, overall even though MLS Cup is what we're in search of and didn't get to, we got closer.
We won our first playoff game and we got more points in the league than we ever have. We scored the most goals in the league. We qualified for the Champions League. All of those were positive points.
When you consider that we had to go the season without Steve Zakuani, O'Brien White who was really coming into his own before his strange injury, and then losing Mauro [Rosales] at the end of the season, those are three very significant players.
I think we continue to grow and improve and that's really the most important thing for our team and now we're trying to hit that goal.
You look at the Galaxy with all of their star talent, it took them three years to have that. That's a team that obviously has a lot of guys of good ability. I think we've matured each year. We've learned how to win games in a different manner and we have to continue that maturation process.
Take things a step further.
How's Steve Zakuani's recovery going?
He's making progress. He's making strides forward. It's tough to predict when I see him being able to get out there and play in a 11 versus 11 game. With him and O'Brien White, we'd rather be cautious than be on the side of being aggressive and suffer setbacks. When you've been out that long, it can take a while to find your game. If you're out for a year, it might take you six months to get back. So we're looking the end of 2012 or even 2013.
How important was it to get Mauro Rosales re-signed?
Obviously we are very pleased about getting Mauro re-signed. I was pretty confident about it, the discussions had gone well. It was really just a situation of working out the minor details. We always felt that it was going to happen. He was a great influence on our team. His play was very important to us. His presence in the locker room was also very important. So having him come back is a huge plus.

There are a lot of high-profile names that are being mentioned as possibilities in MLS, is there a chance that Seattle could end signing an international star as a Designated Player?
Right now, Mauro's new contract throws him into the DP slot I believe. With [Fredy]Montero and [Alvaro] Fernandez, we'd have to eliminate one. We're pretty content with those three guys.

Speaking about Fredy Montero, has he reached his potential? It always appears as if he goes on streaks and hasn't consistently put it together yet.
I think Fredy has grown and matured, his game has improved each year. He's improved in his ability to play within MLS and understand how it plays. Do I think he's at his potential yet? No. I think Fredy still has more. As he grows, I think our team grows. Then the success follows.

But what's something that he needs to focus on and improve?
One of the hardest things as a player is to be that guy who you know you're counted on by your team and when all the pressure is on can you still come through at that moment. For a young player sometimes that's a lot to shoulder.
He's older now and I think he's done that. We've won three Open Cups now and he's scored two goals in those games. I want to see him get his first playoff goal next year. I think him getting goals for us in the playoffs will be important for us in order to be successful.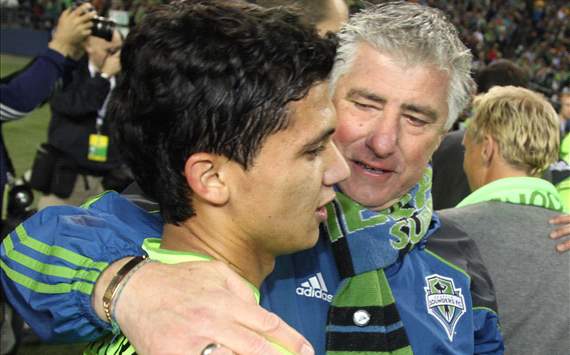 High Expectations| Schmid believes Montero will raise his game next season
Moving forward, during the summer when Jurgen Klinsmann was hired to take over the United States Men's national team, you were heavily linked with a role on his staff or a consulting position. Were those rumors true? Is that something that would interest you?
Me and Jurgen have spoken from time to time before he took the job and after he got the job. Right now, I'm the coach of the Sounders.
We're friends and we'll talk and exchange ideas but he's put together his staff and those are the guys he needs to work with and rely on. I've got a full time job [laughs], I don't have time to do some part time work.
Certainly, I was proud to be linked with the job, although as I get older time is moving past me in that regard. If that opportunity comes [to coach the men's national team], that is something that would always interest me.