In a league designed specifically to prevent dynasties, the LA Galaxy were threatening to become just that.
During the past three seasons the Galaxy built a powerful foundation, appearing in two MLS Cups, winning two Supporters' Shields and a championship, while posting a 49-18-27 regular-season record in the process
Just a month after lifting the MLS Cup, though, and the tide seems to be turning against Bruce Arena's men. The more the rumor mill turns, the more the Galaxy's rivals savor its every rotation.
The end of the Galaxy's brief dynastic run could be on the horizon.
For starters, the Galaxy and Major League Soccer appear to be consigned to David Beckham's departure. Premature French reports aside, it still appears to be when, not if Goldenballs takes a Qatari-sized briefcase of cash and moves across the Atlantic to suit up for Paris Saint-Germain.
Additionally, the club's
other
vital central midfield cog, Juninho, appears to be history as well. Brazilian reports suggest the 22-year-old has agreed to a deal to return to parent club Sao Paulo, with which the Galaxy had a loan agreement in place for the past two seasons. The player himself confirmed the move on his official Twitter account Thursday.
"I want to thank Galaxy and all of my fans for your kindness and support for the past two years that I was on the team.I will always have a place for you in my heart. I want to let you know that I have decided to re-sign with Sao Paulo fc," Juninho wrote on the social network site.
"It's never fun playing without Juninho," Galaxy midfielder Mike Magee said before his team's second-leg conference semifinal match against the Red Bulls – a game for which Juninho was suspended. "Juninho is so disciplined and he's able to clog up the middle of the field and play passes for us."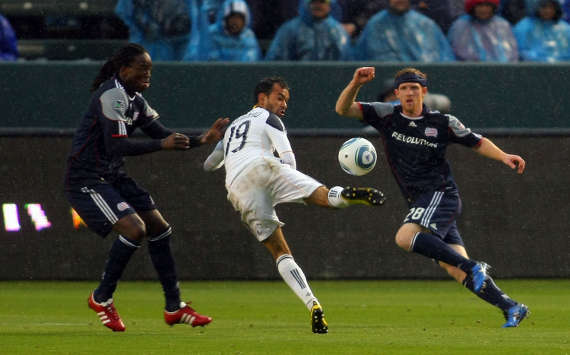 While the Galaxy survived the Brazilian's absence in that particular match, they're no doubt dreading the thought of an entire season without their central midfield fulcrum.
Still, it gets worse.
Omar Gonzalez, who became the youngest-ever winner of the MLS Defender of the Year award this season, has been heavily linked with a transfer away from the Home Depot Center.
The 23-year-old has seen his name linked with several unnamed English Premier League clubs, but work permit issues would likely derail any potential transfer to the UK.
A much more plausible and dangerous scenario for the Galaxy comes in the form of Mexican giant Club America.
Las Aguilas
are coming off a miserable Apertura campaign that saw them finish 17th out of 18 teams, conceding a league-worst 31 goals in the process.
New coach Miguel Herrera recognizes his team's deficiency at the back, and he's named Gonzalez and Club Olimpo center back Oswaldo Vizcarrondo as America's top two transfer targets for the brief Mexican league offseason. With a glaring need and money to spend, it wouldn't be shocking to see Gonzalez move to the Estadio Azteca if MLS receives a sizable transfer offer.
Follow SETH VERTELNEY on

or shoot him an

email
Another key member of the Galaxy's defense with a questionable future is right back Sean Franklin, who is currently out of a contract. An important, yet underrated aspect of the team's success during the last three seasons, the 2008 MLS Rookie of the Year will be looking to upgrade on the $111,000 he made last season, either with the Galaxy or elsewhere.
Note: The Galaxy announced they re-signed Franklin on Friday
Seemingly in anticipation of a player exodus, the Galaxy were extremely active in the MLS Re-Entry Draft earlier this month, selecting defenders Andrew Boyens and Chris Leitch, forward Pat Noonan and goalkeeper Jon Conway with their first four picks, before selecting their own defenders Dasan Robinson and Frankie Hejduk, both of whom weren't taken in the draft after the Galaxy declined their contract options.
The Re-Entry Draft selections would hardly invigorate the Galaxy fan base, and just a couple days later, there would be more bad news in the form of Landon Donovan's announced two-month loan to Everton.
Donovan's loan offers a host of possible outcomes, and from a Galaxy perspective, most of them aren't good:
A. Donovan plays well again and returns to the team a bit worn out, but full of confidence.
B. Donovan doesn't play so well and returns to the team a bit worn out, confidence in question.
C. Donovan gets hurt.
D. Donovan plays so well, that Everton is somehow able to scrounge for a few extra pennies and purchase him permanently.
With Everton's purchasing power highly questionable and Donovan's high value to the Galaxy and the league, option D seems to be not only the doomsday scenario, but also the least possible of the four outcomes. On mlssoccer.com's
ExtraTime Radio
podcast this week, however, Everton manager David Moyes didn't rule out the possibility.
"The plan is only to bring him here a couple months," Moyes told the podcast. "I've not got any longer plans to do any more than that. But, you know, if Landon said to me, 'I'd like to do it,' and his form was good enough and he could manage it, I wouldn't be against it."
The Galaxy still have over two months until their season starts against Toronto FC in the CONCACAF Champions League quarterfinals. They technically haven't lost any major pieces yet and if they do, they have the deep pockets to sign multiple big-name replacements.
Still, the theoretical new pieces would take time to gel, and if/when they did, it would be far from a guarantee they'd match the success of their predecessors.
It's only been a month since the season ended, but for the Galaxy, it's already been a long winter.