Some teams have already begun majorly reshaping their teams from the 2011 season, while others are waiting patiently to make some noise.
Just under a month after the LA Galaxy lifted MLS Cup, the league's offseason is in full swing. Several clubs have already undergone significant overhauls, and already look transformed from their 2011 incarnations with two months left until the 2012 season kicks off. Let's run down some of the most significant developments we've seen so far this offseason.
Sporting Kansas City rebuilds its midfield
Sporting KC's three-man midfield was something of a rotating cast of characters during the 2011 season, and head coach Peter Vermes has made a pair of acquisitions that, with a bit of luck, should go a long way towards solidifying two of those spots for the Eastern Conference finalist.
First off, club staple Davy Arnaud was traded to Montreal and midseason DP bust Jeferson was handed his walking papers. Paulo Nagamura, acquired from Chivas USA, has shown the ability to be a top-tier holding midfielder during his time in MLS, but injuries have limited him to just 26 games over the past two seasons.
If healthy and motivated, Bobby Convey could be the steal of the offseason. SKC only had to give up an international player spot for the 28-year-old, and immediately signed him to a new four-year contract at a more manageable salary than the more than $300,000 he made in San Jose. Vermes called Convey "a difference-maker in this league for many years," and he's right, though the difference was more negative than positive for the Earthquakes in 2011.
With any luck, SKC can end up with the Convey and Nagamura of old, and if that's the case, the club's midfield will be strengthened significantly.
Chivas USA keeps us all guessing
The Goats started the offseason on a sour note, as the league decided to graduate defender Zarek Valentin from his Generation adidas contract. The club was unable to adjust in time, and Valentin – who now counted against the salary cap and required protection – was left unprotected in the expansion draft. Montreal happily swooped in to select the 20-year-old fourth overall pick in the 2011 SuperDraft.
Chivas then dealt away highly-promising forward Justin Braun for right back James Riley, a player who was only needed when the club lost Valentin. In the Re-Entry draft, the Goats selected Arturo Alvarez, a player who's often flattered to deceive in his MLS career, and his $200,000 salary.
There will be a bit of redemption, however, if the team's acquisition of Ryan Smith from Sporting Kansas City pans out. Smith left a bitter taste in the mouths of SKC fans when he walked out on the club last season but when he's on, he's a tricky and talented winger who can create plenty of attacking chances.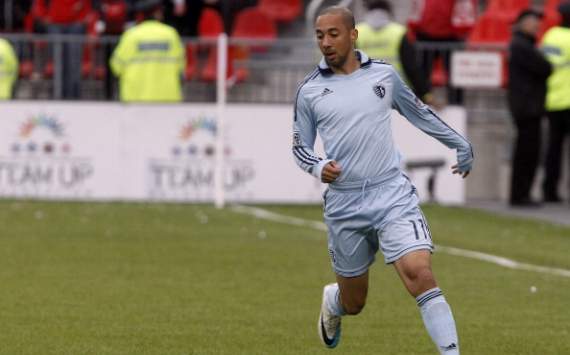 Smith | Could have a big part to play for Chivas USA in 2012
Little Train arrives in Portland
In August, MLS announced its new young DP initiative, which was designed to encourage teams to go after more young talent from abroad. While the normal DP salary cap hit was $335,000, a player 20 years of age or younger would only count $150,000 against the cap, while players between 21 and 23 count $200,000.
The Portland Timbers became the first team to take advantage of this rule change this week, announcing the signing of 19-year-old Colombian forward Jose Adolfo Valencia from Santa Fe. Valencia represents exactly the kind of player the league envisioned when creating the initiative, as "El Trencito" was garnering reported interest from several top European clubs as well.
The question now becomes, which other teams will take advantage of the rule change and add some dynamic young talent?
Seattle replaces a legend, re-signs its talisman
"First off, you don't replace Kasey Keller," Sounders FC head coach Sigi Schmid said upon announcing the signing of, well, his replacement: 30-year-old former Austrian international goalkeeper Michael Gspurning, acquired from Skoda Xanthi of Greece's top flight.
The 6-foot-5 Gspurning was a long-rumored target for the Sounders, who knew all season long that Keller would be bowing out at year's end. Whether Gspurning can adequately replace Keller will go a long way in determining if Seattle can finally break its MLS playoff hex and, more immediately, advance in the CONCACAF Champions League.
Most importantly, Seattle agreed to a new deal with 2011 MLS Newcomer of the Year, midfielder Mauro Rosales. Rosales became one of, if not the most valuable member of the team in his first year, scoring five goals and adding a club-record 13 assists. The Sounders were 13-3-6 with Rosales in the starting lineup and he was sorely missed when injury knocked him out of Seattle's first round playoff series with Real Salt Lake, which the team lost by a 3-2 aggregate scoreline.
The sleeping giant
One team we haven't heard much from is the New York Red Bulls, whose only addition this offseason has been Home Grown defender Connor Lade.
It won't be long before that changes, though. As one of the league's marquee franchises, and coming off an eminently forgettable season, New York isn't going to remain silent for much longer.
Club pariah and occasional defender Rafa Marquez has been linked to a host of teams, and it appears he could be sold off. The Mexican's departure would open up a second of three available Designated Player spots, as goalkeeper Frank Rost will be losing his DP status if he returns, leaving Thierry Henry as the team's lone DP.
New York sporting director Erik Soler has said his team would likely add a center back and indicated the Red Bulls were also in the market for a creative midfielder that would fill a DP slot.
"We want someone with high quality on the ball who likes to move the ball around but has the ability to score on their own," Soler said this week. He added that this player would likely come from "one of the bigger leagues" in Europe.
With his, as well as head coach Hans Backe's job on the line in 2012, Soler should go for broke this offseason. With two months to go, his team's transactions will be among a host of talking points set to arrive before the 2012 season gets underway.
Follow SETH VERTELNEY on

or shoot him an email