With the pressure increasing on Toronto FC to make the playoffs, Winter insists that the team will focus on building on its late-season foundation
Toronto FC's Aron Winter doesn't quite understand all of the criticism he received in his first year as head coach.
"The roster wasn't good enough when I started," Winter explained to Goal.com. "There was a lack of quality, a lack of personality, lack of willing to be a part of the process. That's why we made the changes we did [in the middle of last season]. Since that time, things were going well."
The pressure is on for Winter in his second season. Toronto FC has yet to play a playoff match in its five year history. Fans are becoming increasingly impatient and, with the announcement that Canadian telecommunications giant Rogers Communications is joining the ownership ranks, Winter will be expected to turn around things quickly. Yet the 44-year-old insists that he isn't bothered by those expectations.
In fact, Winter has said the team won't focus on recruiting high-profile stars but rather on rounding out the foundation he built in his first season.
"We are focused on building something that will have progress not only in the playoffs," said Winter.
"In the midfield and the front, we have a lot of players but in the back, if someone is unavailable than I have problems. That's the thing I want to tackle. Having good players in each position allows there to be competition and get those results. That's what I want."
Follow ALEX LABIDOU on

Winter was recruited by Toronto FC due to his experience managing Ajax's famed youth academy sides. It was the hope of the organization that he would be able to bring the Dutch giant's famed 4-3-3 possession style of play to the Canadian side. However, externally, many believed that those ambitions were naive considering Major League Soccer's restrictive salary cap and the previous failures of European coaches wanting to play attacking soccer in the league.
Winter argues that it isn't misguided to want to emulate an European possession style of play but urges that patience is necessary to get the desired results.
"It's not difficult to implement the way I want to play," Winter said. "In order to play that way, you need certain players. There are a lot of good players in this league that fit in my system but you need some time to get to know this [system]."
So were the fan protests and poor media reviews warranted? Winter doesn't think so.
"I think for the players at times, it was difficult because of how much things were changed," said Winter. "Also, we gave opportunities to the youth players. To bring all of those things together, you need time. Building a foundation is necessary in order to play well."
Yes, Toronto had the third-lowest point total in all of MLS last season with 33 points. Yet, from his first day Winter asked for patience as he tried to implement a new playing philosophy and rebuild the roster of a club that has historically underachieved.
To the Dutchman's credit, the Reds were undefeated in four of their last five matches of the regular season and had a surprising run in the CONCACAF Champions League. Toronto FC now awaits MLS Cup holders Los Angeles Galaxy in the quarterfinals of the continental competition.
The difficult start came from inheriting a problematic roster.
First, he had a disgruntled star in Dewayne De Rosario who made his intentions very clear: pay me or screw off. Second, he had a Designated Player in Julian De Guzman whose performances did not live up to expectations. Lastly, he wanted to infuse youth into a squad that had expensive older talent.
Not exactly the easiest situation but Winter made several roster moves that created a foundation heading into the 2012 season.
Toronto's late season turnaround be credited to the acquisitions of two Designated Players - midfielder Torsten Frings and forward Danny Koevermans - along with the steady progress of young talent. Frings helped in solidifying the team's midfield and Koevermans scored an astonishing eight goals in 10 appearances.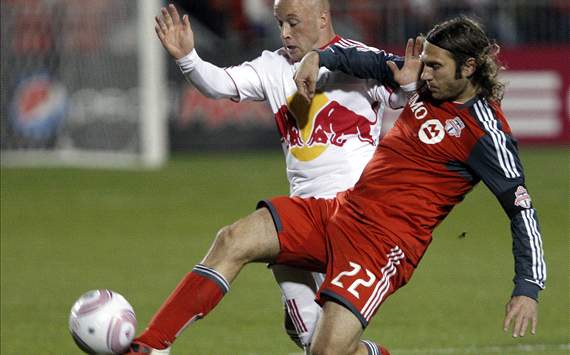 Vital Pickup| Frings added steel to Toronto's midfield
Add in the promising performances of academy graduate Ashtone Morgan, whose strong performances at left back resulted into an international call-up by Canada, Winter's much-maligned blueprint showed some signs of life.
Frings' arrival also rejuvenated De Guzman as the German's box-to-box play in the midfield freed the Canadian to pull strings from the central midfield. Despite being left unprotected by Winter in the expansion draft, the coach insisted that the 30-year-old is still an integral cog on his roster. He hinted that the decision was made to protect the club's younger and cheaper talent.
"He is part of our progress," the coach said. "He is valuable for the team and club."
With the key components of his roster set, it will be interesting to see where Toronto fits in the MLS pantheon next season.
Winter is adamant that next season won't be considered a failure if the club doesn't make the playoffs for a sixth consecutive year. From his perspective, having a respectable team that can challenge for all competitions would represent success.
"The most important thing is that we are making the right steps," said Winter. "When we get started in 2012, we're going to continue how we finished the end of the season."
Win or lose, playoffs or not, in the end Winter will do it his way.