New England captain will play as a DP for the first time in 2012, but will his shift in status create a path for other domestic standouts to follow?
In this age of Designated Player proliferation across MLS, one more addition to the club usually does not influence the model itself.
Then again, the standard operating principles did not anticipate a scenario in which New England midfielder Shalrie Joseph would finally sign his name to a DP deal.
Joseph contradicts every single underpinning of the so-called Beckham rule. The 33-year-old midfielder won't fill the coffers with a lucrative transfer in a few years or increase the league's cachet with a reputation forged in Europe or Mexico. He made his name in America through his domestic performances and will almost certainly conclude his career here.
Even with the movement toward cheaper and younger Designated Players over the past few years, the current DP template didn't seem to have any room for MLS standouts like Joseph. MLS commissioner Don Garber agreed earlier this year when asked whether players like Joseph or Dwayne De Rosario could eventually count as DPs.
"I don't see it at this time, but, again, we recognize at MLS that our thinking changes and needs to evolve as the market shifts," Garber said in March. "I can't say what it'll look like years from now."
It took a mere matter of months for the circumstances to change and for Joseph to secure a deal that will vault him into this expanding club.
The mutual interest between both sides played a large part in the accord Joseph signed on Saturday. Joseph may have expressed significant doubts about his future in New England on several occasions, but he always underscored his desire to remain with the club. New England investor/operator Jonathan Kraft made his commitment to keeping Joseph in a Revolution jersey clear in a local radio interview in October. Several club officials also echoed those sentiments about their soon-to-be out-of-contract midfielder in recent weeks, but Kraft's public support and his private guarantees that the club would foot some of the bill to secure Joseph's services in 2012 all but assured that the two sides would reach an agreement.
Although the interest between the parties laid the foundation for the deal, Joseph's contractual status played the most critical role in his transition to DP status. His current deal ($475,000 base/$500,000 guaranteed compensation in 2011, per MLS Players Union documents) expires at the end of December. Under the terms of the re-entry process, the Revolution needed to extend a bona-fide offer to keep Joseph out of the process (out-of-contract players who are 30 years or older and have eight years of MLS service are placed in the first stage at 105 percent of their previous year's salary if their club does not wish to re-sign them, per re-entry process rules) or hope he would give up any leverage he might have by pulling out of the process voluntarily. Given the circumstances and Kraft's public proclamations, Joseph possessed little reason to soften his stance and pave the way for a potential pay decrease.
(Note: This particular issue probably falls well down the list of relevant points in this situation, but Joseph's continued presence as a salary budget player would have significantly limited the Revolution's flexibility this winter. Clubs must buy down the salary budget charge of any player who makes more than the league maximum of $335,000 with allocation money. Joseph and Benny Feilhaber would have both fallen into that category in 2012. By classifying Joseph as a DP, the Revs must pay the excess salary from the club coffers and will preserve a significant chunk of allocation money to buy down Feilhaber's budget charge and presumably sign new players to bolster the squad.)
The unusual set of circumstances created a perfect storm of sorts and seemingly forced MLS to alter its current paradigm. This fairly significant shift under this particular and specific set of circumstances raises one pressing question: will Joseph's new deal will function as a one-off exception to the DP rule or serve as a precedent for other domestic standouts to follow in the future?
De Rosario, in particular, will have watched this weekend's developments in New England with great interest. D.C. United president and CEO Kevin Payne has stated his desire to improve De Rosario's contract this offseason to seal his long-term future with the club. The Canadian international currently resides in Joseph's wage bracket ($425,000/$493,000) and could easily slide into the DP category with a pay increase and the consent of United's investors. De Rosario's circumstances, however, do differ somewhat from Joseph's situation – his brief tenure with the club, the existing contractual option for 2012 and the presence of Branko Boskovic as another DP could enter the deliberative process – and may prompt a different resolution.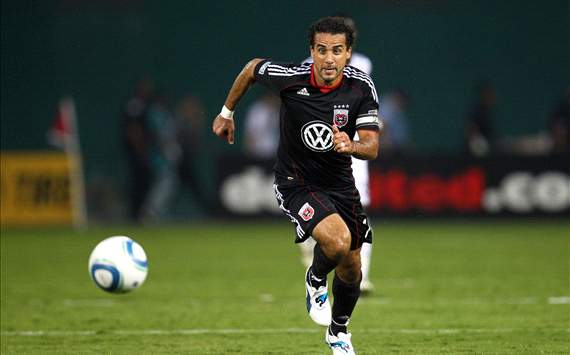 (Note: For competitive and driven players like De Rosario and Joseph, the DP tag is about more than just the money. It represents a measure of respect for their accomplishments and a sign of their value to the league. Other comparable foreign players like Guillermo Barros Schelotto, Luciano Emilio, David Ferreira and Fredy Montero earned their way into DP status through their MLS performances while players like De Rosario, Joseph and Taylor Twellman stood outside and watched enviously. The double standard exists for a few reasons – investing in sell-on value and restraining the market for domestic standouts, for starters – that aren't particularly equitable. Money, as always, trumps everything, but the lack of parity with players with skimpier domestic track records carries some weight here and inflames the situation further.)
The issue isn't just limited to De Rosario and Joseph. Philadelphia might want to investigate whether MLS would place Freddy Adu ($475,884/$594,884) into the DP category if the Union's investors are willing to splash the cash to cover some of his salary. Colorado (Conor Casey, $400,000/$400,000) and Real Salt Lake (Javier Morales, $400,000/$452,500) also feature players on contracts that exceed the maximum salary, but those comparatively modest overages – particularly in relation to the competitive benefits derived from counting those players as DPs instead of salary budget players – might encourage a different type of treatment to the cases presented by Adu, De Rosario and Joseph.
In the end, the outcome in those situations and any future ones that may crop up remains somewhat uncertain. Joseph's new DP deal may or may not create any lasting precedent within the always evolving DP model, but it does provide some hope to De Rosario and other potential domestic DP candidates that Joseph's pact might change the template enough to someday allow them to feature within it.
Kyle McCarthy writes the Monday MLS Breakdown and frequently writes opinion pieces during the week for Goal.com. He also covers the New England Revolution for the Boston Herald and MLSsoccer.com. Contact him with your questions or comments at kyle.mccarthy@goal.com and follow him on Twitter by clicking here.