Plenty of buzz and uncertainty circulated throughout MLS ahead of the first re-entry process last year.
MLS and the MLS Players Union concocted this complex player distribution mechanism as part of the Collective Bargaining Agreement reached prior to the 2010 campaign. Agents and club executives spent quite a bit of time trying to figure out how the system would work and, more importantly, how they could use it to their advantage.
The uncertainty showed in the outcome of stage one of the re-entry process as only two players – Houston forward Joseph Ngwenya and Kansas City defender Aaron Hohlbein (an out-of-contract player who ultimately signed with NASL side Fort Lauderdale Strikers) – came off the board at that point.
The Friday Five delves into the process to figure out why teams are reluctant to pull the trigger during stage one and shed some light on a few of the more quirky aspects of the system:
1. Salary budget numbers matter …
: In the first stage of the re-entry process, a club must pay any player it selects at his current option price in order to secure his services. Naturally, this requirement increases the level of discretion teams exercise when they make their stage one selections. Why dip into the pool now and pay more for a player who will likely settle for a lower figure later?
(Note: There is one potential exception to this theory, but it didn't pop up last season. A club could plump for a player at his option price in stage one if it does not believe he will fall to that particular spot in the draft order during the second stage. The salary budget crunch currently faced by many of the sides with poor drafting positions makes this gambit somewhat unlikely on the whole, but Montréal's presence at the bottom of the order keeps it in play.)
2. … but they don't always tell the whole story
: The easiest way to devise a player's potential budget number for 2012 involves two steps: (1) look at the number on the books for 2011 (per MLS Players Union documents, of course) and (2) tack on five to 10 percent to create a little bit of flexibility in the new number. That rudimentary formula may prove useful in many instances, but it does not necessarily reflect the actual option price in a particular contract.
Ngwenya's contractual situation over the past two seasons provides an illustrative and radical example of the potential issue at hand:
2010 (with Houston, after his arrival from Antalyaspor in April 2010)
: $72,000 base / $72,000 guaranteed compensation
2011 (with D.C. United, after his selection in stage one last December)
: $156,000 base / $156,000 guaranteed compensation
The typical variation in a player's salary budget number from year-to-year isn't usually that drastic, but the increase – which can hit five figures quite easily for a veteran player on decent wages – from year-to-year can still play a key role in the decision-making process.
3. Plenty of discussions took place between the release of the list on Wednesday and today's deadline …
: The apparent agreement between Houston and Bobby Boswell – a piece of news Boswell broke on his Twitter account on Thursday night – underscores the importance of that period. Clubs and players can continue discussions about new contracts or sign-and-trade deals through 5 p.m. ET today. After that point, clubs may not sign or trade their re-entry eligible players until after stage one concludes.
4. … and more discussions will take place between stage one and stage two
: Los Angeles striker Jovan Kirovski supplied a template for players who may ultimately prefer to stay in their current spot. The former U.S. international entered the re-entry process last year and then watched as every single club passed on his option price for 2011. Instead of risking an unwanted move away from southern California in the second stage, Kirovski removed himself from the process after stage one and signed a new deal with the Galaxy for exactly the same wages ($84,000 base, per MLS Players Union documents) he earned in 2010.
Players possess little reason to pull their names out of the process ahead of the first stage. If they are plucked off the board for some reason, they will play for their option price in 2012 and snag a few more dollars than they will after stage two. If they are not selected, they may decide to reach an amenable deal with their current employer if mutual interest exists or find another club willing to strike a sign-and-trade agreement. As Kirovski showed last year, players always have the choice to opt out ahead of the second stage if they so desire.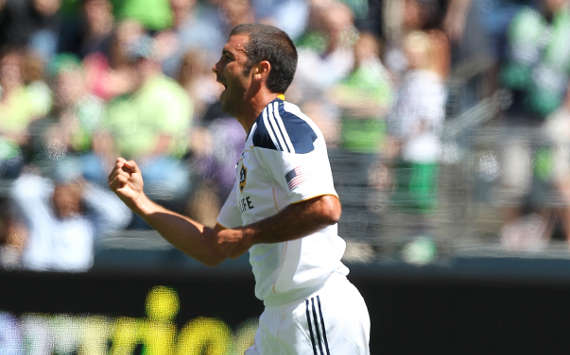 (Note: If a player and a club are on the verge of sealing a new deal, the player can bypass the process entirely and pull his name from re-entry consideration. New England veterans Shalrie Joseph (out-of-contract) and Matt Reis (option year) were not listed among the candidates for stage one despite their eligibility for the process. Reis re-signed with the Revolution on Thursday, while Joseph is expected to follow suit in the coming days after Revs general manager Michael Burns said on Wednesday that he was "very optimistic" that both Joseph and Reis would return in 2012.)
5. One narrow band of players appears most palatable for stage one selection
: Most players end up in the re-entry process because their club has declined to pick up their option for next year, but a few out-of-contract players fall into the process because they meet a few specific criteria.
Out-of-contract players qualify for the re-entry process in two ways:
(1) they are at least 25-years-old, they possess at least four years of MLS experience and their current clubs do not offer them a contract at their current salary level;
(2) they are at least 30-years-old, they possess at least eight years of MLS experience and their current clubs do not offer them a contract at 105% of their current salary level
The first group usually enters the process at a much lower price tag. As Hohlbein's selection showed last year, that price usually lands at a point where a team or two can develop some interest straightaway.
Both possible entrants in that first category – Toronto FC's Danleigh Borman and Vancouver's Jonathan Leathers – made the MLS minimum salary of $42,000 in 2011. If a club selects either Borman or Leathers on Monday, it must submit a bona-fide offer (in this case, the 2012 minimum salary of $44,100) after stage one in order to retain his MLS rights. Those rights persist even if the player leaves MLS.
Although the small budget hit for a potentially useful player can prove particularly enticing, there is one inherent risk in choosing Borman or Leathers in either stage. If either player accepts the contract offer for 2012, then his contract is fully guaranteed for next season under the terms of the CBA.
Kyle McCarthy writes the Monday MLS Breakdown and frequently writes opinion pieces during the week for Goal.com. He also covers the New England Revolution for the Boston Herald and MLSsoccer.com. Contact him with your questions or comments at kyle.mccarthy@goal.com and follow him on Twitter by clicking here.