D.C. United ushered out several familiar faces and welcomed a new right back on Tuesday as it attempts to improve its squad and return to the playoffs in 2012.
Santino Quaranta and Clyde Simms topped a list of nine United entrants into the re-entry process after the club declined to pick up several contract options yesterday.
Although the almost certain exits of previous cogs Quaranta and Simms may prompt mixed feelings from the United faithful, their departures – and the exits of several other reserves – represent logical and straightforward steps for a side that will need plenty of extra capital to rebuild during the offseason.
Quaranta and Simms carried significant paychecks for their projected roles in 2012. Quaranta faced another year in a reserve capacity with Andy Najar and Chris Pontius ensconced on the flanks. Simms slipped out of the lineup during United's playoff push and saw Perry Kitchen establish himself as the likely first choice option as the holding player in central midfield. Both veteran players would provide quality depth if they stayed with the club, but United needs the combined $300,000 in budget room to absorb Dwayne De Rosario's deal (Toronto FC and New York carried much of the budget charge in 2011 and club executives are working on a new, presumably more lucrative pact for 2012) and supplement its current side.
Robbie Russell's arrival from Real Salt Lake reinforces Kitchen's future in midfield and shows why Simms will likely ply his trade elsewhere next year. United paid the modest price of a third-round SuperDraft pick in 2013 for the out-of-contract Russell and presumably plans to install the 32-year-old in its particularly troublesome right back spot in 2012.
(Note: This trade made plenty of sense for all parties. United desperately needed a solid right back to permit Kitchen to play in midfield. RSL possessed the fullback depth to make the move and will use the $134,000 [Russell's guaranteed compensation in 2011, per MLS Players Union documents] freed up to address its salary budget crunch. Russell wanted to play in the same city where his wife works as a lawyer. Everyone wins in this particular scenario.)
With other experienced figures like Marc Burch and Joseph Ngwenya on their way out the door, United will have to cobble together some depth during the offseason. The decision to decline nine options, however, gives United plenty of latitude to shop for new players to fill out the squad for next season.
Montréal leans on allocation money trove to build its squad
Impact coach Jesse Marsch has sprinkled his biggest resource – a substantial pile of allocation money – across the league over the past week to add quality to his developing squad.
Marsch offered a preview of his preferred tactic when Montréal purchased Tyson Wahl from Seattle as part of its expansion draft wranglings, but the practice really picked up this week as the Impact leveraged its spending power to nab two proven MLS performers.
Los Angeles goalkeeper Donovan Ricketts arrived first in a sensible, money-fueled swap with the Galaxy. Josh Saunders claimed the number one shirt from the Jamaican international in the second half of the campaign and the Galaxy simply needs budget room too much to carry both keepers on the books in 2012. Marsch and the Impact sent an undisclosed sum of allocation money to the Galaxy to increase Bruce Arena's spending power and snatch the 2010 MLS Goalkeeper of the Year away for a reasonable fee.
In the end, this deal makes sense for both parties. If Ricketts can avoid the injury issues that plagued him in 2011, then Montréal will have procured one of the league's best custodians to provide its last line of defense. Los Angeles may have broken up its enviable goalkeeping tandem with this deal, but the Galaxy will now have more resources available to keep the squad together.
Davy Arnaud's arrival from Sporting Kansas City follows the same template. Sporting captain Arnaud dropped out of Peter Vermes' starting XI after returning from injury and looked surplus to requirements heading into next season. Despite Arnaud's high salary ($250,000 base/$258,750 guaranteed compensation, per MLS Players Union documents) and his tenuous place in the side, Sporting still opted to protect him (and his value) ahead of the expansion draft.
Montréal's decision to select Seth Sinovic in the expansion changed the calculus of the situation between the two clubs and prompted a trade that suited both sides. Sinovic wanted to stay in Kansas City, while Arnaud probably needed to head elsewhere to find regular first-team football. Marsch and the Impact once again sealed the deal by including allocation money – always a commodity with Vermes' deft work in the transfer market – with Sinovic to encourage the swap.
The final deal – Arnaud to Montreal for Sinovic and allocation money – may flatter Sporting given the circumstances, but it also hands the Impact an established attacking presence in midfield heading into 2012. No matter how Marsch fares in the transfer market this winter, the Impact can at least rely on Arnaud to supply a few goals and some thrust through midfield. With plenty of budget room to spare at the moment, Montreal can afford to take a gamble on Arnaud returning to form and hope it pays off like Portland's punt on Jack Jewsbury did in 2010.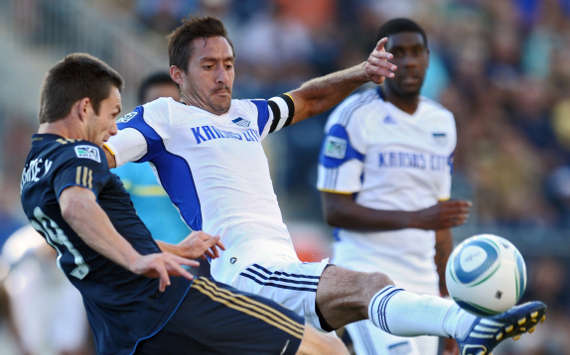 Vermes' wheeling-and-dealing over the past week has left Sporting in a far stronger position without expending much in the way of resources. Sporting has turned Arnaud and the exiled Ryan Smith into Sinovic, Paulo Nagamura and an undisclosed amount of allocation money. In addition to that profitable set of deals, Vermes freed up significant budget room to fund his inevitable series of acquisitions and Jimmy Nielsen's contract extension through 2013 by shipping out Arnaud and waiving Jéferson ($167,500 budget charge after his arrival as a midseason Designated Player), Craig Rocastle ($116,063 in guaranteed compensation) and Milos Stojcev ($99,000 in guaranteed compensation) last week.
(Note: The extra budget room will come in handy for Vermes' chopping-and-changing habits, but Nagamura's under-the-radar arrival could prove influential to Sporting's success in 2012. If Nagamura can find his fitness and locate his form, he should provide an upgrade from Júlio César and Roger Espinoza in central midfield. Sporting must improve in that central midfield department to fuel its MLS Cup ambitions. If Nagamura provides that extra boost [and presumably at a salary less than the $230,500 in guaranteed compensation he picked up in 2011] without too much fuss, all the better.)
Mendoza's antics and price tag hastened his Columbus departure
Andrés Mendoza will not return to Columbus next season after the Crew decided to spurn the opportunity to pick up his option for 2012. Mendoza may have finished fourth in the race for the Golden Boot with 13 goals, but the former Peruvian international should have seen his departure coming for quite some time.
The 34-year-old forward did not fit into Robert Warzycha's workmanlike squad – most of the time, he stood around and waited for the ball to find his left foot – and did not supply enough consistent production to overcome his inability to work within the team structure and the enmity caused by his status as the Crew's lone Designated Player.
Scoring goals matters, but it can't come at the expense of operating within the collective for an MLS side. Mendoza performed his primary function. He just didn't care enough to fulfill all of the other duties required to earn another season with Columbus.
Mendoza's departure gives the Crew plenty of budget room to search for a direct replacement up front and a creative influence in central midfield. Columbus general manager Mark McCullers told MLSsoccer.com yesterday that the Crew is looking for another Designated Player and may opt to sign a midfielder at that price point.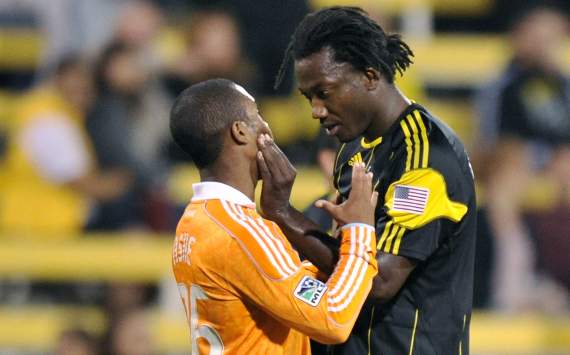 Clubs start to make players available for the re-entry process
MLS is expected to release a list of players eligible for the first stage of the re-entry process this afternoon. Clubs needed to decide whether to exercise the 2012 contract options available on a player's existing deal or submit the necessary qualifying offer to an out-of-contract player by yesterday.
Clubs can attempt to strike accords with their own players and make sign-and-trade deals (with player consent required) through Friday. Players who meet the following criteria and do not sign new deals will take part in the first stage of the re-entry process next Monday:
- Players who are at least 23 years old and have a minimum of three years experience in MLS whose options were not exercised by their clubs (available at option salary for 2012).
- Players who are at least 25 years old with a minimum of four years of MLS experience who are out of contract and whose club does not wish to re-sign them at their previous salary (available for at least their 2011 salary).
- Players who are at least 30 years old with a minimum of eight years of MLS experience who are out of contract and whose club does not wish to re-sign them (available for at least 105% of their 2011 salary).
While the full list of eligible players will hit this afternoon, there are a few names that have already surfaced through press releases and other sources:
Chicago
: Jon Conway ($70,000 base/$79,833 guaranteed compensation in 2011), Alec Dufty ($32,600/$32,600), Baggio Husidic ($82,500/$124,500)
Columbus
: Kevin Burns ($42,000/$42,000), Jeff Cunningham ($140,000/$152,500)
D.C. United
: Brandon Barklage ($42,000/$43,566), Marc Burch ($95,000/$97,500), Steve Cronin ($72,000/$72,000), Devon McTavish ($50,000/$50,000), Kurt Morsink ($62,000/$63,500), Joseph Ngwenya ($156,000/$156,000), Santino Quaranta ($115,000/$117,500), Clyde Simms ($173,250/$179,250), Jed Zayner ($80,000/$84,500)
New England
: Ryan Cochrane ($70,000/$71,667), Kheli Dube ($90,000/$99,000), Pat Phelan ($60,000/$60,000)
San Jose
: Bobby Convey ($313,500/$336,000)
Kyle McCarthy writes the Monday MLS Breakdown and frequently writes opinion pieces during the week for Goal.com. He also covers the New England Revolution for the Boston Herald and MLSsoccer.com. Contact him with your questions or comments at kyle.mccarthy@goal.com and follow him on Twitter by clicking here.