Selecting 10 players from a list filled with more than 200 options appears somewhat straightforward at the outset.
As Montréal coach Jesse Marsch explained yesterday ahead of this afternoon's expansion draft, it really isn't.
"Without naming anyone, there are a few names on the list that interest us," Marsch told reporters, according to the Impact's official website. "We need to have players that are going to help us, but also players that want to be here and that want to engage themselves in this project and understand what it is and what the community is. It's a balance of putting together a group that is going to be strong."
Marsch compared the process to a puzzle, but the Princeton grad could have just as easily compared it to an economics problem: how to extract the maximum amount of value from a finite amount of resources.
Previous expansion clubs have approached the expansion draft in different ways. Mo Johnston used the draft to generate allocation money for Toronto FC. Seattle formed part of its current nucleus with its selections, while Philadelphia relied on its picks to carry it through its expansion season. Portland and Vancouver kept a few players to stock their rosters and traded away others to acquire allocation money and draft picks.
Marsch will have to take several factors into account as the Impact's technical staff prepares to proceed through the draft.
Montréal has already signed four players – goalkeeper Evan Bush, defender Nelson Rivas, defender/midfielder Hassoun Camara and midfielder Sinisa Ubiparipovic – for its MLS squad and has already filled two of its foreign player slots. The present group of players could allow the Impact more latitude to explore trade options should it choose to do so.
The Impact's apparent desire to add a high profile player or two in the foreign transfer market may require a dash of prudence in these selections to retain enough budget room for those moves. Marsch has said he will consider selecting Freddy Adu ($475,884 base/$594,884 guaranteed compensation, per MLS Players Union documents) after the duo (and Impact assistant Mike Sorber) worked together with the U.S. national team during the CONCACAF Gold Cup, but the Impact may not want to splash the cash so lavishly at this juncture.
In addition to those financial concerns, the Impact will weigh the usual contractual and lifestyle factors regarding any potential choices. Expansion teams usually enjoy some latitude to amend contracts, but the duration of the deal and the overall compensation package afforded to a player always matters. The usual importance attributed to those considerations explains why well compensated figures such as Adu, Omar Bravo, Julian de Guzman and Andrés Mendoza were left unprotected by their current clubs. Other players will have instructed their agents to notify the Impact that they aren't particularly interested in making the move up to Québec in time for next season or would prefer to stay with their current club.
As the previous few paragraphs suggest, the process isn't particularly facile. Despite the inherent difficulties in predicting how the draft will unfold, the Musings offers a few more details on the proceedings before offering up 10 potential selections.
The Rules
Montréal will select ten players from the list of players exposed after the other 18 MLS sides submitted their 11-man protected lists. The Impact may not select more than one player from any club.
Relevant Developments
- Houston captain Brian Ching told the
Houston Chronicle
that he will retire and join the Dynamo front office if the Impact select him in the draft.
(Note: Marsch and Sorber were members of the U.S. national team coaching staff when then-coach Bob Bradley overlooked Ching for a spot on the World Cup roster in 2010.)
- Portland will not have a player selected in the draft as part of the deal struck to send Ryan Pore on loan to the Impact in July, according to
The Oregonian
.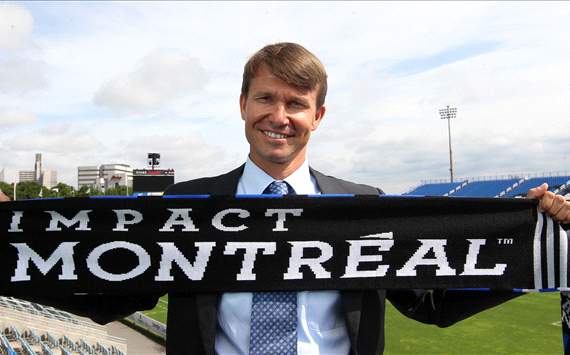 Potential selections1.
Kosuke Kimura, Colorado defender ($63,525 base/$63,525 guaranteed): Kimura can slide right into the starting lineup and offer league average performances at right back without too much fuss. His modest price tag and possible trade value makes the decision even easier even though Camara can play at right back.
2.
Blair Gavin, Chivas USA midfielder ($55,000/$74,000): The oft-injured midfielder carries a reasonable price tag and provides a rather unusual dash of creativity when he can take the field. Gavin may also hold some value on the secondary market. The versatile Michael Lahoud ($63,360/$72,735) presents another enticing option, but Zarek Valentin's wages ($80,000/$132,000) make his selection unlikely after he graduated from Generation adidas following the 2011 campaign.
3.
Josh Gardner, Columbus defender ($49,200/$49,200): The former Carolina Railhawks star should represent a known quantity to this rising second division club. He outperformed his contract with the Crew this campaign and would slot straight into the side at left back if he can replicate his 2011 campaign. Acquiring the rights to out-of-contract midfielder Emmanuel Ekpo might make some sense as well.
4.
Maicon Santos, FC Dallas forward ($126,000/$126,000): Santos fell out of favor in Frisco as the business end of the campaign arrived, but he scored eight times in 30 appearances this season and supplies a decent mixture of hold up play and work rate on the front line.
5.
Michael Stephens, Los Angeles midfielder ($57,750/$79,000): Montréal could opt for one of the Galaxy's young South American schemers here, but the loan agreements associated with those players usually make that gambit more trouble than it is worth. Instead, the Impact could choose Stephens at a fair price and whisk away one of the Galaxy's most promising young performers.
6.
Ned Grabavoy, Real Salt Lake midfielder ($118,125/$118,125): RSL escaped from last year's expansion draft relatively unscathed after Portland selected David Horst in the wake of his fine season on loan in the second division. Montréal could go in several different directions to pluck a player from the Claret-and-Cobalt, but the silky Grabavoy offers application, tidiness and versatility to a side that will need all three qualities.
7.
Joey Gjertsen, San Jose midfielder ($75,000/$83,625): Gjertsen spent three seasons with the Impact before linking up with San Jose in 2010. In addition to that connection between the two parties and his acceptable transition to MLS, Gjertsen can function in a couple of different spots if required. Nana Attakora presents another tempting option here, but the Canadian international is out of contract (and form) at the moment and his new deal will likely include a substantial pay increase.
8.
Miguel Montano, Seattle midfielder ($32,604/$32,604): Montano spent the latter stages of the NASL season on loan with the Impact and may have sparked some interest with his performances. The stint prompts two pressing questions: (1) did the Colombian U-20 international do enough to earn a spot there next season? and (2) did the two clubs strike a deal to keep the Impact away from other potential options like Patrick Ianni, James Riley and Zach Scott?
9.
Soony Saad, Sporting Kansas City forward ($32,604/$32,604): Sporting manager Peter Vermes showed enough faith in Saad to hand him four substitute appearances after his arrival during the summer. The young forward showed enough to inspire a low-priced gamble instead of opting for more proven choices like Michael Harrington (expensive deal for a fullback) or Seth Sinovic (a Kansas City native who likely isn't eager to move).
10.
Nathan Sturgis, Toronto FC midfielder ($85,000/$89,250): The former Seattle midfielder struggled to carve out a regular role under Aron Winter, but he showed well enough alongside Osvaldo Alonso in 2010 to suggest he might be worth a punt here despite his poor injury record. Adrian Cann's recent knee surgery and his desire for a significant wage hike make him a somewhat unlikely selection here.
Kyle McCarthy writes the Monday MLS Breakdown and frequently writes opinion pieces during the week for Goal.com. He also covers the New England Revolution for the Boston Herald and MLSsoccer.com. Contact him with your questions or comments at kyle.mccarthy@goal.com and follow him on Twitter by clicking here.