David Beckham limped to the finish line on Sunday in Los Angeles, likely playing his last Major League Soccer game with a damaged hamstring and a renewed spirit.
The title that Beckham seemed destined to win in the United States is finally his, and once he is healthy again Beckham owes it to himself to leave the MLS in his rear view mirror.
His work in the USA is done. Beckham generated interest in the league, helped it expand and was instrumental in soccer-specific venues being built on American soil. Seven years after Pele retired from the Cosmos in 1977, the North American Soccer League folded. MLS is a better business model and will get the chance to prove it can continue to thrive in the post-Beckham era.
"David has delivered for us on all aspects of our expectations," says MLS commissioner Don Garber. "MLS wouldn't be what it is today if David didn't decide to come."
When you hear Garber and Beckham talk it sounds as if Beckham, whose historic five-year contract with the Galaxy expires Dec. 31, already has one foot out the door. That's okay.
If Beckham's rumored destination – Paris – is true, it makes all the sense in the world. He's already done England, Spain, Italy and the USA. Plus, staying closer to Great Britain puts Beckham is position to play in the London Olympics next summer and possibly the 2014 World Cup in Brazil.
It wasn't always perfect for Beckham in Los Angeles. He and Landon Donovan were rarely on good terms and for a few years Beckham seemed more interested in living the Hollywood lifestyle than being the soccer savior he was touted to be.
That all changed this season, Beckham's last under contract. You could tell he wanted to go out as a winner. Beckham's performance throughout the playoffs was nothing short of inspiring. He played strong soccer penalty box to penalty box and Beckham's Galaxy teammates followed his lead.
Not even a hamstring injury in the days leading up to the MLS Cup match against Houston would keep Beckham down. His header led to the pass from Robbie Keane which assisted Donovan's championship-winning goal. The Galaxy's three best players were very much in sync.
"I've been around great athletes and competitors in different sports in my life," Galaxy coach Bruce Arena said. "This guy is as good as it comes. He has an unbelievable desire to win and compete. David's a champion."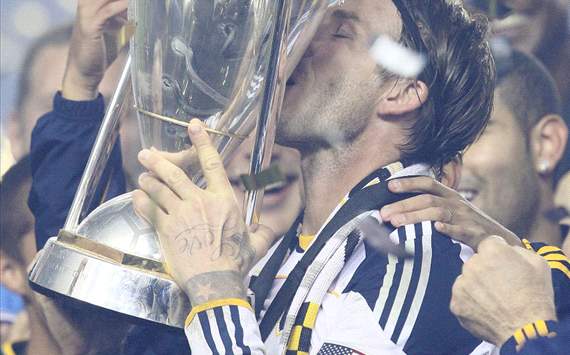 Beckham's shares the same number, No. 23, as another cultural icon, Michael Jordan. In his final shot in a Chicago Bulls uniform in the 1998 NBA Finals, Jordan hit the shot that beat the Utah Jazz and secured Jordan's sixth championship.
Jordan retired seven months later and, although he briefly returned with the Washington Wizards, his signature moment was that shot against Utah. And even without Jordan the NBA survived. A new group of young stars – LeBron James, Dwyane Wade, Derrick Rose – eventually filled the void.
No one has the crossover appeal like Beckham but other international stars will come. Maybe in a few years someone along the lines of Ronaldo, Rooney and/or Drogba will give the MLS a shot. Would that be such a bad thing?
Beckham refuses to rule out a return to Los Angeles and reminded reporters that in his first year with Real Madrid there were rumors that "I was going to Chelsea every weekend."
Maybe he stays, but I can't help but think the storybook ending is exactly what Beckham wanted. The same guy who came into the league as something of a matinee idol was at the very end just a soccer player; a guy playing through injury and willing his team to a championship as only the great ones can.
"If he decides to get on his horse and ride into the sunset, I'm all for it," Arena said. "He's really earned the right to make the kind of decision he wants to make for himself and his family."
Au revoir, David.
Follow FRANK ISOLA on