LOS ANGELES
MLS Cup: Houston @ Los Angeles (Sunday, 9:25 p.m. ET – ESPN/Galavision/TSN2)


Previous Meetings
: Tied, 1-1– LA 1-0 (@LA – May 25), HOU 3-1 (@HOU – Oct. 23)
Team news: Houston (4-4-2) will have to replace talisman Brad Davis after he picked up a right quad injury in the 2-0 victory at Sporting Kansas City in the Eastern Conference final. Dynamo coach Dominic Kinnear chose to insert Jermaine Taylor at left back and push Corey Ashe into midfield when Davis limped off in the first half. Kinnear could persist with that arrangement to replace Davis in this match or he could plump for Colin Clark in a straight swap on the left flank. … Chad Barrett will miss the final for Los Angeles (4-4-2) after sustaining a dislocated right foot in the Galaxy's 3-1 win over Real Salt Lake in the Western Conference final. Paolo Cardozo and Adam Cristman are the likely replacements as Robbie Keane's running mate up front. The Ireland captain returned in midweek from the two-legged Euro 2012 qualifying playoff triumph against Estonia and will start against Houston. David Beckham should also feature from the outset after declaring that he felt fine during a press conference on Thursday. The former England captain has dealt with a back issue in recent months and missed a training session earlier this week.
How will Houston cope without Davis?: No question could prove more significant to the Dynamo's chances in this final. The MLS MVP finalist created more attacking opportunities than any other player in the league this season and played a key role in the Dynamo's dominance on set pieces with his accurate and reliable service. In addition to those tangible contributions, Davis also provided composure and experience to a side that will likely start just one player with a previous MLS Cup appearance on his CV.
"You can't replace Brad, just from the season he's having and what he means to this team," Houston forward Brian Ching said during a press conference on Thursday. "He's played in every single game we've had this year. He's the MVP of our team and a finalist for the MVP of the league. A guy like that, he's a leader on our team. You can't really replace him."
Davis' absence will hamper the Dynamo's efforts, but history suggests that Houston still retains a decent shot of winning MLS Cup for a third time. As Ching subsequently noted, the Dynamo played without a key starter in its previous two MLS Cup victories in 2006 (Ricardo Clark) and 2007 (Ching). Houston can rely on its cohesiveness as a unit and take confidence from its ability to adjust to Davis' withdrawal in Kansas City as it attempts to extend that somewhat unfortunate streak against the Galaxy.
"I think we did a pretty good job in Kansas City of the movement on that day," Kinnear said. "It worked out well for us for a number of reasons. Jermaine Taylor had a good game defensively. Corey Ashe had a good game on both sides of the ball. So, for us, you can't worry about Brad because he's not playing. You have to really concentrate on the players who are available. I wish Brad was playing because he makes us a better team and that should be the end of us talking about it because he's not going to be available."
Magee poised to set league record...if he scores again: In-form midfielder Mike Magee has scored three goals in three games for the Galaxy during the postseason. If Magee can hit the back of the net against the Dynamo, he will become the first MLS player to score in every match during a single playoff run.
"I'm pretty happy with my form at the moment," Magee said during a press conference on Thursday. "Obviously, I'm getting goals, but it's kind of an all-around the game. The thing I'm most happy with is how the entire team is playing. We're getting results and playing hard."
The stakes are high in the dugout as well: Arena or Kinnear will become the first MLS coach to win MLS Cup three times. Arena lifted the title twice with D.C. United in 1996 and 1997, while Kinnear also won back-to-back with the Dynamo in 2006 and 2007.
Houston: The road to a third MLS Cup triumph in six years starts with continued excellence at the back. Houston has not lost in nine matches since Geoff Cameron dropped into central defense and has not shipped a goal in its past 264 minutes of playoff action. Cameron's mobility gives the Dynamo defense a little bit of flexibility to deal with the mobile Keane up front, while probable fullbacks Taylor and André Hainault will approach their roles conservatively and focus primarily upon their defensive duties. Central midfielders Luiz Camargo and Adam Moffat also need to contribute to the rearguard efforts by closing down the passing lanes between the lines (Moffat's primary function) and restricting the space for Juninho to shoot from distance and Beckham to drop off and serve diagonal balls.
If the Dynamo retains its stout defensive shape, it can select the proper moments to try to test the Galaxy going forward. Set pieces remain the most promising attacking route for the Dynamo, but Houston will likely look for Ching to facilitate attacking moves with his deft hold up work and try to play Calen Carr over the top at times. Without Davis in the lineup, the Dynamo may struggle to receive consistent service from the wide areas.
Los Angeles: Houston's approach and the overall tempo of the game should suit the Galaxy, but Bruce Arena's side may have to dictate the game more than it prefers. Landon Donovan's dynamic movements will prove crucial as the home side attempts to unlock the Dynamo defense. The U.S. international hasn't hit top form in the playoffs and stumbled in the 2009 MLS Cup final defeat on penalties to Real Salt Lake, but he must influence this match to boost his side's chances. Quick and sharp interplay in the final third – instead of a steady diet of long Beckham diagonals – may prove more effective against a Dynamo side with a decisive aerial advantage.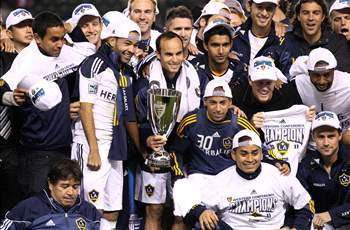 Omar Gonzalez once again looms as the critical piece at the back as the Galaxy attempts to deal with the Dynamo from the run of play. The MLS Defender of the Year will have to mark the crafty Ching closely without creating gaps for Carr to exploit or veering too far out of his comfort zone. Los Angeles' defensive shape is usually impeccable, but it has failed to concentrate on set pieces at points over the past few weeks. Even with Davis out of the lineup, the Dynamo will threaten in such dead ball situations. In order to secure the title, Los Angeles must pay rapt attention at all times.
X-Factor: Set pieces loom as the potential decisive factor in this contest. The two sides tied for MLS lead by scoring 14 times from dead ball opportunities during the regular season and have added to that haul during the postseason. Both sides defend well from set piece opportunities (Houston conceded five times, while Los Angeles allowed six goals), but Los Angeles has shipped three set piece goals – including two to the Dynamo in the season finale – in its past four games.
In a match this close, the margin between the sides could fall to one missed mark on a set piece. Can one side somehow carve out an advantage in this department and claim that crucial edge in this final?
Prediction: Houston has not received the credit it has deserved for cobbling together a nine-game unbeaten run and surging into MLS Cup. Davis' absence and the two-week break may stunt some of that momentum, but the Dynamo should still make this night particularly difficult on a Galaxy side that will feel significant pressure to lift the trophy at the Home Depot Center.
This game looks likely to head to extra time (seven of the previous 15 finals have reached that point) given the approach preferred by both sides. Can the Dynamo actually pull off a victory? You bet. The safe money, however, rests with the Galaxy learning from its heartache in Seattle two years ago and securing its third MLS Cup crown in an excruciatingly tight contest.
Kyle McCarthy writes the Monday MLS Breakdown and frequently writes opinion pieces during the week for Goal.com. He also covers the New England Revolution for the Boston Herald and MLSsoccer.com. Contact him with your questions or comments at kyle.mccarthy@goal.com and follow him on Twitter by clicking here.