It only makes sense that the spotlight has shined brightest on the Galaxy in the buildup to the MLS Cup final on Sunday. After all, they are at home, a win away from completing one of the greatest seasons in MLS history, and chock full of household names like Robbie Keane, Landon Donovan and David Beckham, who may be playing his final MLS game.
With that in mind, the Houston Dynamo have understandably been a bit lost in the shuffle. Let's take a look at the five things you need to know about Houston, aka, the Galaxy's opponent, heading into MLS Cup.
They are red hot
For the majority of the MLS campaign, the Dynamo were a middling outfit, prone to the sporadic runs of good and bad form that are the hallmark of a mediocre side. On Sept. 16, they were below .500 with a 8-9-12 record and a -2 goal differential. Since that point, including postseason matches, Houston is undefeated, rattling off a 7-0-1 mark with a +10 goal differential.
How hot are the Dynamo? It took them until the end of September to win their first road game, which broke a string of 15 matches without a win (0-6-9). Following that 1-0 victory at FC Dallas, the Dynamo are undefeated away from home, winning four consecutive road matches for the first time in franchise history.
A lineup adjustment late in the season triggered the Dynamo's scorching run of form
On July 21, the Dynamo traded squad players Mike Chabala and Lovel Palmer to Portland for midfielder Adam Moffat. The move appeared curious at the time, because Moffat hardly saw the pitch with the Timbers. However, Moffat has proved his worth with Houston, as he's been a two-way terrier in the center of the park, contributing long-range goals and playing solid defense.
On Aug. 9, the club signed midfielder Luiz Camargo on loan from Clube Parana in Brazil, and inserted him into the starting lineup alongside Moffat in mid-September. The Moffat/Camargo pairing has paid huge dividends, not just in and of itself, but also because it allowed Geoff Cameron to move from the center of midfield to the center of defense.
The 26-year-old Cameron has been a vital cog for the Dynamo at several positions during his career, but his play at center back has been nothing short of dominant, as the team is 7-0-2 since his switch to center back, conceding just six goals in those nine games.
"Seeing where the team is and seeing how he's playing and the results, it's pretty safe to say he's found a home at center back," Dynamo head coach Dominic Kinnear said of Cameron.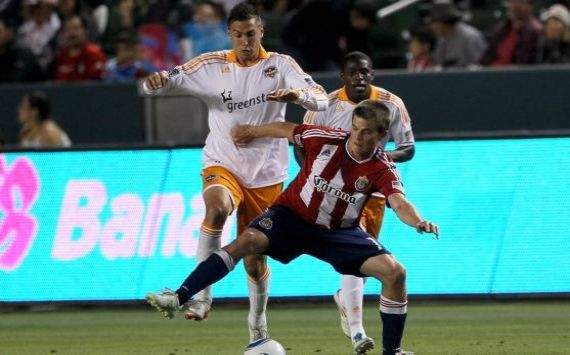 Cameron | A revelation at center back in the latter portion of the season

Without their talisman, the Dynamo will reshuffle their left side
The Dynamo relied heavily upon left midfielder Brad Davis during the regular season, and he responded with a 16-assist campaign that earned him a MVP nomination alongside Brek Shea and Dwayne De Rosario. Davis will miss MLS Cup with a torn quad, but Galaxy head coach Bruce Arena doesn't expect his absence to have as great an impact as many are predicting.
"I think we would all be mistaken if we felt that Houston is going to be a handicapped team without Brad. They have an identity and an understanding how to play. We won't be preparing a whole lot different for Houston than we would if Brad was going to play," Arena said.
Davis suffered his injury against Sporting Kansas City in the Eastern Conference final, and Kinnear responded by inserting Jermaine Taylor into the match at left back, pushing then-left back Corey Ashe to left midfielder. We'll likely see this pairing on the left side on Sunday.
Ashe should slot in seamlessly to left midfield, where he played for most of his career before becoming the full-time starter at left back this season. Taylor, meanwhile, has been a part-time player in his first season in Houston, starting just 10 matches. He has featured in all four defensive positions, however, and is equally comfortable with his left and right foot. Though he likes getting forward, his biggest responsibility will be defensive, as he'll match up against Donovan on the right side of the Galaxy's midfield.
Their advantage will be in the air.
If there's one aspect where the Dynamo will undoubtedly have the edge over their opposition, it will be when the ball is airborne. In the back, Cameron (6-foot-3) and Boswell (6-foot-2) are both excellent in the air, and will tower over Galaxy attackers like Robbie Keane (5-foot-9), Landon Donovan (5-foot-8), Mike Magee (5-foot-10), and Juninho (5-foot-7).
Offensively, the Dynamo have been outstanding on set-pieces this season, scoring 22 goals from free kicks and corner kicks. Of course, pinpoint service from Davis was a large part of this success, but Houston did score from a free-kick in the Eastern Conference final after Davis had been knocked out.
Without Davis, Adam Moffat will draw the assignment of taking set pieces, and with the likes of Cameron, Boswell, and aerial specialists Andre Hainault, Brian Ching and Carlo Costly (all over six feet) getting up for headers, it will create some matchup problems for the Galaxy's undersized defenders.
"We didn't seem to drop off too much in Kansas City when we had Adam serving the ball and when you have guys making aggressive runs the way that our guys do, it creates a lot of trouble and it's hard to be accountable when we have that many big guys," Boswell said.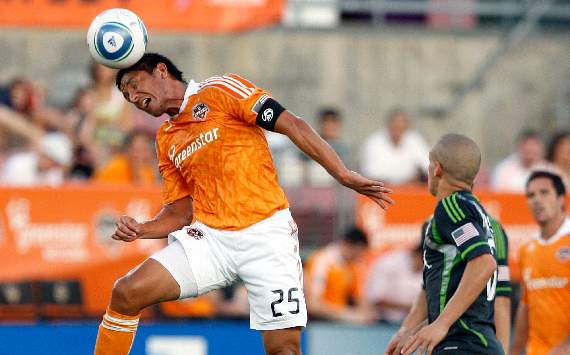 Ching | One of Houston's many aerial threats
They are massive underdogs
Let's be honest: If the Dynamo win MLS Cup, it will be, without a doubt, one of the greatest upsets in MLS history.
The Galaxy are a powerhouse coming off their second consecutive Supporters' Shield, and surrounded by whispers that a win Sunday would vault them into the discussion for the greatest team in MLS history.
The numbers are hard to argue. The Galaxy amassed 67 points in the regular season, the second-highest total in league history. Their 0.82 goals conceded per game is third best in league history. They have lost just five times all season, advanced in the CONCACAF Champions League, and have some of the biggest names to have ever graced a MLS pitch.
Additionally, they have the added luxury of playing at home, where they have not lost all season, against a Dynamo side missing their MVP candidate. Outside of Davis, the Dynamo's leading assist-getter is Cameron with five. Incidentally, even including Davis, Cameron is also tied for the team lead in goals with just five.
"If the game were to be played on paper, I think things do fall in their favor," Kinnear admitted.
Lucky for us, they don't play the games on paper. We'll see you Sunday.
Follow SETH VERTELNEY on

or shoot him an

email