Just a year on from winning a franchise first MLS Cup together, the Colorado Rapids and head coach Gary Smith parted ways.
A disagreement about the chain of command went public, and the Rapids decided not to renew the contracts of Smith or his assistant, Steve Guppy.
Now the onus is on managing director Jeff Plush to select a new coaching staff that can build off the success Smith brought in his three and a half years in the position.
"As we look forward," Plush said in an exclusive chat with Goal.com, "we are excited about the opportunity to get someone in here who is trying to take it to the next generation for our league, as it continues to evolve."
Jeff Plush and the front office, including technical director Paul Bravo, are looking for certain traits in their next leader.
"We are certainly looking to for someone to bring an attacking level of soccer to our club," the 45-year-old Plush said. "Experience, proven track records, understanding of U.S. soccer system -- I think it is important for us to continue to develop our path forward."
Plush maintains that releasing Smith wasn't akin to pushing the self-destruct button. Plush would like the club to take advantage of the personnel assets already on the roster, rather than rebuild from scratch.
"I think that would be something good if we can try to build off of our stadium, altitude, and be more of a high pressure team, which we have at times," Plush said.
"When I met with the players, they shared my excitement, and [are] certainly in support of us moving forward in a positive direction, a step we can do immediately. This isn't a rebuilding project by any stretch."
After all, much of the same roster that won the MLS Cup in 2010 is still intact. From Conor Casey and Omar Cummings up top, through captain Pablo Mastroeni and Jeff Larentowicz in midfield, to Drew Moor and Marvell Wynne at the back, Plush sees no reason to act like an expansion side in 2012.
"You look at our core group of players," Plush said. "That's as strong of a spine as any in the league. You . . . still have the starting XI that won the MLS Cup."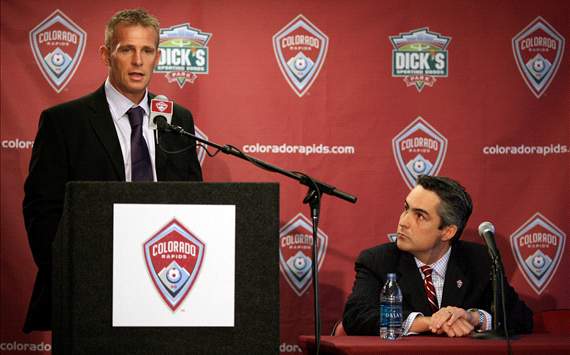 Lingering Eyes | Plush ultimately decided he didn't like what he saw in Gary Smith
Plush mentioned adding a Latin flair to a more attacking-based outlook in the Rapids' efforts to challenge for the Supporters' Shield and U.S. Open Cup as well as an MLS Cup repeat.
Plush not only hopes to win more silverware, he also wants to earn more points at home.
"One of the things we have been searching how to do and what we haven't yet done to the level that we would like, is to create a real fortress mentality at Dick's Sporting Goods Park. We don't want to drop as many points as we dropped. That is not a criticism, but I think it is definitely a goal going forward that we need to take more points at home."
Ultimately, Plush wants to see more unity in Colorado, from the employees down through the fan groups.
"Frankly, it's the main thing."

Tim Gardner contributed reporting to this article