MLS coaches overwhelmingly rely on some deviation of the setup to organize their teams as they attempt to push for honors.
In a league filled with a somewhat diverse set of tactical approaches, one common tactical thread always seems to emerge at the end of the biggest match of the MLS season.
The winning team usually starts out in a 4-4-2 formation.
There are, of course, other influences to determine the outcome of a match, but the recent patterns indicate teams that start out in that setup – or one of the various derivatives employed by coaches around the league – gain an advantage in the tussle for silverware. Seven consecutive MLS Cup winners – including the victor of Sunday's MLS Cup battle between Houston and Los Angeles – have preferred a version of the 4-4-2. Los Angeles has already made it four straight Supporters' Shield winners deployed in a similar manner.
It is somewhat of a coincidence that one base formation has consistently dispatched the others. Two of the league's top five sides chose another way to play during this campaign and fared well during the regular season. One of those two clubs, FC Dallas, lost in the final last year with its 4-1-4-1 approach. Other teams like D.C. United (the last MLS Cup winner to eschew a 4-4-2 back in 2004) and New England used a 3-5-2 setup during the last decade. One kick here or one slice of luck there would have broken the pattern.
Although the sequence of results does not establish omnipotence for one tactical setup over another preferred arrangement, it does reinforce the dominance of the 4-4-2 formation as a governing principle within league circles.
One look at the generally selected base formations – the primary setup chosen without regard for the tweaks that turn a 4-4-2 into a diamond 4-4-2, a so-called "empty bucket" 4-4-2, the en vogue 4-1-3-2 or whatever other variation is devised to create an advantage for a particular personnel group – shows how deeply MLS coaches prefer that particular formation.
Most common base formations selected by MLS teams in 2011
4-3-3: Sporting Kansas City, Toronto FC
4-4-2: Chicago, Chivas USA, Colorado, Columbus, D.C. United, Houston, Los Angeles, New England, New York, Philadelphia, Portland, Real Salt Lake, San Jose, Seattle, Vancouver
4-1-4-1: FC Dallas
(Note: Breaking down the tactical differences between the 15 teams employing some form of a 4-4-2 represents another column or series of columns. Suffice it to say that MLS isn't as tactically bland as the breakdown of base formations suggests.)
The general absence of one-forward formations and the persistence of the 4-4-2 setup as an influential formation contradicts the current operating practices at the highest levels of the game. The intermittent quality of tactical and technical education provided at the youth and university levels explains some of the reluctance to shift in a different direction. Those foundational issues, however, do not mask some of the personnel constraints that play a significant role in the debate.
Many of the practical problems sprout from the absence of true number nines. MLS clubs acquire and deploy plenty of forwards who can hit the back of the net at this level, but few of those strikers possess all of the traits required to operate alone up front. In an ideal world, a lone forward possesses the following attributes: (1) the finishing touch to polish off buildup play, (2) the physique to occupy two central defenders and win aerial battles, (3) the technical ability to facilitate play in the middle third and (4) the turn of pace to present some threat to get in behind defense.
Most of the players who tick many, if not all, of those boxes ply their trade in a league with higher wages. Occasionally, the right player can make such a system work – Toronto FC's Danny Koevermans offers a decent example without the pace as the central figure in Aron Winter's 4-3-3 setup – under the right circumstances in MLS, but those players are hard to locate. Complementing those suitable choices with the right mix of creativity and service from midfield creates another series of issues and underscores the difficulty of implementing a different approach.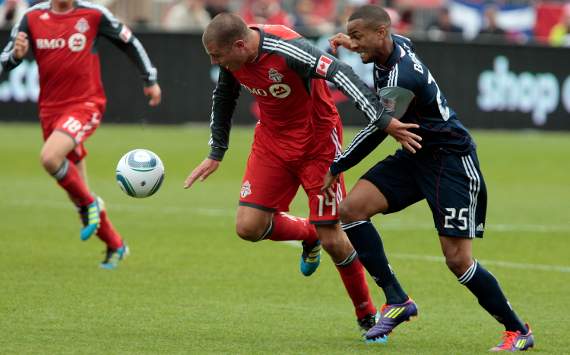 (Note: The pervasiveness of the 4-4-2 at the domestic level could also explain a portion of the consternation encountered by Jurgen Klinsmann as he installs his 4-1-4-1 formation with the U.S. national team. Previous managers Bruce Arena and Bob Bradley leaned on a 4-4-2 setup for much of their tenures. Their reliance on the familiar formation drew howls from Americans craving a bit more tactical diversity, but it also made use of the common and shared experience of that formation within a player pool primarily cultivated in MLS and subsequently shipped off to Europe. As the performances during Klinsmann's tenure indicate, he faces more pressing and significant issues in terms of the suitability of his approach to this player pool and his overall team selection. But do not discount the dearth of collective knowledge within the group about this tactical shift and its impact on the situation.)
FC Dallas' struggles to find a competent operator for its lone forward role provide a recent example to illustrate why MLS coaches often prefer to play with two or more forwards up top.
FCD coach Schellas Hyndman tried several different potential choices up front without finding the right person for the job. Maykel Galindo never found his fitness and never looked comfortable operating alone when he did. Ruben Luna needed more experience before he could attempt to carry that burden on a regular basis.
Milton Rodriguez couldn't compete physically at this level any more. Maicon Santos fared well enough in FCD's generally tight build up play, but he didn't offer enough sharpness in front of goal. The situation deteriorated to the point where Hyndman chose the versatile Jackson to fill the breach during the waning stages of the season and hoped that the Brazilian's physical gifts and work rate would overcome his lack of polish as a forward.
Instead of wrangling with these personnel and selection quandaries like Hyndman did (in an effort to protect influential club captain Daniel Hernandez's deep-lying role in midfield), most MLS coaches dismiss them and opt for a variation on the tried and true 4-4-2 setup. Given the formation's track record of success in recent years and the problems presented by the alternatives, it is hard to quibble with their adherence to the status quo.
Kyle McCarthy writes the Monday MLS Breakdown and frequently writes opinion pieces during the week for Goal.com. He also covers the New England Revolution for the Boston Herald and MLSsoccer.com. Contact him with your questions or comments at kyle.mccarthy@goal.com and follow him on Twitter by clicking here.