One year after lifting MLS Cup, the Rapids must now search for a new coach and a new direction.
Forget the belated contract extension offer in the wake of the club's only MLS Cup triumph. Forget the CONCACAF Champions League debacle. Forget the power struggle. Forget the public drama.
Those unseemly events? Mere symbols of the true root of the problem between Colorado executives and now-former coach Gary Smith: their relationship broke and no one quite knew how to repair it.
Sorting through the contentions made by both sides and allocating the blame in such a mutual failure doesn't really do much good. There are too many demerits to spread around and no one comes off unblemished. Not Smith, not managing director Jeff Plush and not technical director Paul Bravo.
The far more difficult task at this stage involves discerning how all parties tackle the tough work of moving onwards and taking the next step in the right direction.
In a situation with no apparent victor, Smith has emerged as the most significant, if somewhat gallant, loser. He stood firmly on an untenable stance underpinned by his desire to pick his own players, his principles and his self-belief. Inevitably, he suffered the consequences. His convictions, his rather extensive track record of cultivating talent (exhibit one: Marvell Wynne, center back) and his success in one of the league's most difficult jobs didn't aid his cause in Colorado and likely won't help him too much as he searches for another gig.
Smith's decision to take a private dispute public served as his last roll of the dice to stay in Colorado, but it also made his MLS future considerably more complicated. With little turnover in the dugouts so far during the close season, Smith possesses three choices at the moment: pursue the New England job he likely won't land because he aired his dirty laundry (a serious contradiction to the Revolution way of conducting business), wait with his fingers crossed for the New York gig to open or think about traveling back to England to look for a job. This difficult landscape doesn't quite seem like the proper reward for fielding solid teams for three full campaigns and winning the MLS Cup last season, does it?
The next few steps appear complicated for the Rapids as well. Colorado may have removed much of the dissension within its ranks, but Bravo and Plush now must allay fears about the decision to dump the most successful coach in club history and chart an entirely new course during the close season.
Make no mistake: parting ways with Smith likely means parting ways with his methods as well. This isn't a situation where the Rapids can swap like for like and field the same ol' conservative 4-4-2 game-in and game-out. That's how Smith replaced Fernando Clavijo on an interim basis in the first place. Band-aids won't fix this situation or push the core of an effective and rugged side further up the table. Evolution, not constancy, provides the only way to come out of this mess with any credit.
Ambition must serve as the inspiration for the next coaching hire. This isn't the time to opt for the inexpensive choice or settle for someone available in the next couple of days. For this dangerous and divisive gambit to work, the Rapids must locate a coach who can lift the club out of its perpetual mediocrity and into the upper reaches of the table with a more expansive style of play. Making a futile move for former Rapids star and current Portland coach John Spencer seems like the right initial step, but the Colorado brass must push onwards in their pursuit of an exceedingly qualified manager willing to wade into its currently choppy waters.
It isn't an easy brief to fulfill. But in this particularly sticky situation caused by the dissolution of a bond forged between a MLS Cup-winning coach and his club, there are simply no easy ways forward.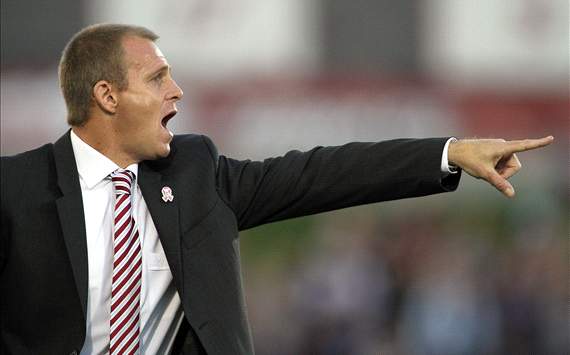 Kyle McCarthy writes the Monday MLS Breakdown and frequently writes opinion pieces during the week for Goal.com. He also covers the New England Revolution for the Boston Herald and MLSsoccer.com. Contact him with your questions or comments at kyle.mccarthy@goal.com and follow him on Twitter by clicking here.