Eastern Conference final: (#2) Houston @ (#1) Sporting Kansas City (Sunday, 5:30p.m. – FOX Soccer)
Previous Meetings: SKC won season series, 1-0-1 – 1-1 (@ HOU – July 16), SKC 3-0 (@SKC – Sept. 10)
Team news: Houston (4-4-2) will probably need to monitor Danny Cruz's fitness after Gabriel Farfan battered him from pillar to post during the 3-1 aggregate victory over Philadelphia in the Eastern Conference semifinals. Cruz eventually limped off during the second half on Thursday night. If he isn't fit enough to feature, Je-Vaughn Watson could take his place, but the Dynamo would lose out significantly in terms of defensive interest and work rate in that right midfield berth.
Omar Bravo (right abductor strain) looms as the only potential problem for Peter Vermes after the former Mexico international forward sat out Wednesday's 2-0 victory over Colorado (aggregate: 4-0) as a precautionary measure. If Bravo is fit enough to play, then he'll likely feature from the outset in Sporting's usual 4-3-3 setup. The player to make way for his return to the starting XI remains a bit more uncertain, though it'll probably come from the front three of Teal Bunbury, Kei Kamara or C.J. Sapong.f
Houston: Dominic Kinnear has his charges hitting peak form at exactly the right time. Houston has fueled its run with a combination that Dynamo fans know well from the middle of the last decade: rugged and stingy work at the back, lots of set piece opportunities for Brad Davis and a couple of timely contributions from Brian Ching. Philadelphia's lack of defensive discipline ensured the Dynamo's steady diet of dead balls yielded dividends in the semifinals.
Houston will likely have to produce more from the run of play and rely on its surplus of experience to beat a Sporting side that won't concede ground so readily at this stage. The onus always falls on Davis to provide the creativity, but the in-form central midfield duo of Luiz Camargo and Adam Moffat need to keep the ball moving at a brisk pace as well. Moffat, in particular, must also to track Graham Zusi (or Bravo, if Vermes opts to play him as an attacking midfield and slide Zusi further back) carefully to cut off the best supply lines to the front three.
Sporting Kansas City: After a pair of solid performances dispatched the tattered Rapids without much fuss, Sporting must retain its composure as it prepares to face a more taxing opponent. Many of the same approaches used to oust the MLS Cup holders – liberal use of pace in the wide areas and a physical approach at the back and on set pieces – will apply here.
The difference will likely come from how Sporting tries to break down the Dynamo in the attacking third. Set pieces aren't exactly a non-starter – Sporting is quite proficient in that department with Zusi's service – but they aren't a reliable supply line against a physically gifted side like the Dynamo.
The front three will take on additional relevance as each member of that trio must provide plenty of movement and hope to catch out Geoff Cameron (if he get caught out of position, as happens from time to time) or isolate on Bobby Boswell (who doesn't necessarily possess the quickness to turn and run stride for stride with that group). Kamara, if selected on the right, will also need to offer plenty of defensive work rate to pin Corey Ashe back and stop his overlapping runs down the left side.
X-Factor: Which side can impose its will on set pieces? And if both teams fail to find any joy from those dead ball situations, which side can find an alternative route to goal?
Prediction: Sporting Kansas City holds serve in a tight match.
Western Conference final: (#3) Real Salt Lake @ (#1) Los Angeles (Sunday, 9p.m. – ESPN/TSN2)
Previous Meetings: Season series tied at 1-1 – RSL 4-1 (@RSL, March 26); LA 2-1 (@LA, Oct. 1)
Team news: RSL boss Jason Kreis must wait to hear whether Nat Borchers (left quadriceps strain) and Jamison Olave (right quadriceps strain) have recovered enough to resume their partnership in central defense. Both players missed Wednesday's gripping 2-0 defeat to Seattle (aggregate: 3-2), but RSL will hope to have at least one of them back for Sunday. If one of Borcher or Olave returns, then Chris Wingert would likely return to his left back role and Tony Beltran would drop out of the side. Aside from those pressing questions at the back, Kreis can maintain the status quo in RSL's tried and tested diamond 4-4-2 setup, though he may opt to swap Ned Grabavoy for Andy Williams if he wants a little bit more defensive awareness in midfield.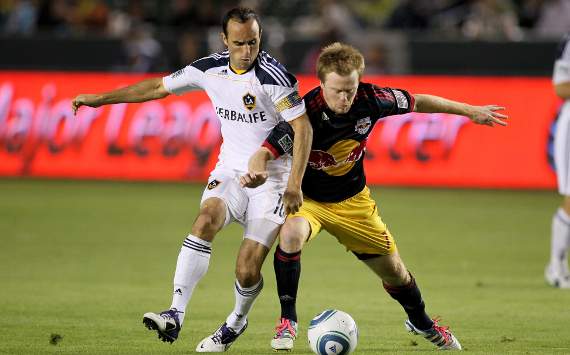 Los Angeles coach Bruce Arena will restore Juninho in central midfield after the Brazilian missed out on Thursday's 2-1 win over New York (aggregate: 3-1) through suspension. Chris Birchall will almost certainly make way to accommodate Juninho's return, though Arena may have to check on David Beckham's availability after his first-half collision and his post-game complaints about back spasms (and the unmentioned issues swirling around a potential concussion suffered on the play). Beckham, however, will likely partner Juninho as part of the Galaxy's 4-4-2 formation if he can walk on Sunday morning.
Real Salt Lake: RSL no doubt watched closely as Thierry Henry gave the Galaxy fits on Thursday night with his ability to pull its defensive shape out of place by exploiting the ample space afforded in front of the back four. Juninho's return should address most of Los Angeles' concerns in that particular part of the field, but RSL must still emphasize movement between the lines as a critical part of its game plan.
The onus falls on Fabian Espindola and Javier Morales to stretch out the Galaxy's organized defensive shape to create operating room for Alvaro Saborio and others. RSL's usual cadence in possession – present in Sandy, but absent on the wet turf in Seattle – will do much of the work through midfield, but Espindola (who likes to drift into the corners anyways) and Morales (who lives between the lines) must do their best to pick up difficult positions to force Omar Gonzalez into spots where he isn't quite as comfortable.
In the defensive third, RSL will likely have to wait and see on the fitness of Borchers and Olave before determining a course of action. The fullbacks will have to focus intently on Landon Donovan (quiet on Thursday, but always prone to show up) and Mike Magee when they stay in the wide areas, while someone – most likely Espindola or Morales – will have to drop into deeper spaces to thwart Beckham's preference to drop off and ping diagonal balls to start the attack. Will Johnson, as usual, must cover acres of ground to douse any potential fires, though you'd expect he'll channel his exertions toward Donovan as well.
Los Angeles: Arena has constructed and molded this squad for playoff success. Its resolute defensive core provides the foundation for several different approaches through midfield – technical and otherwise, depending on the requirements of the game – and plenty of freedom for Robbie Keane (and, to a much lesser extent, Chad Barrett) to influence the game at the sharp end.
Los Angeles' generally measured approach – the Galaxy doesn't mind sitting back, soaking up pressure and springing the counter through a Beckham long ball – should pay some dividends if it can switch the point of the attack quickly and disrupt RSL's rhythm in possession. Beckham's service on set pieces may not prove as influential against RSL – it's tough to see the Claret-and-Cobalt failing to mark Magee on a set piece, for example – but his service will always cause problems.
Keane, in particular, will prove vital in the attacking third to test Borchers and/or Olave if the recovering center backs feature. The Ireland international has toiled for his side over the past two matches, but he looks like he lacks just a bit of sharpness in front of goal. His incisiveness – or lack thereof – could make the difference between a MLS Cup berth and another Western Conference final disappointment.
X-Factor: Which side can dictate its terms through midfield?
Prediction: If RSL can call upon both Borchers and Olave, it possesses the tools to pull the so-called upset. Otherwise, the Galaxy should find some way to exorcise last year's demons.
Kyle McCarthy writes the Monday MLS Breakdown and frequently writes opinion pieces during the week for Goal.com. He also covers the New England Revolution for the Boston Herald and MLSsoccer.com. Contact him with your questions or comments at kyle.mccarthy@goal.com and follow him on Twitter by clicking here.