Gary Smith's side may need to increase its own tempo to compensate for a bevy of missing starters, but other teams also face potential pitfalls.
Coaches lay awake at night and pray that the scenario facing Colorado coach Gary Smith will never, ever befall them.
Smith and the Rapids will enter tonight's make-or-break second leg against Sporting Kansas City at LIVESTRONG Sporting Park with half of the usual starting XI unavailable to feature.
Caleb Folan (left ankle/left knee sprain), Kosuke Kimura (broken third metatarsal in right foot) and Drew Moor (right shoulder sprain) will all miss out after sustaining injuries in Sporting Kansad City's 2-0 first leg win in Commerce City, Colo. on Saturday. Tyrone Marshall must also sit after his dismissal in that match.
Those four missing pieces join an extensive and influential list of players already ruled out – Conor Casey (torn left Achilles tendon), Pablo Mastroeni (concussion), Jamie Smith (torn right ACL) and Anthony Wallace (right knee surgery) – and present Smith with a crippling selection crisis as the Rapids attempt to keep their season alive.
(Note: There are several published discrepancies regarding the number of starters missing from the contest. From the Rapids' first-choice lineup, the probable figure is five: Casey, Kimura, Mastroeni, Moor and Smith. Of course, it's worth noting that Folan [in Casey's absence] and Marshall [with the shuffling required to fill the vacancy at left back until Miguel Comminges' arrival] have started plenty of games this season and Wallace featured as the left back during the Rapids' MLS Cup run last season. But if Smith had all of his guys available, the number is probably five. )
The most pressing issues crop up at the back. Smith boasts just two natural options in central defense (Scott Palguta and Marvell Wynne) and holds no obvious options at right back if he chooses to keep Wynne in the middle. Even if Smith receives a solid shift from the versatile Wells Thompson (or some other choice) as a potential fill-in at right back, this unit isn't exactly playoff tested to post the clean sheet almost certainly required to overturn the current two-goal deficit.
Then again, the Rapids cold also alter their mindset to adapt to their potential defensive frailties. Smith usually opts to approach a match fairly conservatively at the start and build from there. Such tactics wouldn't fall out of place here given the tattered nature of the back four, but they are not likely to yield the desired result at the end of the match. In order to keep hope alive in these bleak circumstances, Smith may have to deviate from standard operating procedure and inject some ambition to give his side a fighting chance.
The old adage about attack forming the best defense comes into play here. Colorado may have to cobble together a lineup of healthy bodies at this point, but it can still rely on its surplus of pace to create chances.
Finding the right method to do so in this match may require using that speed differently. Most the time, the Rapids rely a 'get it wide, get it in' mantra with Jeff Larentowicz managing traffic through midfield and use their pace primarily in the wide areas (or through inside-out runs onto the flanks). Larentowicz will still control the proceedings – he is, by far, the most influential player for the Rapids in possession – in the second leg, but the tempo must change in order for the Rapids to have an opportunity to win the tie.
Instead of setting out to slow the game down and slog through the 90 minutes, Colorado must speed it up to make the best use of the available resources.
If Omar Cummings, Mac Kandji and Sanna Nyassi can buzz around into different areas and stretch the field, the Rapids may just grasp the initiative and pose a few questions. Sporting, of course, may rip the Rapids apart on the counter with its own bevy of capable players on the break. But in these particular circumstances and with this particular injury list, Colorado's best chance of success probably involves leaving its comfort zone, pushing the tempo of the match and hoping for the best.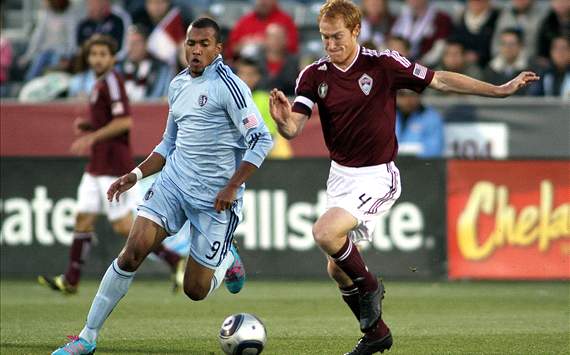 Real Salt Lake – Seattle (aggregate: Real Salt Lake, 3-0; second leg: Wednesday at Seattle, 10p.m., ESPN2/TSN2)
Seattle coach Sigi Schmid ruled Mauro Rosales (knee) out of this match on Tuesday and increased the already daunting magnitude of the task in the process. Without Rosales in the fold to provide a creative flourish in the attacking third, Sounders FC must lean heavily on Fredy Montero to carry the load up front. Montero has done so at points this season, but this is an awfully big moment to ask him to fuel a three-goal resurgence. RSL expects to make a game-time decision on Nat Borchers (quadriceps strain) and Jamison Olave (quadriceps strain). As stated in Monday's
Breakdown
, RSL should go through if one of those two center backs can feature from the start.
Philadelphia – Houston (aggregate: Houston, 2-1; second leg: Thursday at Houston, 8:30p.m., ESPN2/TSN2)
Everyone in Philadelphia expects a better performance from the Union in this finely-poised tie. Philly's improvement must start at the back: no silly fouls in the defensive third, no space for Brad Davis and no tracking mistakes on players streaking toward goal. Houston's primary focus rests with making sure the Union doesn't find its rhythm in the attacking third. Aside from Sebastien Le Toux, the Union looks particularly disjointed in attack these days with no apparent end to the uncertainty in sight. If Houston can maintain the status quo and nab a goal from a set piece, this job looks just about done.
(Note: This particular bit of news shouldn't have much impact on the game, but New England requested and retained permission to discuss its coaching vacancy with Dynamo assistant and ex-Revs midfielder Steve Ralston earlier this week, according to the
Houston Chronicle
.)
New York – Los Angeles (aggregate: Los Angeles, 1-0; second leg: Thursday at Carson, Calif., 11p.m., ESPN2/TSN2)
The home side will run shuttles to increase the capacity from the usual midweek cap of 15,000 to 20,000 for this attention-grabbing, drama-filled second leg at the Home Depot Center. Both teams can sell a few tickets and talk a good game, but they must display their wares on the field in order to advance here. Each side will miss a player through suspension after the post-match melee in Harrison on Sunday, but Juninho's absence looms as the more significant factor in this encounter. Los Angeles will have to adjust its balance in central midfield to compensate for its missing Brazilian (will David Beckham drop even deeper?) without too much fuss. Jan Gunnar Solli should return at right back as the Red Bulls search for goals, but the Galaxy's stout defensive shape should hold firm if Beckham submits a solid shift, Josh Saunders continues his fine form and the visitors fail to diversify their routes to goal.
Kyle McCarthy writes the Monday MLS Breakdown and frequently writes opinion pieces during the week for Goal.com. He also covers the New England Revolution for the Boston Herald and MLSsoccer.com. Contact him with your questions or comments at kyle.mccarthy@goal.com and follow him on Twitter by clicking here.