The Forecast discusses the Rapids' 1-0 result over Columbus from Thursday night and previews the four conference semifinal series.
Omar Cummings scored on the stroke of halftime to give Colorado a 1-0 victory over Columbus in their wild card match on Thursday night.
After a slow start, the Rapids gradually exerted control over the match and sent their fans home happy by protecting their slender lead during the second half. Columbus hit the bar through Andres Mendoza after the break, but the Crew failed to draw level and saw its season come to an end against Colorado for the second consecutive year.
The Friday Five kicks off this week's Forecast by reviewing the final wild card match:
1. The starting lineups provided plenty of fodder for the chattering class: Colorado coach Gary Smith replaced Pablo Mastroeni (concussion) with winger Jamie Smith in central midfield, while Columbus boss Robert Warzycha deviated from his usual 4-4-2 setup to insert an extra man in midfield. Rich Balchan (a late replacement for Danny O'Rourke) and Tony Tchani (his first appearance for the Crew) earning the nod as holding players. In order to accommodate a third central midfielder, Emilio Renteria dropped to the bench with Robbie Rogers chosen on the left and Dilly Duka picked in an attacking midfield role.
2. Warzycha anticipated the central midfield problem, but his tinkering couldn't solve it: Even with Mastroeni sidelined, the Rapids enjoyed a significant advantage in central midfield with Smith and Jeff Larentowicz patrolling the middle of the park. Warzycha wanted to throw an extra body into the engine room to see if he could perhaps mitigate Colorado's significant edge in that department. The tactical adjustment didn't rectify the issue as Balchan and Tchani were overwhelmed for much of the night and Duka struggled to make an impact on the game before Renteria replaced him in the 65th minute.
3. Familiar cadence rules opening stanza in both wild card matches: The first half on Thursday night closely resembled the opening stanza in Frisco a night earlier. Columbus started off well and controlled the opening 20 minutes, but Colorado gradually settled into the game and started to dictate the terms of the contest.
4. Colorado's pressure pays off with timely team goal: It felt like one goal would win this game from the outset and Omar Cummings provided it moments before halftime. Credit Cummings for a cool, first-time finish to cap the neat move, but three other players deserve credit for their parts in the decisive tally: (1) Brian Mullan for his audacious, outside-of-the-right-boot feed to spring Sainey Nyassi; (2) Caleb Folan for making an early near-post run to occupy Julius James and Chad Marshall; and (3) Nyassi for playing the right ball into the right spot for the open Cummings to slot home.
5. Jamie Smith's injury could give Gary Smith a lineup headache on Sunday: Jamie Smith performed admirably in his makeshift role in central midfield (he has played there before for the Rapids, for the record), but his second-half knee injury will pose a significant problem if Mastroeni isn't ready to return for Sunday's date with Sporting Kansas City. Gary Smith's viable playoff depth chart in central midfield is just about exhausted if Mastroeni and Jaime Smith can't play – Ross LaBaeux isn't really an option for an extended stint – so the Rapids boss may have to get creative if his captain cannot feature.
Last week: 4/8 (50%)
For the season: 100/254 (39%)
Saturday
Western Conference semifinal: (#2) Seattle @ (#3) Real Salt Lake (10p.m. – FOX Soccer/TSN2)
First Leg: at Sandy, Utah
Second Leg: at Seattle, Wed., Nov. 2, 10p.m., ESPN2/TSN2
Previous Meetings: SEA 2-1 (@RSL, May 28); RSL 2-1 (@SEA, Sept. 10)
Seattle: All of the talk in Seattle this week surrounds Mauro Rosales' injured knee. Sounders FC boss Sigi Schmid called Rosales "iffy" for the first leg at Rio Tinto Stadium, but he also noted that he hopes to have his primary playmaker back in the fold for the return leg. If Rosales fails to recover full fitness, then Seattle must lock matters down defensively and rely more heavily on Fredy Montero orchestrate the chances in the attacking third in order to secure its first postseason win.
Real Salt Lake: It's all about rhythm for RSL these days. The Claret-and-Cobalt will sort out its surprising defensive failings (13 goals conceded in the final six games, though just one in the final two) for the postseason, but it must work diligently to recreate its usual tempo in possession and spark its misfiring attack. Javier Morales looms as the potential solution to the puzzle. Without Morales in top form, RSL would have to rely on its set piece prowess – and, perhaps, a more clinical touch from Fabian Espindola in the final third – to nick a goal.
X-Factor: Which side will receive more from its creative influence: Seattle with Rosales or Real Salt Lake with Morales?
First leg prediction: Real Salt Lake win.
Sunday
Western Conference semifinal: (#1) Los Angeles @ (#4) New York (3p.m. – ESPN2)
First Leg: at Harrison, N.J.
Second Leg: at Carson, Calif., Thurs., Nov. 3, 11p.m., ESPN2/TSN2
Previous Meetings: 1-1 (@LA, May 7); 2-0 NY (@NY, Oct. 4)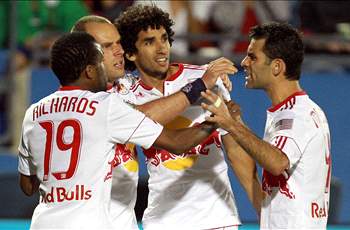 Los Angeles: Bruce Arena likely wanted a more straightforward tie than this complex, cross-country battle between two high-profile teams always ready to slug it out with each other. Robbie Keane's potential return to the starting XI (most likely in the second leg, if at all) would provide a boost, but the fit-again Landon Donovan should inject plenty of life into the attack even if the Ireland captain can't play 90 minutes in either affair. The onus for the Galaxy once again rests with playing intelligently and exposing the Red Bulls' weaknesses – a dearth of dexterity in central defense, an inability to defend set pieces and an occasional lack of commitment to track back in the wide areas – to navigate through this difficult series.
New York: Hans Backe's side showed a relentless commitment to organization in Wednesday's 2-0 victory at FC Dallas. It will need to retain its defensive drive in order to mask its insecurities in central defense and provide a firm foundation to send numbers forward. Luke Rodgers' potential return from a left knee injury would offer a bit more thrust up when the Red Bulls do push forward. His selfless work off the ball would also permit Thierry Henry to drag Omar Gonzalez and A.J. DeLaGarza out of place and open up holes for Rodgers and others to exploit.
X-Factor: David Beckham (Los Angeles) and Teemu Tainio (New York) assume critical roles for their sides in terms of distribution and possession. Which side can close down that outlet? And, if Tainio can't find the ball, will Rafa Marquez offer a tangible and worthwhile contribution to the cause?
(Note: Backe said after the match in Frisco that he asked Henry to slide back into midfield to cut out the easy passes into FCD fulcrum Daniel Hernandez. Henry may have to perform similar duties against the Galaxy to ensure Beckham does not continually drop deep into midfield to find more space.)
First leg prediction: Draw.
Eastern Conference semifinal: (#2) Houston @ (#3) Philadelphia (5p.m. – ESPN2)
First Leg: at Chester, Pa.
Second Leg: at Houston, Thurs., Nov. 3, 8:30p.m., ESPN2/TSN2
Previous Meetings: PHL 1-0 (@HOU, Mar. 19); 1-1 (@PHL, Aug. 6)
Houston: No team can match the Dynamo's season-concluding form of four wins and two draws in the final six matches. Geoff Cameron's return to central defense and Adam Moffat's tidy work in front of the back four have shored up any lingering defensive issues. As usual, there are questions surrounding whether the Dynamo can find alternative routes to goal if Brad Davis isn't firing on all cylinders. Brian Ching and Carlo Costly must improve their form to push the Dynamo onwards through the postseason.
Philadelphia: It's all a bit of a mess for the Union right now, but Peter Nowak has taken a team to MLS Cup before (D.C. United, 2004) and can recreate the necessary formula to do it again with this group. He will need better performances out of his defenders – particularly the oft-lauded, but sometimes underwhelming, duo of Danny Califf and Carlos Valdes – and some semblance of cohesiveness going forward to lay the necessary groundwork. Veljko Paunovic's right hamstring strain could actually make the Union more dangerous in attack because it will force Nowak to turn to more fluid and nimble options (Freddy Adu? Danny Mwanga?) to complement Sebastien Le Toux.
X-Factor: Can the Union find some way to remove Davis from the equation (by limiting his space and the number of free kicks conceded in dangerous areas) and shunt the Dynamo's attacking responsibility onto other players?
First leg prediction: Draw.
Eastern Conference semifinal: (#1) Sporting Kansas City @ (#4) Colorado (7:30p.m. – FOX Soccer/TSN2)
First Leg: at Commerce City, Colo.
Second Leg: at Kansas City, Kan., Wed., Nov. 2, 8p.m., FOX Soccer/TSN2
Previous Meetings: 1-1 (@ COL, May 28); 1-1 (@SKC, July 6)
Sporting Kansas City: The mile-high altitude at Dick's Sporting Goods Park will limit Sporting's usual energy just a touch in the first leg. The dynamic attack – pick three from Omar Bravo, Teal Bunbury, Kei Kamara and C.J. Sapong – will still pose plenty of problems with its incessant movement, while fullbacks Chance Myers and Seth Sinovic will also join the attack when warranted. Sporting's attacking deportment places plenty of responsibility on its central midfield three (not a particular strength this season) and its central defensive partnership of Matt Besler and Aurelien Collin (solid enough when Collin keeps his head on straight). This young side must also retain its composure against the gritty Rapids to ensure those pesky late-match issues do not surface once again.
Colorado: Aside from the potential selection headache in central midfield, the Rapids can take plenty of positives from Thursday's victory over Columbus. It's fairly easy to predict what to expect from Gary Smith's side – a 4-4-2 setup with solid central defenders, overlapping fullbacks, traditional wingers and, usually, a mobile forward playing off a target man – and less straightforward to discern whether the players will hit the heights expected of them. Omar Cummings' display against the Crew presents an encouraging sign for the Rapids going forward, but the playoff future of this side is tied into its ability to control central midfield and dictate the match from there.
X-Factor: Will Colorado's two central midfielders overcome Sporting's trio in the center of the park?
First leg prediction: Colorado win.
Kyle McCarthy writes the Monday MLS Breakdown and frequently writes opinion pieces during the week for Goal.com. He also covers the New England Revolution for the Boston Herald and MLSsoccer.com. Contact him with your questions or comments at kyle.mccarthy@goal.com and follow him on Twitter by clicking here.