NEW YORK – Juan Pablo Angel never wanted to leave the New York Red Bulls.
But the 36-year-old striker holds no resentment toward the club where he became an icon for four years even if it decided to let him go unceremoniously to the Los Angeles Galaxy last season.
"I had a great time in New York, I loved the area, loved the team, and loved the supporters. I will always be grateful for what they did for me," Angel explained to Goal.com. "I wish I could have been here a little bit longer."
In fact, the Chivas USA designated player believes that both of his former Major League Soccer clubs, New York and Los Angeles, should be considered favorites heading into the playoffs.
"I would like the Red Bulls to do well. I'd like the Galaxy to do well," the current Chivas USA player said. "In the playoffs, anything can happen."
Angel On Henry Showing Frustration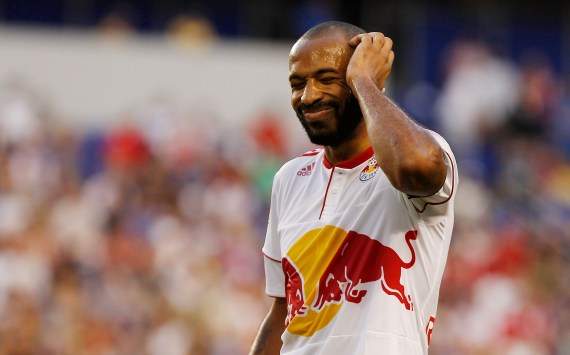 "I understand his frustration, it isn't easy when you're used to winning, being at the top every time."
- Juan Pablo Angel

The former Colombian international, who played at Aston Villa prior to moving to MLS, admits that he was very surprised that the Red Bulls were the last team to qualify for the playoffs. But now that the club is in the postseason, Angel knows just how unpredictable the competition can be.
In fact, it was only three years ago when Angel led the Red Bulls, the lowest seed in the playoffs, to the MLS Cup where the club lost 3-1 to the Columbus Crew.
"It always happens, the team that you least suspect can end up winning," said Angel. "New York you wouldn't expect them to qualify the way that they did. In the end, they qualified. From then on anything could happen. I think they have a good enough team to win the league."
It's been a difficult season for the Red Bulls. Despite Thierry Henry having an MVP-caliber season with 14 goals in 27 matches, the team struggled to win games and dropped a staggering 56 points due to 16 draws and eight losses. Coming from the likes of Barcelona and Arsenal where losses and draws were rare, Henry's frustrations were obvious as he missed the team's final match due to a red card suspension.
Angel says that he and Henry have become close friends since his arrival last summer and understands his perspective.
"He's like a brother," said Angel. "I think it's normal for a player like him. People sometimes forget that he's one of greatest players of our generation, he's one of the guys that has won everything. He's one of the guys who sees and plays the game in a different way."
He added, "As much as he's here helping, when you come from the greatest team of all time in Barcelona and Arsenal, and you achieve what he's achieved, sometimes it's hard to understand some of the things that are happening but I think he's coped really well with it.
"[He's] My MVP contestant for the league. He has proven that he still has it. I understand his frustration, it isn't easy when you're used to winning, being at the top every time."
Follow ALEX LABIDOU on

As for Los Angeles, Angel says that he is disappointed that things could not work out for him and Bruce Arena's team. He only managed two goals during his stint with the club and was traded to Chivas USA just before the trade deadline to make room for Robbie Keane.
Despite failing to make an impact for the club, he maintains that the Galaxy are the best-run organization in MLS.
"One of things that LA has as one of the best organizations is how they manage the players, how they look after the players," Angel said. "The set up of the team is phenomenal. It's probably the best in the league. "
"For some reason, it didn't work, not the way I expected or the way they expected but I have no complaints whatsoever about what happened and I would take full responsibility for it. "
While he wouldn't choose between his two favorites for the MLS Cup, he did acknowledge that on paper, the Galaxy should win this year.
"LA has built a team that is capable of winning the league," the forward stated.
With one year remaining on his MLS contract, Angel has stated that he would like to contend for the championship as his career is coming to a close. He enjoyed excellent form toward the end of the season with Chivas USA, scoring six goals in eight games, and would be open to returning to the club if it can prove to him that it is serious about contending next year.
"I'm having conversations with the Chivas USA organization heading into next season. I would like to play, I've expressed my interest in that," said Angel. "What happened at the last part of the season, I felt confident and important again. I felt relevant. But they have to know what they are planning on doing next year."
Yet, Angel hasn't ruled out the possibility that he might not play in MLS at all next season.
"I don't know, I still haven't decided but the fact of the matter is that I still one year left on my contract and I would love to play so we'll see what happens," said Angel. "If we can come to agreement, I'm sure things will work itself out."

Juan Pablo Angel spoke with Goal.com as part of Adidas' miCoach campaign, a speed cell microchip that can go on any shoe with laces to accurately time running statistics. The miCoach will be available in stores in December.