The Musings offers its thoughts on the relative strength of the 10 MLS Cup contenders as the wild card round kicks off.
The beauty – and, admittedly, much of the frustration – of the MLS postseason stems from its ability to upset the order established through the long and arduous regular season.
Time and again, favorites fall and underdogs flourish. One look to the Rocky Mountain underscores the point: few, if any, observers expected Colorado to lift the trophy last year or Real Salt Lake to stampede through the postseason the year before that.
Despite the topsy-turvy nature of MLS postseason play and the inevitable upset that ultimately arises, it is worth trying to sort through how the playoff field sets up before all of the chaos commences.
The Musings sat down and ranked the sides in order of their MLS Cup chances at the moment:
10. New York
Why the Red Bulls can win it all: No team in MLS possesses more talent within its starting XI. No other side can rely on Thierry Henry to change games by himself. And no other team needs a long postseason run to redeem a staggeringly underwhelming regular season campaign.
Why they won't: In order to even reach MLS Cup, New York will have to oust three of the four best sides in the league: FC Dallas in the wild card round, Los Angeles in the Western Conference semifinals and either Real Salt Lake or Seattle in the Western Conference final. Throw in Luke Rodgers' untimely injury and the Red Bulls' Achilles heel on set pieces and the task seems far too large this talented and inconsistent side to complete.
9. Columbus
Why the Crew can win it all: Collective shape matters in the postseason and the Crew are particularly well-drilled in that department. Robert Warzycha's side can grind out matches with the best of them, but it also possesses a pair of potentially influential forwards in Andres Mendoza and Emilio Renteria and the scheming of Dilly Duka and Eddie Gaven through midfield.
Why it won't: Warzycha faces a selection crisis in central midfield for Wednesday's wild card date at Colorado after Emmanuel Ekpo unwisely procured a second yellow card in the season-ending defeat at Chicago. Kevin Burns will likely claim one of the two available berths in central midfield, but Warzycha will likely select one of these three potential options alongside him: Rich Balchan (rookie with injury problems), Danny O'Rourke (cortisone shot in knee) or Tony Tchani (zero match appearances with the Crew and not fully fit, per Warzycha). That central midfield formula seems destined to failure against the Rapids. If the Crew somehow progresses, it likely doesn't have the guns to compete with either Los Angeles or Sporting Kansas City over two legs.
8. Philadelphia
Why the Union can win it all: Faryd Mondragon provides an experienced voice behind the generally solid back four. Goals are sometimes at a premium, but the Union can lean on the in-form Sebastien Le Toux to create opportunities and point toward Freddy Adu (perhaps as a substitute) as another potential source of inspiration.
Why it won't: Four potential problems immediately rise to the fore: (1) the Union has yet to lose to Houston in four regular season meetings, but the matchup exploits their defensive weaknesses (as discussed in Monday's Breakdown); (2) Le Toux shoulders too much of the burden in the attack; (3) complete, 90-minute performances have proven elusive and (4) this young side – with a few wise old heads admittedly involved – may struggle to adjust to the demands of the second season.
7. Colorado
Why the Rapids can win it all: Most of the pieces – with the notable exception of the injured Conor Casey – are back from last year's surprising run to MLS Cup glory. Remember that formula? It hasn't changed much in the space of a year.
Why they won't: Pablo Mastroeni's concussion hurts their biggest strength (central midfield). In addition to concerns about their captain, the Rapids must worry that Omar Cummings won't influence games as much as he did last season and wonder if all of those CONCACAF Champions League miles (and all of those off-the-field distractions surrounding their participation in that tournament and the front-office turmoil between Paul Bravo and Gary Smith) may undermine their efforts.
6. Houston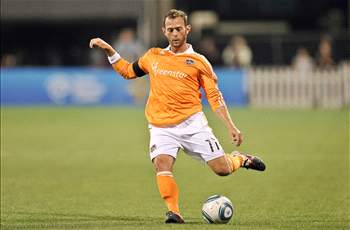 Why the Dynamo can win it all: Dominic Kinnear has done it before with a similar formula and a similar squad. Houston remains physical and strong at the back and up front, while Brad Davis pulled the strings once again during his MVP-caliber campaign. Geoff Cameron's late-season return to center back and Adam Moffat's form as a holding player in central midfield also shored up some defensive concerns.
Why it won't: If opposing teams limit Davis' space, reduce his time on the ball and stop giving away free kicks inside their own half, they drastically reduce the available routes to goal. Brian Ching and Carlo Costly require service to contribute – and both players have struggled for form – in front of goal. At this juncture of the season, the Dynamo may need more attacking diversity than it currently possesses.
5. FC Dallas
Why FCD can win it all: Few teams in MLS offer a more dynamic approach in possession and on the break. Brek Shea emerged as a legitimate game-changer this season, but he has also received support from the likes of Fabian Castillo and Marvin Chavez during different points in the campaign. The defensive core remains rock solid, while Kevin Hartman is more than capable of stealing a game when it matters.
Why it won't: Fatigue has affected FCD's performances over the past couple of months. FCD coach Schellas Hyndman rested many of his regulars at San Jose on Saturday in an attempt to rejuvenate his side. In order to hit peak form, FCD needs plenty of energy – and better center forward play from either Jackson or Maicon Santos – to compete in the upper echelons of MLS without David Ferreira's vision in the lineup. The hectic playoff schedule and those heavy legs may not permit FCD to give a proper account of itself.
4. Sporting Kansas City
Why Sporting can win it all: Sporting enters the postseason as the hottest side in the Eastern Conference. A formidable second-half push – fueled by the home-heavy slate at LIVESTRONG Sporting Park – lifted Peter Vermes' side to its lofty perch. Vermes can call upon a wealth of diverse attacking options to comprise his attacking trio, while his side can also lean on a formidable home-field advantage at their new ground.
Why it won't: A touch of frailty remains about this group, particularly late in matches. Opposing teams can find their way through to goal if they persist as Sporting has shown a lack of concentration at times. The absence of a true holding midfielder – Julio Cesar has played his screening role well enough, but he's not a natural there – undermines the overall solidity of the side, while Aurelien Collin's indiscipline (league-high ten yellow cards) leaves Sporting one moment of madness away from uncertainty.
3. Real Salt Lake
Why RSL can win it all: Every moment of RSL's preparation during the season builds up to this postseason challenge. RSL boasts a bevy of veteran campaigners with the commitment, the desire and the experience required to make a deep postseason run. The return of Kyle Beckerman from suspension means the Claret-and-Cobalt should enter the playoffs at full strength.
Why it won't: Jason Kreis' side has lacked its usual concentration and sharpness at points this season. The denouement of the campaign certainly falls into that category as RSL's usually stout defense cracked far too often. Circumstances played a large role in some of those defeats, but there is a nagging feeling that Javier Morales hasn't quite found his form or his usual chemistry with his teammates. Morales' lack of production – and the corresponding hit to the service provided to Fabian Espindola and Alvaro Saborio – could prove RSL's undoing.
2. Seattle
Why Sounders FC can win it all: No team in MLS enters the postseason in a better run of form and Seattle will hope its recent spell leads to its first taste of postseason success. Sigi Schmid has offered a managerial masterclass as he has navigated Sounders FC through a hectic fixture list. Seattle boasts one of the deepest squads in the league, but its proficiency in all aspects of the game and its top-end quality – particularly with Fredy Montero on form up front – places it among the top contenders for MLS Cup glory.
Why it won't: Schmid may ultimately pay dearly for his decision to start Mauro Rosales in the meaningless season finale at Chivas USA. Rosales re-injured his knee and could miss the first leg of the Western Conference semifinal series against Real Salt Lake. If Rosales cannot feature or can only play limited minutes, Sounders FC may lack the necessary invention to unlock defenses and pile pressure onto its solid defensive core.
1. Los Angeles
Why the Galaxy can win it all: The Supporters' Shield winners are the most complete team in MLS: they have star power to provide the extra bit of class, they have a deep and talented supporting cast, they have a productive attacking group and they have a miserly defensive core.
Why it may not: Injuries to Landon Donovan, Sean Franklin and Robbie Keane could limit their availability (Keane in particular) and their effectiveness. Dynamic and pacy sides – think FC Dallas in last year's Western Conference final – pose a difficult test for them defensively and the Galaxy faces a challenge to matchup man-for-man with quicker sides. Most importantly, the Galaxy must deal with a significant amount of expectation and pressure. Nothing less than a MLS Cup victory on home soil will do. That sort of pressure can undermine even the best of sides at the most critical juncture of the season.
Kyle McCarthy writes the Monday MLS Breakdown and frequently writes opinion pieces during the week for Goal.com. He also covers the New England Revolution for the Boston Herald and MLSsoccer.com. Contact him with your questions or comments at kyle.mccarthy@goal.com and follow him on Twitter by clicking here.
How do you stay up with football when on the move? With http://m.goal.com – your best source for mobile coverage of the beautiful game!