MLS defenders got in on the goal-scoring action to close out the 2011 regular season.
GoalkeeperJimmy Nielsen, Sporting Kansas City:
The Danish shot stopper but on a fine showing against a D.C. United side with nothing to play for as Sporting gained top spot in the East. Nielsen made five saves, including an excellent kick save in a one-on-one with Stephen King.
DefendersSteven Beitashour, San Jose Earthquakes:
The San Jose native capped off a fine second season in MLS by tallying his seventh assist of the season with one of his trademark pinpoint crosses. His speed also allowed him to draw a penalty that would put the team up 3-0 and he remained defensively responsible throughout the evening.
Jalil Anibaba, Chicago Fire:
The rookie defender stepped into the spotlight in Chicago's 3-2 win over Columbus to close out the season. He scored two headed goals, and although his mistake led to an equalizer for Columbus, he largely redeemed himself with the two goals and otherwise solid play in defense.
Matt Besler, Sporting Kansas City:
Not only did Besler get the only goal of the team's 1-0 win over D.C. United with an opportunistic finish, he did a fine job in shutting down Dwayne De Rosario throughout the encounter.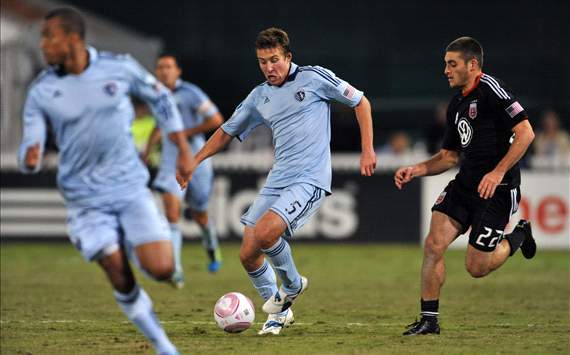 Gonzalo Segares, Chicago Fire:
The Fire left back has come into his own as the season has drawn to a close, and he capped it off with another solid showing. He defended very well on the left side, making a number of interceptions, and also got involved in the attack, finding himself involved in a very nifty play that saw Marco Pappa fire just wide.
MidfieldersBenny Feilhaber, New England Revolution:
The U.S. international set up both of New England's goals in Saturday's 2-2 draw in Toronto. Both assists came from two accurate feeds from Feilhaber, showing why he can be the focal point for the team's offense is it looks to put a miserable 2011 behind it and look ahead to 2012.
Adam Moffat, Houston Dynamo:
The Scot hammered home a highlight-reel goal to open the Dynamo's account against Los Angeles and continued to find himself involved in the offense, also setting up Bobby Boswell for what would stand as the winner. He also performed his defensive roles, effectively screening Houston's back line and helping prevent any serious threats from Los Angeles until the dying minutes of the game.
Simon Dawkins, San Jose Earthquakes:
The Tottenham loanee received a standing ovation as he left the field at Buck Shaw Stadium, possibly for the last time. Not only had Dawkins been one of the Earthquakes' more electrifying players throughout a rocky season, he had tallied two goals on the night, including an hard-hit effort from outside the area to open the scoring, indicative of the havoc he wreaked on Dallas' defense all evening.
Alvaro Fernandez, Seattle Sounders FC:
Fernandez continued to shoulder the load as Seattle struggled with the health of wide players like Steve Zakuani and now Mauro Rosales. His excellent curling finish past Dan Kennedy in the team's 3-1 win at Chivas USA stood as the winner on the night and was ample reward for a consistent, well-played game.
ForwardsDanny Koevermans, Toronto FC:
The former PSV man has given Toronto fans plenty to be optimistic about heading into the offseason. While the veteran striker's signing came too late in the season to make a serious impact on Toronto's already-dwindling playoff hopes, he has continued to impress, with his eighth goal and first assist of the season capping off an impressive showing by him in the team's 2-2 draw with New England.
Fredy Montero, Seattle Sounders FC:
The 24-year-old might not have gotten on the scoresheet in Seattle's 3-1 win at Chivas USA, but he was constantly a threat, first forcing an own goal from Andrew Boyens that opened the scoring before providing an accurate cross to set up Sammy Ochoa's goal, the third on the night for the Sounders.
Formation (4-4-2): Nielsen

Beitashour-Anibaba-Besler-Segares

Feilhaber-Moffat-Dawkins-Fernandez

Koevermans-MonteroBench:
Jon Busch (San Jose Earthquakes), Futty Danso (Portland Timbers), Jan Gunnar Solli (New York Red Bulls), Jeff Larentowicz (Colorado Rapids), Dilly Duka (Columbus Crew), Joel Lindpere (New York Red Bulls), Alvaro Saborio (Real Salt Lake)
CoachHans Backe, New York Red Bulls:
The Swede may have come under plenty of criticism this season, but his team picked its game up when it mattered most. The performance hearkened back to when the Red Bulls were one of the most feared teams early on in the season, with Jan Gunnar Solli being given plenty of license to roam forward and the team's defensive organization denying the Union even a sniff at goal. Even the choice to start Dane Richards at forward paid off, with the Jamaican scoring and providing plenty to think about for the Philadelphia defense. Whether Backe can get it right like this in the playoffs remains to be seen, but don't count New York out quite yet.
Follow NICK ROSANO on