New York's victory on Thursday night took much of the stuffing out of the final weekend of regular season play, but the circumstances did place a rather unnatural emphasis on the strength and the quality of lineups selected by certain managers.
Several teams – Colorado, Houston, Real Salt Lake and Sporting Kansas City, most notably – held their destiny in their own hands. For all four of the aforementioned teams, the most beneficial situation would occur after a victory. It came as no surprise that those four teams all fielded full-strength lineups, particularly with two of those teams attempting to avoid a wild card match in midweek.
Most of the intrigue, however, resulted from a trio of Western Conference teams that faced more complicated choices. Unlike the clear situations faced by other playoff-bound clubs, three coaches faced a cost-benefit analysis as they chose their lineups and tried to position their sides for a lengthy playoff run.
No manager grappled with a more difficult challenge than FC Dallas' Schellas Hyndman. FCD traveled to San Jose with two potential postseason scenarios in play: a Western Conference semifinal date with Seattle if it bettered RSL's result or a wild card date with a team to be determined in midweek and a potential route through the Eastern Conference if it did not.
Hyndman chose to forgo the somewhat remote opportunity to book a Western Conference semifinal berth to guarantee some rest for many of his fatigued regulars. FCD fielded only a handful of starters and suffered a heavy 4-2 road defeat against a first-choice San Jose side. RSL opened the door a crack by unexpectedly conceding a late equalizer to Futty Danso in its 1-1 home draw with Portland, but Hyndman opted not to take any chances with his squad for the trip and essentially sealed his side's place in the wild card round (and, with a victory against New York, the easier Eastern Conference bracket) by choosing a second-choice side to face the in-form Earthquakes.
(Note: Aspiring Golden Boot winner Chris Wondolowski will no doubt contend that FCD's switch in goal did not facilitate his desire to finish alone at the top of goalscoring heap for a second straight year. Wondolowski converted a first-half penalty kick to draw level with Dwayne De Rosario on 16 goals, but FCD backup Chris Seitz produced three fine saves to deny Wondo the goal he needed and ensure De Rosario [with his higher assist total] claimed the official Golden Boot recognition from the league.)
While FCD's starting XI may have raised some eyebrows, Los Angeles likely prompted a more muted response after Bruce Arena decided to place his faith in a reserve-laden side at Houston on Sunday night. Arena gave most of his starters the night off and handed a first MLS start to 16-year-old Jack McBean up front as he shuffled his pack. McBean marked his debut with a goal, but the Dynamo romped.
Other impacted teams – Columbus, most specifically – might grumble about the Galaxy's team selection. It is, however, tough to argue with the call. Los Angeles' heavy fixture list over the past few months and the series of knocks carried by Messers. Donovan, Keane and Beckham made Arena's choice fairly straightforward in a meaningless game for his side.
(Note: It is far less certain why two AEG-influenced sides met in the final game of the season. AEG serves as the investor-operator in Los Angeles and shares the Dynamo with equity partners Gabriel Brener (25% stake) and Oscar De La Hoya (25% stake). No unseemly matters arose from this particular match – few managers would have deviated from Arena's approach to team selection [though one of his current colleagues did] – but it makes little sense to see these two particular sides [or FC Dallas and Columbus, for that matter] meet on the final day for propriety's sake.)
In stark contrast to the tacks taken by Arena and Hyndman, Seattle coach Sigi Schmid opted to field his strongest lineup in the season-ending 3-1 victory over Chivas USA. The match held no tangible meaning for a Sounders FC side locked into the second seed in the Western Conference, but Schmid decided he wanted to keep his side ticking over heading into the postseason. The approach could backfire if Mauro Rosales needs to miss any time with a knee injury, but it could also give Sounders FC an edge if the form continues.
(Note: Rosales' inclusion presents a rather interesting conundrum. In an ideal world, it would make sense to leave Rosales – and the brittle Brad Evans – out of the lineup to ensure postseason availability. Rosales, however, plays such a large role in Seattle's attacking thrust that his omission would undermine the desire to sustain the recent run of form. It's a tough balance to strike, for sure.)
At this point in the campaign, coaches must take the path they feel makes the most sense for their side heading into the playoffs. Arena and Hyndman wanted to rest their starters, while Schmid felt he needed to keep his side primed for a postseason run. In the end, the final determination of success or failure – if it comes at all – will arrive when the postseason concludes.
A quick glance at the confirmed playoff pairings
Wild Card Round
New York at FC Dallas (Wednesday, 9p.m., FOX Soccer/TSN2): Tempo could provide the difference between two sides that generally prefer to keep the ball. New York can't afford to send numbers forward and stretch the game out because FCD can expose them with pace and ruthlessness on the counter. In order to pull the upset and set up a captivating date with Los Angeles in the Western Conference semifinals, the Red Bulls must hope FCD's starters are not rejuvenated by the weekend off and look to the returning Thierry Henry for the moment of inspiration required to carry them through.
Columbus at Colorado (Thursday, 10p.m., Direct Kick): These two rough-and-tumble sides will meet for the second consecutive postseason. It took penalty kicks to separate these sides over two legs last year and the margin probably won't increase much in this one-off affair. The pragmatic and robust approach favored by both teams will likely limit the number of chances in front of goal and place additional emphasis on set pieces at both ends of the park. In this type of tie, the side that makes the fewest mistakes usually proceeds to the next round.
Conference Semifinals
Houston – Philadelphia (first leg: at Philadelphia, Sunday, TBD, ESPN2 / second leg: at Houston, Thurs., Nov. 3, 8:30p.m., ESPN2/TSN2): Houston entered Sunday's match against Los Angeles with the opportunity to choose its own playoff destiny. This particular selection – secured by a 3-1 win over the makeshift Galaxy – probably represents the ideal scenario for the Dynamo because its biggest strength (Brad Davis' proficiency from crosses and set pieces) matches up with the Union's primary defensive weaknesses (dealing with service from the wide areas and tracking runners through the penalty area – 15 goals conceded from crosses, corner kicks and set pieces this season). Philadelphia must avoid fouls inside its own half and cut out its tendency to start matches slowly to have a chance to thwart the Dynamo.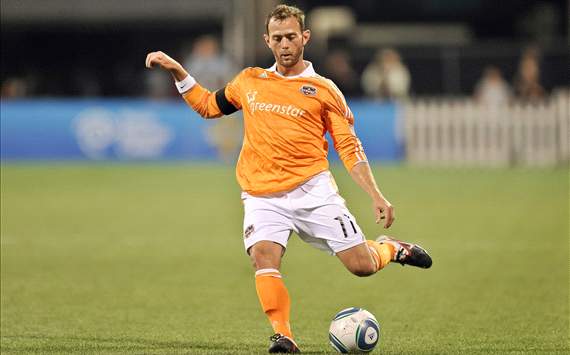 Seattle – Real Salt Lake (first leg: at Real Salt Lake, Saturday, 10p.m., FOX Soccer / second leg: at Seattle, Wed., Nov. 2, TBD, ESPN2/TSN2): Most of the hard work in this tie will likely occur during the first leg at Rio Tinto Stadium. RSL boasts a formidable record at its lofty ground, but it has struggled to take advantage of that home dominance when it hosts the second leg on home soil. The Claret-and-Cobalt must assert its will over the first leg – and return to CenturyLink Field with a goal or two in hand – to have a chance to go through. Seattle enters the postseason in perhaps the best form of any MLS side. If Sounders FC can maintain its poise in Utah, it will likely find a way to progress.
Kyle McCarthy writes the Monday MLS Breakdown and frequently writes opinion pieces during the week for Goal.com. He also covers the New England Revolution for the Boston Herald and MLSsoccer.com. Contact him with your questions or comments at kyle.mccarthy@goal.com and follow him on Twitter by clicking here.