The 25-year-old's season-long loan to D.C. United from Sochaux is about to expire, and both sides will be faced with a decision soon.
As his first, and perhaps only MLS season winds to a close, Charlie Davies' career is again at a crossroads.
On the heels of a disappointing end to a season which started with so much promise, the loan that kept Davies at D.C. United in 2011 is coming to an end, and parent club Sochaux and D.C. United will have to come to an accord soon regarding the 25-year-old's future.
Davies' first MLS campaign yielded decidedly mixed results.
A glance at Davies' stats for the 2011 season shows 11 goals in 26 matches played, but though it's a respectable tally, it's also a bit misleading.
Of those 11 goals, four were scored from penalty kicks, and after a start to the season that played out like a Disney movie, Davies has come back to earth in the second half of the campaign, with just three goals in his last 18 matches (incidentally, all three came in the same match on Sept. 10 at Chivas USA).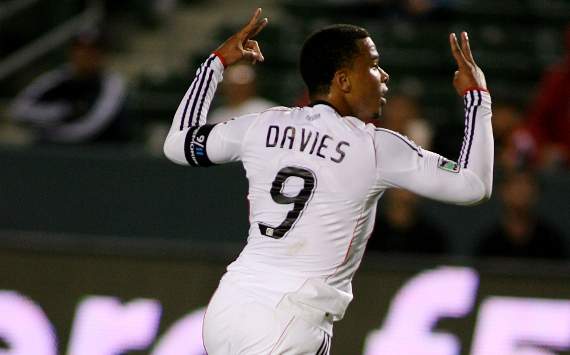 Following D.C. United's crushing 2-1 home loss to the Fire on Saturday, Davies expressed his frustration at his diminishing role after being subbed on for the game's last 11 minutes.
"I'm healthy. It's disappointing when you want to get the playing time to help the team win, and you only get 20, 15 minutes," Davies said. "I'm not getting a lot of time to really go out there and help the team."
After starting just once in his team's previous five games, Davies was given the starting nod in Wednesday's must-win match against Portland. He responded with an anonymous display, and was withdrawn after 52 minutes in favor of Blake Brettschneider, a rookie with just one goal to his name this season.
"It just wasn't clicking," D.C. coach Ben Olsen said after the game of Davies' performance.
"We needed some guys that could really combine, and we needed to play soccer through them, and I felt like Blake did a good job, and he brought in some energy, and I think we picked it up a little bit around that time (when Brettschneider was subbed in)," Olsen added.
Davies wasn't available for comment after the game, which ended in a 1-1 draw, ending United's playoff hopes for the season.
Although his season ended on a sour note, there were several highlights to Davies' campaign as well, chiefly among them was the fact that he was even on a professional soccer pitch at all.
His return to the field after the October 2009 car accident that left him with a grocery list of major injuries was amazing in and of itself, and to do so while scoring more goals than all but eight players in the league is an achievement which Davies can be proud of, regardless of the circumstances.
That said, it has become increasingly clear that he is not at a playing level befitting a Ligue 1 player right now, and his parent club Sochaux will be keenly aware of that fact.
Davies' loan to D.C. United came with a $1.3 million buyout clause for the MLS club to purchase him outright at the end of the season. It's highly unlikely the club will pay that amount, but the figure is negotiable, so the two sides could theoretically agree on a reduced fee. It's also possible that another loan deal could be worked out, which would seem to be a practical option for both sides.
If no agreement can be reached, Davies will return to France and face a highly murky playing future.
Further complicating Davies' situation is his recently announced $20 million lawsuit filed against the owner of the Shadow Room nightclub and Red Bull, the company that hosted the party at that establishment where alcohol was served to Maria Espinoza the night of Oct. 12, 2009.
Espinoza "became visibly intoxicated," according to the suit, but the nightclub continued to serve her alcohol, a violation of District of Columbia law which prohibits the sale of alcohol to a person who appears to be intoxicated. Espinoza was the driver of the SUV which crashed that night, killing a passenger and badly injuring Davies.
Red Bull, the company which hosted the party, also happens to own an MLS franchise - the New York Red Bulls. The fact that Davies is suing an MLS ownership group in a single-entity league where ownership groups are closely tied to one another certainly won't help his case for a new contract with MLS.
Davies has come a long way since the car crash that almost killed him, but he still has a long way to go to becoming the pre-accident Davies. The fate of one of the United States' most visible soccer players will be one of the more intriguing MLS subplots to follow as the season comes to a close.
Follow SETH VERTELNEY on

or shoot him an email