Plenty of signs indicated Toronto FC's growth during the second half of the campaign. Now the Reds can point to a tangible accomplishment to highlight their progress.
Joao Plata scored twice after Danny Koevermans' opener as Aron Winter's side sealed its place in the CONCACAF Champions League quarterfinals with a stunning 3-0 victory at FC Dallas on Tuesday night.
While FCD will no doubt see its poor performance as an opportunity lost to advance out of Group C, TFC must use this effort as a springboard to build for next season and prepare for the knockout stages.
TFC's constant movement up front and technical proficiency moving through midfield on the counter laid the foundation for this victory. Winter and his charges quickly realized the Reds possessed one significant tactical edge – the matchup between Plata and Jeremy Hall, particularly with the lack of defensive cover supplied by Marvin Chávez in front of the FCD right back – and exploited it ruthlessly. By playing the ball quickly down the left and using Plata (and Ryan Johnson when the two frontrunners switched sides) to exploit that space, TFC opened up the usually stout FCD defense and seized control of the contest.
Koevermans' opener in the 29th minute – a fumbled effort that displayed his poaching skills yet again – provided the platform to invite FCD forward and stretch the game on the break. The gambit worked because the home side lacked the necessary ingenuity to punish TFC for its approach. FCD failed to gain much traction through central midfield with Julian de Guzman and Torsten Frings controlling that area well and struggled to find an outlet up front with Jackson preferring to run the channels instead of facilitating the play centrally.
With FCD looking somewhat unlikely to break through in the run of play, Plata sealed the victory with a pair of well taken goals on the counter as the second half progressed. The pair of goals highlighted Plata's overall contribution on the night and underscored the success of Winter's tactical plan for the evening.
This result represents a significant achievement for TFC in its fifth year of existence, but it could prove even more important as TFC attempts to make further strides in 2012. Winter and the Reds will hope to use this Champions League success to fuel a viable MLS campaign next season. TFC must still figure out its future between the sticks, reinforce its defensive options and strengthen in all departments, but it can now rely upon Frings and Koevermans – and, perhaps, several other younger players if they continue to develop – to form the foundation of a lineup capable of mounting a real postseason push against deeper and stronger MLS rivals.
Monterrey punishes Seattle's defensive lapses
Two errors by a makeshift Seattle side provided the difference as Monterrey sealed top spot in Group D with a 2-1 victory at CenturyLink Field.
Seattle coach Sigi Schmid shuffled his pack with a berth in the quarterfinals already secured. The rather patchwork Sounders FC group impressed in spells, but its efforts ultimately came undone on two occasions to give the Mexican side all three points.
Humberto Suazo exposed Sounders FC's perilously high line by sliding Dario Carreño through to open the scoring after just three minutes. Fredy Montero curled home a free kick three minutes before halftime to deservedly level for Seattle, but César Delgado capped off a sweeping move prompted by a Seattle giveaway in midfield to snatch all three points for Monterrey in the second half.
The decent performance won't concern Schmid and Sounders FC too much given the stiff opposition, but the defeat will likely lead to a more difficult quarterfinal tie when play resumes. At this crucial juncture of the domestic campaign, Seattle wisely placed more emphasis on avoiding injuries (and potential quarterfinal suspensions) rather than obtaining the draw required to nab top spot at all costs.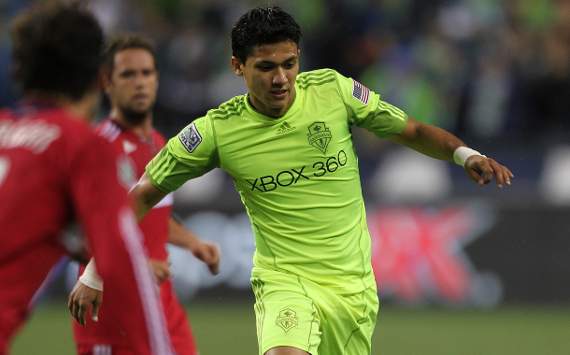 Previewing the key matches on Wednesday and Thursday
Portland at D.C. United (7:30p.m., Wednesday)
– Both sides enter this match in desperate need of a result. Portland could keep its playoff hopes alive with a draw, but it really needs to shrug off the absence of Sal Zizzo (knee) and collect all three points to place some pressure on New York. United cannot settle for a stalemate as it seeks the two-game winning streak it needs to keep its season alive. Expect an intense and ragged affair with rain in the forecast for the District tonight.
Colorado at Santos Laguna (8:00p.m., Wednesday, FOX Soccer)
– Gary Smith brought his full squad to Mexico as the Rapids aim to grab the victory required to secure a place in the quarterfinals. It remains uncertain how many regulars Smith will actually field in this encounter (a blended side, perhaps?) with the Rapids facing a critical league fixture at Vancouver on Saturday. If the Rapids do falter, they will still go through if Thursday's final Group B match between Metapán and Real España ends in a draw.
Philadelphia at New York (8:00p.m., Thursday, ESPN2)
– Hans Backe's side can guarantee the tenth and final playoff place with a victory over the Union, but it will have to do so without the suspended Thierry Henry. Backe and his players have closed ranks around Henry in the buildup to this match. The selected players will have to display a similar amount of unity on the field to hold off a Philadelphia side that needs all three points to bolster its hopes of grabbing the top seed in the Eastern Conference.
Los Angeles at Motagua (10:00p.m., Thursday, FOX Soccer)
– Only a win will do for the Galaxy in Honduras after Morelia's 2-1 victory over Alajuelense on Tuesday night. Landon Donovan (quadriceps) did not train on Tuesday and remains a fitness doubt for the encounter, according to
ESPN Los Angeles
. With Donovan iffy and Robbie Keane (left groin strain) already ruled out, the Galaxy will have to rely on alternative routes to goal – think a David Beckham service or two – to snatch the points. The reward for a victory is worth it, however: a win would give Los Angeles top spot in Group A through goal difference in a mini-league with Morelia and Alajuelense.
Kyle McCarthy writes the Monday MLS Breakdown and frequently writes opinion pieces during the week for Goal.com. He also covers the New England Revolution for the Boston Herald and MLSsoccer.com. Contact him with your questions or comments at kyle.mccarthy@goal.com and follow him on Twitter by clicking here.