FOXBOROUGH, Mass. – Performances only took San Jose so far in this excruciating encore to last year's surprising run to the Eastern Conference final.
Other sides have played worse and fared better over the course of this draw-filled campaign around MLS. San Jose, like a lot of teams around the league, couldn't seem to locate the right formula to escape mediocrity and transform their relatively bright spells of play over the past couple of months into the corresponding results.
"It's pretty frustrating at times," San Jose talisman Chris Wondolowski said after his two goals dispatched New England 2-1 at Gillette Stadium on Saturday night and lifted him into a three-way tie atop the Golden Boot race with 14 on the season. "It's not like we weren't putting in the work. If there were times where we were being lazy and not putting in the work, then I could understand that. We couldn't quite put our finger on it. We just got punished every time we did slip up a little bit and we didn't capitalize on other teams' mistakes as well as we should have."
Wondolowski's double confounded the recent trend by securing the Earthquakes' second win since June 11 on a night when Frank Yallop's side didn't play all that well. It did, however, provide a nice contrast to the season-crushing, franchise-record 13-game winless streak that occurred principally due to a dearth of goals (the Earthquakes failed to score in a staggering eight of those summer affairs), a rotating cast of players shuffling through the lineup and a surplus of untimely errors.
While some of the displays during that stretch fell into the abject category, the showings over the last couple of months have seen the Earthquakes pull out of those goal-starved doldrums and shoulder the burden of controlling matches in certain instances. The results simply didn't follow.
"It was hard for the guys to keep lifting their spirits because we played really well and we ended up losing or tying," Yallop said. "We've tied a lot of games this year. We've only lost 11. I know it doesn't seem that (great), but it's the same amount as Salt Lake. They've won more games than us. For us, it's just a good feeling that we finally got three points (against New England) and it was deserved."
The victory also underscored Wondolowski's critical importance to the side. The U.S. international striker has scored 14 times and, as Yallop has said on several occasions over the past few weeks, could have increased that haul considerably with more precision in the final third. Even though he hasn't converted as reliably as he did during the second half of his magical 2010 campaign (he collected the Golden Boot with 18 goals), he has still supplied 40 percent of the Earthquakes' overall goal production in 2011, the highest percentage for any player in MLS this season.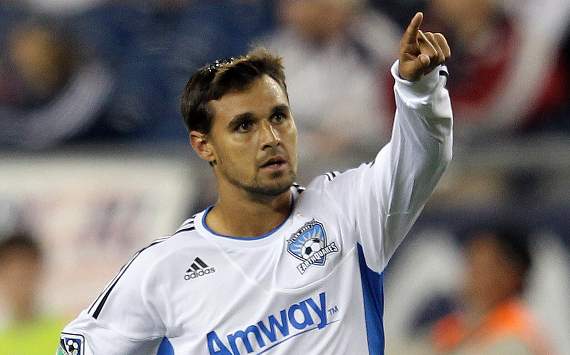 Locating some attacking support for Wondolowski figures to rank high on Yallop's list of concerns heading into 2012. With his dreams of a second consecutive playoff berth submarined by that calamitous summer, Yallop has started to ponder how to make improvements next year.
"As you go along in the season, you're kind of figuring out what it's going to be like next year," Yallop said. "Obviously, once you're out of the playoffs, you start to sort of look at next season and how we can improve the team, make the squad look more streamlined and add some players to it. That's what we'll be doing in the next little while, the next few weeks to figure out what it's going to look like next year and have some holes filled. Hopefully, we can come back and have a nice, strong season next year."
Yallop and general manager John Doyle must move out a couple of expensive disappointments within the squad and show a more polished touch in the transfer market to make it happen. A creative influence to add an extra touch of class in midfield surely ranks high on the list, while a target player – in addition to the potential return of Steven Lenhart (family leave) – looms as a critical boost to divert attention from Wondolowski and facilitate other potential avenues toward goal. Additional depth and quality in central defense and on both wings appears necessary as well, but the solid contributions from Justin Morrow and Steven Beitashour in recent weeks suggest fullback isn't a top priority.
(Note: Two further points worth mentioning here: (1) If there's a spot where San Jose looks perfectly set heading into next season, it's in net – Jon Busch drew rave reviews from Yallop after he sat for the first time on Saturday night, while promising rookie David Bingham showed well during his first MLS start; and (2) For more on the Earthquakes in the transfer market [and some insight into that disastrous loan deal for Edmundo Zura] and why Doyle and Yallop enjoy plenty of job security after missing out on the postseason, feel free to check out this Forecast from early September.)
The plotting for next season will continue into the winter, but two games still remain in this off-the-rails campaign. Aside from Wondolowski's bid to retain his Golden Boot, there isn't much left to resolve. Despite the practical irrelevance of the final two matches, Wondolowski insists his side needs to end this stop-start season with another positive result or two to reinforce the importance of the positive work from the run of play over the past couple of months.
"It's huge," Wondolowski said. "I know there's a long offseason, but, to be honest, I really feel that if we play well and get some wins, it'll carry some momentum into next year. It's always nice to win, no matter whether if it's for the playoffs or for pride. We have a lot of pride in here. We just want to play together and play as a team."

Kyle McCarthy writes the Monday MLS Breakdown and frequently writes opinion pieces during the week for Goal.com. He also covers the New England Revolution for the Boston Herald and MLSsoccer.com. Contact him with your questions or comments at
kyle.mccarthy@goal.com
and follow him on Twitter by clicking
here
.