After years of bouncing from club to club, Robbie Keane has finally found a home in Los Angeles with the Galaxy.
The Republic of Ireland captain has gotten off to a strong start in Major League Soccer as he has scored two goals in four league appearances, instantly becoming a fan favorite. Currently on a two-year contract worth a reported $3.6 million a season, there is no reason the 31-year-old would not be open to extending his stay should his form continue.
That would be a sharp contrast to the past three years of his career where an ill-fated move to Liverpool saw him go from Anfield to Tottenham, Celtic and West Ham United.
Keane spoke exclusively with Goal.com about his first six weeks playing in America, discussed his biggest adjustments so far, his perspective on keeping David Beckham in MLS and answered if the Euros 2012 will be his last international tournament.

Goal.com: You've played in some of the top leagues in the world in England and Italy as well as Scotland. What has been the biggest adjustment that you've had to make playing in MLS?
Keane: First and foremost, I think the biggest thing is getting used to the time difference. There is a lot of traveling especially due to playing in the Champions League.
So far, it's [playing in MLS] been fun and it's gone exactly as I've expected. Things have gone well for me. I've scored a few goals and the team is doing well. For me, that's the most important thing. As long as the team is winning… the lads since I've come here have been doing that.
How challenging is MLS as a league?
Of course it's a tough league. All of the players are very fit so in that respect, it's quite tough. Look at the games that we've played, they haven't been easy games. They've been very tight games, one-nil, two-nil games so by no means is it an easy league. But the squad that we have, the players we have, are working well at the moment so there's no complaints there.
Keane on Ireland future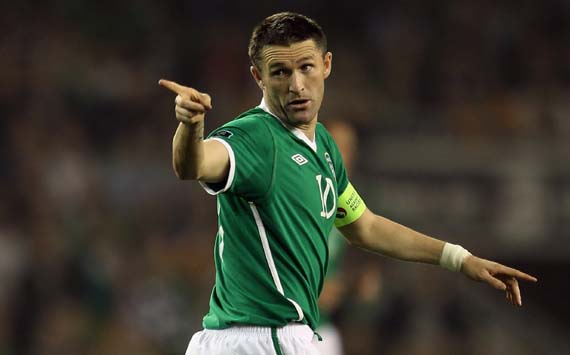 "I keep on saying in terms of my future that as long as I feel good and I'm fit, I'm a very proud Irishman, always have been, and I will continue to play as long as I feel it's right for me."
- Robbie Keane

Considering the huge Irish populations in New York and Boston, a popular question by soccer fans in those cities is, why not the New York Red Bulls or the New England Revolution? Why did you choose to play for the Los Angeles Galaxy?
[Laughs] Well I think LA is a great team and you can only go to someone if someone offers you a contract or deal. So you can't always choose the club you go to, the teams have to want you and be willing agree something where Tottenham was willing. So it's really quite simple to be honest with you.
How much did having a chance to play with Landon Donovan and David Beckham factor in your decision to play in LA?
They are the two great players, the two great names that everyone knows and talks about [when referring to MLS]. The more the merrier. The more big-name players that we have is obviously going to help the team progress and do better. This year, we've done well so far and we're looking forward to the playoffs. Obviously both are two fantastic players.

Will you be campaigning for David to stay when his contract ends this year?
Obviously, that's a priority for the club for David to stay. Having just come over to the team, I've seen that he's a big part of this team. It's always easy when you're playing with good players. David certainly brings that. Of course, I'd like him to stay and I'm sure the club and David are at this moment speaking about him maybe staying.

When you were making the decision to play for the Galaxy, did you speak with Giovanni Trapattoni about whether or not the move would affect your chances with the national team?
No, I didn't have the chance to speak with him. It happened so quick. Like anything in life, I'm old enough and brave enough to make my own decisions. Any club that I've gone to, I've never spoken to any manager so I'm not doing something that I've never done before. I've moved around to different clubs and I make my own decisions.

You have two big qualifiers for the Euro 2012 tournament coming up, is there any truth to the rumors that this tournament might be your last with the national team?
No, not at all. I'm concentrating on the two games that we have next week and my full concentration and focus is on getting into those games and getting Ireland into the European Champions. I keep on saying in terms of my future that as long as I feel good and I'm fit, I'm a very proud Irishman, always have been, and I will continue to play as long as I feel it's right for me.
Follow ALEX LABIDOU on