Both Eastern Conference sides are well represented in the best week 26 had to offer in MLS.
GoalkeeperMatt Reis, New England Revolution:
A
2-0 win for the Revolution featured a polished goalkeeping performance from the veteran Reis. The longtime Revs goalkeeper made six saves, few of them easy, en route to keeping a clean sheet against Dallas.
DefendersPerry Kitchen, D.C. United:
Behind United's strong offensive performance was a composed defensive performance from a number of individuals, including Kitchen. The United rookie was both capable in his passing and solid defensively in his right back position.
Julio Cesar, Sporting Kansas City:
The veteran Brazilian defender put in a top-quality performance against Houston, stepping up to lead the Kansas City backline to a clean sheet. Furthermore, he added an assist against Houston and a goal in the previous weekend's game against Los Angeles.
A.J. Soares, New England Revolution:
Another strong rookie performance that led to a clean sheet. Soares found himself at the heart of the New England defense against an admittedly exhausted Dallas side, and let very little past. Soares also found the net in Wednesday's wild 4-4 draw with Philadelphia.
Ramiro Corrales, San Jose Earthquakes:
The veteran left back hasn't had the most consistent of seasons, but turned back the clock in Saturday's win over Chicago. Corrales held his own defensively despite his pace disadvantage and then came through to finish off a well-worked passing move with a smooth placed finish to secure a much-needed win for the Earthquakes.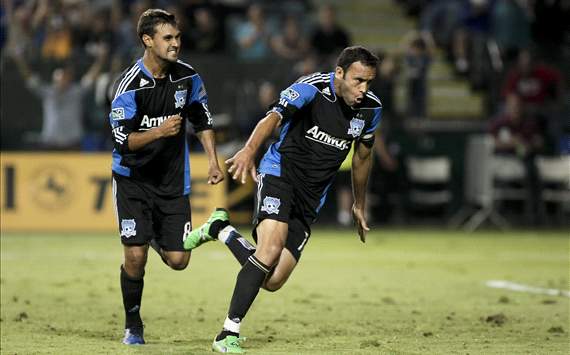 MidfieldersSean Franklin, Los Angeles Galaxy:
Franklin has been in top form since his move to the right wing, and he continued to impress against Kansas City on Labor Day and again in LA's 1-0 win on Friday. He netted twice against Sporting and then set up Landon Donovan's lone goal of the game against Colorado and has proved a further offensive threat for Bruce Arena's men.
Julian de Guzman, Toronto FC:
Saturday's performance was the one many Toronto fans have been waiting so expectantly for. He looked hungry throughout the match, scored a great goal and added an assist to boot in a historic win over Columbus.
Kyle Beckerman, Real Salt Lake:
Beckerman had a marathon week, playing for Real Salt Lake twice, sandwiching a trip to Belgium with the U.S. national team. However, Beckerman performed well in both his appearances for RSL, scoring and assisting against Philadelphia before returning to his combative self and putting in a gritty performance to help his team to a 2-1 win in Seattle.
Chris Pontius, D.C. United:
The 3-0 win at Chivas USA was a bittersweet game for Chris Pontius and D.C. United. The midfielder, recently called up by Jurgen Klinsmann, put in perhaps his best performance of the season, serving up three goals for Charlie Davies before leaving the game with what turned out being a season-ending leg break.
ForwardsTeal Bunbury, Sporting Kansas City:
Making his case for another U.S. national team call-up, Bunbury added a brace with two strong finishes in his team's 3-0 win over the Houston Dynamo.
Charlie Davies, D.C. United:
Another striker making his case for the national team, Davies hit a well-taken hat-trick to lift United past Chivas USA. He showed his predatory instincts to finish off the chances that Chris Pontius served up for him, a fine indication of how his recovery has come along.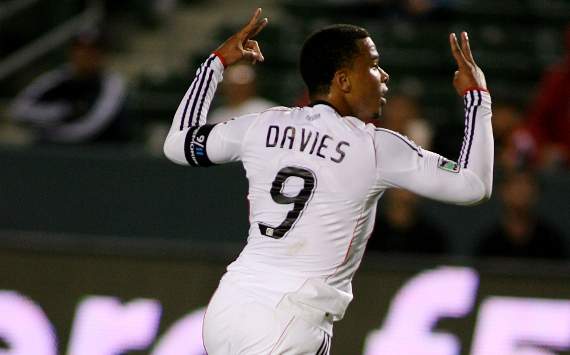 Formation (4-4-2):
Reis

Kitchen-Cesar-Soares-Corrales

Franklin-de Guzman-Beckerman-Pontius

Davies-BunburyBench:
Troy Perkins (Portland Timbers), Omar Gonzalez (Los Angeles Galaxy), Shalrie Joseph (New England Revolution), Landon Donovan (Los Angeles Galaxy), Davide Chiumiento (Vancouver Whitecaps FC), Dwayne De Rosario (D.C. United), Chris Wondolowski (San Jose Earthquakes)
CoachAron Winter, Toronto FC:
The Dutchman has come under plenty of scrutiny this season, but in Saturday's 4-2 win at Columbus it looked as though things were finally coming together for Winter. His players looked organized and combined well going forward as Toronto recorded its first ever win over the Crew.
Follow NICK ROSANO on