CHESTER, Pa. - Freddy Adu picked quite a game to finally settle in with his new team.
Playing 90 minutes on Wednesday night for the first time since joining the Philadelphia Union last month, the 22-year-old was on the pitch for a wild 4-4 draw with the New England Revolution.
Scoring his team's momentum-changing second goal early in the second half, Adu couldn't be happier to have pushed Philadelphia toward a point, especially with the host team being down 4-1 at the break.
"It's great to get out there and score my first goal, especially since it helped the team a lot," said Adu after the match. "It's also important to me that I got those 90 minutes. I'm focused on the Union and I want to help this team. This is an important stretch we're coming up on and we want to make a push for the playoffs."
Follow SHANE EVANS on

Adjusting once more to life in Major League Soccer hasn't been the easiest task for Adu, given his lack of match fitness. Four matches in, Adu is apparently ready to go. He'll have to be, as the Union are heading towards a very tough end of the season.
"I feel good, I feel good," said Adu of his condition. "I had to work my way into it. The Gold Cup final was the last game I played close to a full 90 minutes. I felt like I was involved throughout the whole game. Fitness-wise, I'd say that I felt pretty good out there."
Joining a team midseason could also complicate things further. Adu, however, contests that the Union have welcomed him with open arms and he's grown to love playing for a team as tightly-knit as the one team manager Peter Nowak has fashioned this season.
"I've lucky enough to have guys here who I've played with before," said Adu. "There are a lot of guys from Bradenton. Guys like [Sebastien] Le Toux and [Veljko] Paunovic and all those guys, they've been great, too. I just feel really a part of this team and I love it. I love being here and I love being around the guys."
It certainly showed against the Revolution as Adu and the rest of the Union refused to give up on a result, even after letting three goals slip past within a half an hour.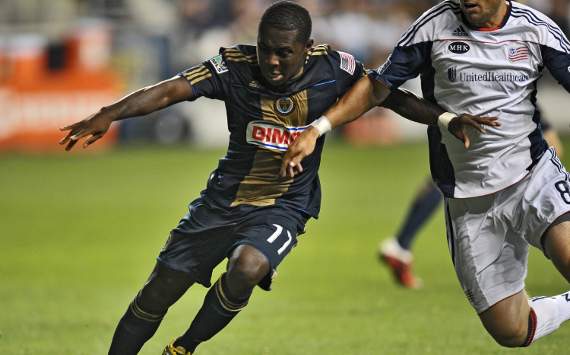 Coming out in force after the break, Philadelphia eventually secured a point in extra time thanks to a great strike from Le Toux that tied the match at four. If nothing else, Adu is proud to call himself a Union player after the performance seen on Wednesday.
"It doesn't matter what team we play, we just want to get points," Adu said. "We feel that we have a good enough team that we can play against anyone in the league. Today we showed great character. To be down 4-1 at halftime and then to be able to come back and give ourselves a chance to win at the end -- that was amazing."