The defender's sale to Blackburn raises questions about the league's balance between competitiveness and profit.
As FC Dallas defender George John sets sail for greener pastures and rainy Lancashire weather, those left in his wake will harbor mixed emotions about the mid-season transfer.
It's a move that's sure to unearth an age-old Major League Soccer point-counterpoint. Should the prevailing emotion be happiness at the cultivation and subsequent sale of a young talent to the world's biggest league for a profit? Or does this move undermine the league's credibility, as one of its rising stars departs one of its best teams in the midst of a playoff push?
"The balance between a business and a competition continues to be a difficult one, but one that all teams face," said former MLS player, executive, and current ESPN analyst Alexi Lalas in an interview with Goal.com.
Undoubtedly, the move is a devastating short-term blow for the Hoops. John, 24, developed into one of the best defenders in MLS during his stay in Dallas. His exploits caught the attention of Blackburn Rovers of the English Premier League, who swooped in to secure his services for a fee reported somewhere between $2-3 million.
The financial windfall is certainly nice, as it represents a fantastic return on investment, and will eventually be spent on improving the squad. For the 2011 season, however, FC Dallas fans must feel as though their team, to borrow a baseball term, is serving as a AAA club to Blackburn's big league operation.
The Hoops, as Lalas puts it, "have been exposed to the sobering realities of the business of Major League Soccer."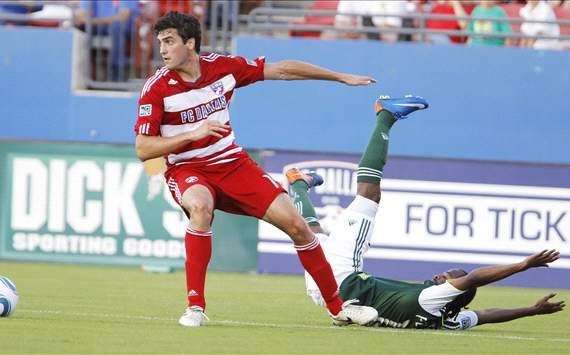 The U.S. national team is littered with players currently performing in Europe that got their start in MLS before being sold abroad: Stuart Holden, Michael Bradley, Jozy Altidore, Tim Howard and Clint Dempsey are just a few prominent examples.
And while their successful transition to Europe certainly enhances the league's reputation as a talent incubator, and their sales boosted team and league coffers, they left massive craters that replacements – no matter how highly touted – would always struggle to fill.
Although losing huge talents is never easy to swallow, Lalas believes it's a sign of a maturing league on the world stage.
"In the long run, it helps the league," he said. "There's a recognition of quality and relevancy in terms of the international market."
Losing players like John can be difficult, but it's also a representation of the financial realities of global soccer - something that isn't unique to North America.
The term "feeder league" often gets bandied about in reference to MLS, and although it's a bit simplistic in its description, it does put the league amongst good company internationally.
"They (MLS) are no more of a feeder league than the Eredivisie in Holland, and that's a very strong and successful league, and there are some very good players that play there," Lalas said.
When players get good enough, they move up the world football food chain. This happens in every league, from Holland to Honduras. Even a league as strong as the German Bundesliga has seen young stars Sami Khedira, Mesut Ozil and Nuri Sahin all move to Spanish giant Real Madrid in the last year.
In this instance, the young player in question went directly to the English Premier League, rather than to a different "feeder league". That can only be seen as progress.
For MLS, paradoxically, the exit of one of its best players will help increase the overall quality of the league. More players at home and abroad dreaming of a big European payday will see John's sale as evidence that the league can nurture and maximize talent. For a South American teenager, or an MLS Academy product with offers from Europe, it could very well be a determining factor in deciding where to play.
In fact, FC Dallas was exposed to this very principle before the season when the Hoops signed a South American teenager named Fabian Castillo for a reported $800,000 transfer fee. The Colombian youth international's capture represents the kind of move that likely wasn't possible before MLS built up equity on the international stage.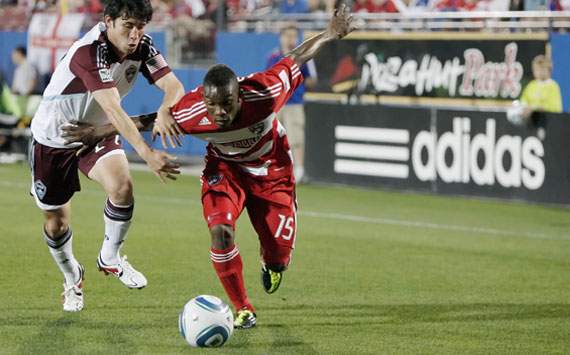 For the league and Dallas, the moment was right to sell. John wanted to depart, and would have been out of a contract next summer anyway. His refusal to sign a contract extension and instead stay on a $42,000 per-year salary showed he had his eyes on a move abroad.
"This is a decision that they based certainly on the fact that this asset only has one more year and then he's free, so at least you're getting something," Lalas said.
Unfortunately, the timing of the move is desperately unlucky for FC Dallas, and this can partially be blamed on the MLS schedule. While FCD and the rest of the league heads into the playoff homestretch, most European leagues are just getting started, and teams are scrambling to fill holes in their lineups before the summer transfer window slams shut on Aug. 31.
The Galaxy won't mind the move one bit, as they've now shifted to "odds-on favorite" status heading into the MLS playoffs with their addition of Robbie Keane, and the subtraction of John from one of their closest rivals.
Meanwhile, the Hoops can only hope that Fabian Castillo comes up big down the stretch and leads them to glory, proving that Major League Soccer giveth, as well as taketh away.
Follow SETH VERTELNEY on

or shoot him an email