George John's dream move couldn't arrive at a worse time for FC Dallas.
John is expected to join English Premier League side Blackburn Rovers over the next several days. The 24-year-old traveled to Europe this week to acquire his Greek passport and sort out personal terms with his potential employers.
If the deal ultimately goes through by the end of the English transfer window on Aug. 31, John will profit from his intelligent decision to play out his original contract without signing an extension, while FCD will need to figure out a way to preserve its defensive solidity as it attempts to fight for honors on several fronts.
Make no mistake: John represents a significant loss to FCD. The imposing and rugged center back has improved by leaps and bounds during his two and a half years in MLS. He doesn't possess a ton of pace, but he displays a level of consistency beyond his years, positions himself fairly well and wins most of his aerial battles.
Finding a player with his individual qualities during the winter won't be an easy task, but the loss of his partnership with Ugo Ihemelu will prove even more devastating in the short-term. John and Ihemelu formed one of the league's best central defensive tandems – only Real Salt Lake duo Nat Borchers and Jamison Olave can claim superiority with any measure of certainty – because they complement each other so well. In tandem, Ihemelu and John reliably combined to cope with just about anything thrown at them by opposing forwards.
(Note: The fundamental statistics of FCD's defensive record [27 goals conceded in 26 matches, tied for fifth in MLS] do not tell the whole story. When FCD allows goals, it usually allows them in bunches [22 goals conceded in the nine matches in which FCD has permitted two or more goals]. When FCD performs well, it generally offers the opposition little joy in the attacking third [five goals allowed in the remaining 17 games]. The latter figure shows just how miserly this group is on a regular basis. Another measure of FCD's general excellence at the back this season: Kevin Hartman has already set a new club record for shutouts in a season by posting 12 clean sheets so far in 2011.)
Ihemelu and John – plus veteran goalkeeper Hartman and deep-lying midfielder Daniel Hernandez – provided the bedrock for FCD's aspirations further up the field. The solid foundation in central defense permitted the likes of Jair Benitez, Jackson and Zach Loyd to burst forward from their fullback positions and provided cover when explosive wide options like Marvin Chavez and Brek Shea failed to track back after an attacking foray.
The onus now falls on FCD coach Schellas Hyndman to concoct a new formula to foster his side's creative strengths without undermining its strength at the back or its championship ambitions.
Hyndman tipped his hand about his preferred pecking order in the post-John era during Saturday's 1-0 home defeat to Seattle: Loyd started in central defense for the suspended John and Jackson shifted into the middle once Loyd limped off after 24 minutes with a right hamstring strain.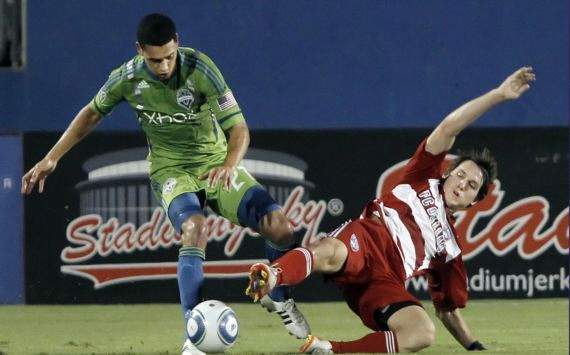 Oh, Loydy | Zach Loyd will likely move to central defense if George John leaves
Hyndman's approach to the situation seems sensible from the outside given that Loyd and Jackson present the most suitable options on FCD's roster. Loyd isn't a natural center back with his deportment and won't provide a like-for-like replacement with his physical tools (5-foot-9, 160 lbs), but his mobility, his reliability, his tenacity and his versatility make him the likely candidate to plug the gap for the moment. Jackson could play and has played in the middle as well, but the Brazilian defender always seems to be one moment of madness away from turning the game in the wrong direction. His occasionally suspect mental approach to the game seems more suited to a fullback role, though he may have to feature in the middle at some point.
Although one player may fill John's role, the entire team must place additional emphasis on its defensive shape. Even if Loyd or Jackson takes over without a hitch from John in central defense, the cohesiveness will take time to develop. FCD may have to temper its expansive approach just a touch – quite frankly, the crowded fixture list will probably mandate it anyways as the energy reserves dwindle – to keep matters tight at the back for the next few matches.
John's presence would no doubt make that task far less difficult, but it appears that FCD and Hyndman will have to muddle through without him. John's probable departure will give other challengers hope that FCD's season will now well and truly fall off the rails. Such a fate is by no means certain after Hyndman coaxed a wonderful response from his charges after David Ferreira's knee injury earlier this year, but FCD must adjust to its new defensive reality quickly in order to preserve its lofty ambitions and ward off the notion that John has taken its MLS Cup dreams with him on the trip to Lancashire.
Kyle McCarthy writes the Monday MLS Breakdown and frequently writes opinion pieces during the week for Goal.com. He also covers the New England Revolution for the Boston Herald and MLSsoccer.com. Contact him with your questions or comments at kyle.mccarthy@goal.com and follow him on Twitter by clicking here.