Chicago does one – and only one – thing better than any other team to ever play in MLS: it finds a way to draw matches.
Last night's 1-1 stalemate with D.C. United marked the Fire's jaw-dropping 15th tie in just 24 matches played. With 10 games left in the season, Frank Klopas' side has surpassed the previous mark set by FC Dallas last season and appears poised to add to it before the campaign concludes.
While the Fire faithful may disagree, there is something quite intriguing about hitting this particular milestone: it shows exactly where Chicago currently sits in its rebuilding process. On most nights, the Fire is just good enough to hang with its opponents and just poor enough to find a way to spurn opportunities to defeat them.
Klopas has accumulated nine of those draws since taking over from Carlos de los Cobos on May 30 by placing a significant emphasis on the Fire's defensive shape. His revisions – including a shift to the current and fairly conservative 4-4-2 setup (with the odd 4-5-1 formation thrown in here and there for good measure) – increased the Fire's solidity at the back and made it difficult for opposing teams to score on them. Despite a few individual errors at the back in recent weeks, the Fire has conceded two or more goals on just three occasions in Klopas' 13 matches in charge.
The presence of several dangerous pieces on the counterattack only serves to bolster those defensive efforts. Opposing teams must take special care when they send numbers forward because Patrick Nyarko, Dominic Oduro and Marco Pappa can race down the field the other way to punish that ambition. With those players in tow, the Fire usually finds a way to create enough chances in front of goal to grab the goal regularly required to secure a point.
The foundation ultimately starts to crack when the Fire enters the penalty area and seeks to compile an unassailable lead. Although that trio – plus Sebastian Grazzini – can create chances, the Fire struggles to convert them due to its profligacy in front of goal. Oduro – as any number of commentators have harped upon over the years – isn't reliable in front of goal despite his torrid pace and the others squander their fair share as well. It doesn't help that the Fire can't rely on corner kicks (zero goals this season) or set pieces (one tally this campaign) to contribute the timely goal to seize upon a decent night from the run of play or snatch a result when it hasn't played that well.
All of those factors ultimately combine to form Chicago's rather unwanted tendency to draw instead of win or lose. The monotony of those persistent outcomes may not enthrall, but it does share a tale worth telling as the Fire attempts to construct a more successful side next season.
Last week: 4/8 (50%)
For the season: 69/182 (38%)
Saturday
New York @ New England – 7:30p.m.
New York has waited for weeks for the right opportunity to shake out of its doldrums and slide back onto the proper track. New England's dual midweek setbacks – Bobby Boswell's 90th minute equalizer in a 1-1 draw at Houston and Matt Reis' red card as a result of a fracas at the final whistle – will likely exert some impact on this match. Those two traumatic developments could even pave the way for the Red Bulls to find their rhythm in possession and shore up their work at the back just in time to make a surprisingly necessary playoff push.
Prediction: New York win.
Philadelphia @ Columbus – 7:30p.m.
This clash between the top two sides in the Eastern Conference possesses all of the elements of a stalemate. Columbus lacks a bit of ingenuity without the injured Eddie Gaven (lower right leg contusion) and usually treads carefully when it attacks, but Emilio Renteria's return means the Crew at least offers a more potent threat in the penalty area. Philadelphia struggled to find its rhythm in Freddy Adu's first match against FC Dallas on Saturday and won't expose itself at the back to go in search of goals. All of those factors likely add up to yet another draw in a season filled with them.
Prediction: Draw.
Real Salt Lake @ Houston – 8:30p.m.
While the Revolution may feel the repercussions of its late-match stumbles, the Dynamo could now use Boswell's equalizer to springboard into a difficult match against RSL. Houston will need all of the energy and momentum it can muster as it plays its third match in seven days. The loss of the in-form Adam Moffat (one-match ban) will hurt, but Brad Davis is in good form and Dominic Kinnear's side created a plethora of chances at Gillette Stadium. The Claret-and-Cobalt (perhaps with new signing Blake Wagner in the squad) will certainly make it harder for Davis and his running mates as it seeks to boost its own so-so road record (2-4-3) and keep pace in the competitive Western Conference.
Prediction: Draw.
Seattle @ FC Dallas – 9:00p.m.
The most important player in this high-profile match likely won't take the field at Pizza Hut Park. FCD defender George John won't feature after picking up two silly yellow cards in the 2-2 draw at Philadelphia on Saturday, but his absence and the buzz surrounding a potential move to Blackburn Rovers could exert plenty of influence on his teammates. John's absence will weaken FCD's normally formidable and steady back four, while his potential departure could serve as a distraction in the buildup to the encounter. Schellas Hyndman will do his best to urge his players to build on Wednesday's historic 1-0 win over Pumas in Mexico City, but FCD may just lack the energy and the focus to collect all three points.
Prediction: Draw.
Chivas USA @ Colorado – 9:00p.m.
Red-and-White coach Robin Fraser must figure out how to introduce Juan Pablo Angel into the mix ahead of this difficult trip to Commerce City. Angel probably should start off on the bench given his recent struggles, but Fraser may just wonder whether his unceremonious move across town may spark his new Colombian striker to life in front of goal. Fraser's men earned a point in Seattle last weekend – with the help of a missed penalty and a non-call, admittedly – without Angel and must submit a similarly committed performance against a Rapids side that has finally come into form over the past month or two. Mac Kandji's return to fitness and form (he scored twice against Isidro Metapan in Wednesday's 3-2 victory) may propel the MLS Cup holders further forward and prompt them to seal the points here.
Prediction: Colorado win.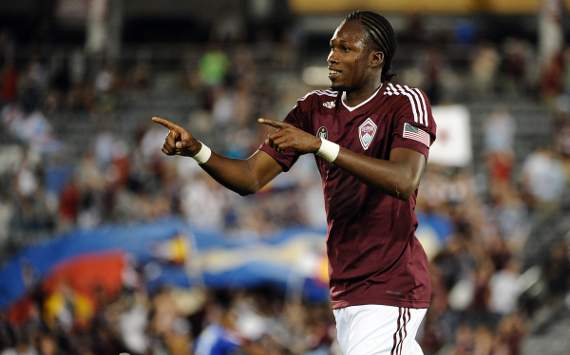 Vancouver @ Portland – 10:00p.m. (FOX Soccer/TSN)
Portland usually stumbles when it leaves JELD-WEN Field (see: a 3-1 defeat at Sporting Kansas City on Wednesday), but the Timbers possess enough quality to dispatch a completely out-of-sorts Whitecaps side at home without too much fuss.
Prediction: Portland win.
San Jose @ Los Angeles – 10:30p.m.
All eyes will focus on Robbie Keane as the Ireland captain prepares to make his Galaxy debut. Keane probably won't show up in midseason form – it is, after all, the end of his preseason – but he can rely on his movement and his pace to create problems for the Sam Cronin-less Earthquakes. For an out-of-form San Jose side that couldn't defeat or score upon Los Angeles at home on June 25 with Mike Magee between the sticks during the second half, this difficult task – and the increased scrutiny prompted by Keane's arrival – will probably prove too much to handle.
Prediction: Los Angeles win.
Sunday
Toronto FC @ Chicago – 7:00p.m. (GOL TV Canada)
Is there any doubt where the safe money lies in this affair?
Prediction: Draw.
Sporting Kansas City @ D.C. United – 8:30p.m.
United didn't play particularly well in its 1-1 draw at Chicago on Thursday, but Ben Olsen will worry more about Bill Hamid's hamstring injury than the final result. Steve Cronin came on at halftime and conceded yet another soft goal – a drive from Sebastian Grazzini squirted through his body – during the second half. If Hamid and Joe Willis (back spasms forced him out of the trip to Bridgeview) can't play, D.C. will have to entrust its hopes for its eighth straight road result (3-0-4 since a 4-1 defeat at Houston on April 29) to the shaky Cronin. It isn't a scenario that bodes well against a home side fresh off of a midweek demolition of Portland at LIVESTRONG Sporting Park.
Prediction: Sporting Kansas City win.
Kyle McCarthy writes the Monday MLS Breakdown and frequently writes opinion pieces during the week for Goal.com. He also covers the New England Revolution for the Boston Herald and MLSsoccer.com. Contact him with your questions or comments at kyle.mccarthy@goal.com and follow him on Twitter by clicking here.