Kandji twice equalized during a 3-2 win over Metapan in the CCL as well as setting up the winner during his triumphant return from an ACL tear.
The last time Macoumba Kandji scored a goal was on Nov. 21, 2010. That's when the 6-foot-4 forward notched to give the Colorado Rapids a 2-1 victory over FC Dallas. In that moment, Kandji's team earned the right to be called MLS champion, but his own involvement came to a skidding halt. The Senagal native tore his ACL, requiring eight months of intense therapy.
Wednesday night, Mac Kandji made his first start since, and once again played an instrumental role for the Rapids by scoring two goals and giving the MLS champs their first victory in CONCACAF Champions League.
"It feels very good," Kandji said after the match. "Not only to come back like that, but for my confidence as well. Being out for eight months, coming back, and getting two goals feels very good, and getting a win as well."
The time on the sideline didn't seem to affect Kandji's form. Besides his two goals, Kandji added the game-winning assist and tore through the Metapan backline time and again.
"I was very hungry," Kandji said. "I mean my whole life playing this game, every time I step on this field I try to give 110 percent. I knew it was going to keep on going like this every time I step over there because it has been awhile since I played just in competition. I was very grateful for that."
After Kandji's first goal, he made his way to the sidelines to hug a person crucial to his recovery: the team physio.
"That was the physios because they helped me a lot with everything," Kanji said. "And of course the coaching staff as well."
As for any rust during his first match back, Kandji says the adrenaline kept him going through the match.
"During the game, I don't experience anything, but after the games and after practices it is sore, of course," the 26-year-old said. "They took a big chunk out of my tendon. They say I am going to feel it for about a year."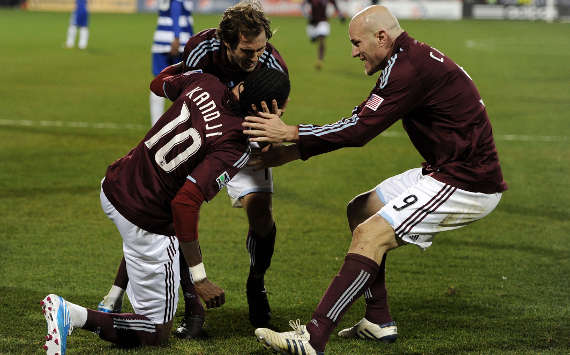 Big Mac | Kandji tore his ACL scoring the winning goal in the 2010 MLS Cup final
Coach Gary Smith, who recently lost star forward Conor Casey for the rest of the season, was also extremely pleased with Kandji's performance.
"It was a great homecoming," Smith says. "This was his first full start, and what an influence on the game! A game that at one point looked like it was getting away from us a little bit, but not only the goals were vital, but the timing of the goals, the skill, the trickery. It was a wonderful performance, and he must be delighted."