MLS All-Stars coach Hans Backe implemented his tactical plans during training on Tuesday, while his players discussed their approach to the game.
HARRISON, N.J. – It usually takes at least a couple of training sessions to install a comprehensive tactical plan to suit a specific opponent.
MLS All-Star coach Hans Backe doesn't have that kind of time. He had just an hour on Tuesday morning to implement and run through his approach for Manchester United.
Backe leaned on his experience against United to devise his game plan and also used a brief film session to update his players on United's romp through MLS over the past couple of weeks.
While Backe couldn't install a complicated setup in such a short period of time, he said he outlined the necessary basics to a group of players he believes is more than capable of adjusting to the situation and giving United a competitive game.
"Hopefully, we have built a team that has the shape we want, defending-wise and attacking-wise," Backe said after he put his temporary side through its paces on Tuesday morning. "It's not much, but we tried to do the basics. Hopefully, everyone has the understanding of how we want to play."
Expect plenty of attacking moves from an All-Star side with the requisite technical acumen to pose some problems for United. The problem – as it always seems to be in these wide-open exhibitions – with that expansive gambit rests with trying to keep out the opposition.
United's formidable attacking group won't include Javier Hernandez, but Sir Alex Ferguson will still rely on a cadre of dynamic and seasoned players capable of exposing the All-Stars on the counter and tormenting them in the wide areas.
"I think the strength will be the attacking game, but I just hope that we don't get killed with the way we try to defend tomorrow," Backe said. "There is a question mark about our defending, but attacking-wise, we could do well."
In an attempt to maintain some semblance of coherency in his approach and his side's efforts on the evening, Backe said he plans to substitute at two intervals to make sure every player features in the match and his game plan remains in tact throughout the match.
"We're going to try to give everyone minutes, definitely, but we're trying not to kill the game," Backe said. "With friendlies, sometimes, you do six subs in the second half and the game is killed. We will do perhaps four at halftime and four after 60 minutes. That's only two times we sub players and that's even less than a normal game."
Striking the right balance
Backe's substitution patterns (the snickering in the background, by the way, is coming from skeptical Red Bulls fans wondering if the Swedish manager will use them at all) betray the inherent tension with the persistent placement of the All-Star Game in midweek: the All-Stars want to show well and win the game, but they must also remember that a league match awaits for most of them this weekend.
Those considerations are tough to juggle on a night where the players must already weigh their desire to compete with their desire to put on a show in this high-profile exhibition match.
"It's a combination of both things," Houston midfielder Brad Davis said about allying competition with entertainment. "The game's meant to be fun. You have to express yourself on the field, you have to have fun. On the other side of it, you still take it seriously. You still want to win. Everybody's a competitor, everybody who steps on the field wants to win."
United's comprehensive 5-2 victory in this same fixture last season and its current tear through MLS sides adds yet another layer to the already complex mix. Although this match remains a friendly first and foremost, there is some pressure on the All-Stars to submit a decent showing at Red Bull Arena.
"It's not only (the defeat last year)," Real Salt Lake midfielder Kyle Beckerman said. "They've come into MLS and really put up a great showing. They've beaten all the teams that they've played so far. We've really got a chip on our shoulder to see if we can be the ones to get a result for the league."
Lying in the weeds in Salt Lake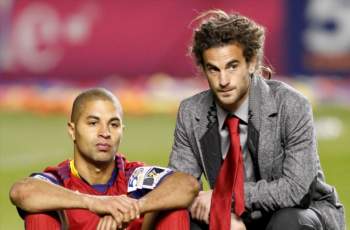 Beckerman believes his club side – and its four games in hand – is more than comfortable operating under the radar as the likes of FC Dallas, Los Angeles and Seattle capture most of the attention in the Western Conference race.
Beckerman said RSL needed to restore its confidence after a troubling spell in the wake of the CONCACAF Champions League final defeat to Monterrey and the injury to Javier Morales, but he contends his side has come out the other side of the lull, restored its trademark work in possession and settled into the rhythm it will need to continue its improvement in the second half of the season.
"You go from the toast of the league to down in the dumps and then you come back," Beckerman said. "And we still have half of a season left where the same things can happen. Hopefully, we just keep steady and keep improving. Hopefully at the end of the season, that's when we hit our form."
Searching for goals and results in San Jose
Any type of uptick in form would certainly suit San Jose at the moment as Frank Yallop's side hasn't won in its past eight games. A dearth of potency at the sharp end – the Earthquakes did not score in six of those eight matches – stands out as the primary problem for a side that can't seem to find any consistency in front of goal or in its starting XI.
"We're struggling with (scoring goals)," Earthquakes forward Chris Wondolowski said. "We just can't quite put it together right now. To be honest, the last two or three games, we've been creating a couple of decent opportunities – and I scored a couple of goals – but it's just one of those things."
Despite their recent struggles and their recent bit of simulation misfortune at Rio Tinto Stadium, the Earthquakes still retain the belief that they possess the necessary tools to turn things around during the second half of the campaign, according to Wondolowski.
"We still have confidence in our locker room," Wondolowski said. "We know that if we put a couple of wins together, we're right back in the middle of things. It's just one of those things where we have to pull together."
Kyle McCarthy writes the Monday MLS Breakdown and frequently writes opinion pieces during the week for Goal.com. He also covers the New England Revolution for the Boston Herald and MLSsoccer.com. Contact him with your questions or comments at kyle.mccarthy@goal.com and follow him on Twitter by clicking here.