The particulars of the trade struck between Houston and Portland on Thursday afternoon lead to one fairly obvious, though sometimes unusual, conclusion: this deal really does make sense for both sides.
Houston received Adam Moffat and an unspecified amount of allocation money in exchange for sending Mike Chabala, Lovel Palmer and the rights to an international spot through the end of 2011 to Portland.
The two teams could have probably expanded the swap to include Kenny Cooper – his name has come up in trade discussions in recent weeks, though the Timbers have yet to pull the trigger – if the Timbers wanted to include him, but the beauty in this deal lies in its simplicity for both clubs.
Portland desperately needed a pair of fullback to strengthen John Spencer's available options. Spencer hasn't received a consistent level of play from his fullbacks to this point in the campaign and the Timbers have struggled defensively as a unit. Chabala and Palmer can play in midfield – Palmer spent most of his time as a holding player, while Chabala is usually a left back – but they will likely address the needs at left and right back, respectively, for the Timbers. As an added bonus, the Timbers picked up an extra international spot to cover Palmer's addition to the squad.
In order to make this move, Portland gave up a fringe player in Moffat and a sum of allocation dough from its already sizable stash. The Timbers basically gave up excess assets in the hopes of picking up something potentially more important.
Houston can identify with that plan because it is basically the same approach it employed in this deal. Chabala and Palmer filled reserve roles for the Dynamo, while the lost international slot won't impact the side too much given the fact there are only four foreign players on the roster. Moffat's arrival adds another – and perhaps more rugged – option in holding midfield, but the money will likely prove more important to a side that needed some financial flexibility. Like the Timbers, the Dynamo only gave up what it could afford to give up without depleting its squad too much and acquired more suitable pieces.
The key to the overall outlook on the trade lies with how Houston ultimately uses its new trove of allocation money. While the lost dough probably won't hurt the Timbers all that much, the present balance will tilt in the Dynamo's favor if Dominic Kinnear and the Houston brass can shrug off their suspect record in the transfer market and land a capable forward who can contribute straight away. Until that juncture – and more information – arrives, this trade probably falls squarely into the win-win category.
Last week: 2/7 (29%)
For the season: 58/151 (38%)
Saturday
FC Dallas @ New York – 6:00p.m. (Galavision)
FCD remains a tough nut to crack these days – especially with Brek Shea tearing up opposing defenses at will – but the embarrassment of Wednesday's defeat in Colorado and the magnitude of this match may just jar the Red Bulls out of their current stupor.
Prediction: New York win.
Portland @ Columbus – 8:00p.m.
Moffat's two former MLS employers will meet at Crew Stadium as Portland hopes to notch its second consecutive road victory after winning at Chicago last weekend. Don't bet on a repeat if the Crew can stay organized while defending set pieces.
Prediction: Columbus win.
Toronto FC @ Sporting Kansas City – 8:30p.m. (GOL TV Canada)
TFC lost at home to a Brek Shea golazo after handing five players their Reds debuts in midweek. Their reward for improvement? A visit to face a Sporting side that hasn't lost in 11 matches. Even though TFC could and probably should make strides during the second half, it won't happen overnight and it won't start on the road.
Prediction: Sporting Kansas City win.
New England @ Colorado – 9:00p.m.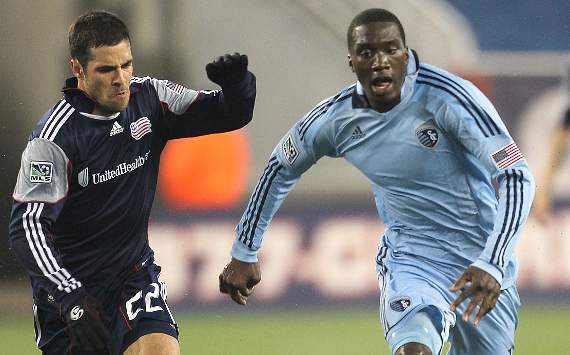 Colorado isn't historically a fun destination for the Revs (3-12-3) all-time, but they have secured two draws in their past three trips to visit the Rapids. A third point in four tries would probably suit them just fine after Wednesday's 1-0 win at D.C. United snapped a nine-match winless streak. The only problem: the Rapids may have just turned the corner after their emphatic, Sanna Nyassi-driven home win over New York.
Prediction: Colorado win.
San Jose @ Real Salt Lake – 10:00p.m.
RSL is just too consistent defensively to let the generally goal-shy – Chris Wondolowski's brace in Wednesday's 2-2 draw with Vancouver aside – Earthquakes leave Rio Tinto Stadium with any points.
Prediction: Real Salt Lake win.
Houston @ Chivas USA – 10:30p.m.
Chivas USA will have to overcome its poor home record (3-4-4) to pick up points in this fixture, but the absences of Colin Clark and Brian Ching through one-match bans should help the cause.
Prediction: Draw.
Kyle McCarthy writes the Monday MLS Breakdown and frequently writes opinion pieces during the week for Goal.com. He also covers the New England Revolution for the Boston Herald and MLSsoccer.com. Contact him with your questions or comments at kyle.mccarthy@goal.com and follow him on Twitter by clicking here.