D.C. United 0-1 New England Revolution
The New England Revolution earned three road points in a 1-0 win over D.C. Unitedon Wednesday night, snapping a nine game streak without a win in Major League Soccer.
New England goalkeeper Matt Reis was really the hero on the night, keeping United at bay despite being under constant pressure. Reis caught a break just before the interval as Charlie Davies blew a penalty over the top to keep the score level at halftime.
The second half offered much of the same, with United largely in control of the match but unable to slip one past the veteran keeper, and with just over 15 minutes remaining New England got the break it needed. Revolution midfielder Stephen McCarthy broke free of Ethan White on a corner kick and headed off the back post and into the net, giving the Revs a 1-0 lead.
United would test Reis on a few more occasions before the night was over, but he was up to the task and kept his clean sheet to preserve the points.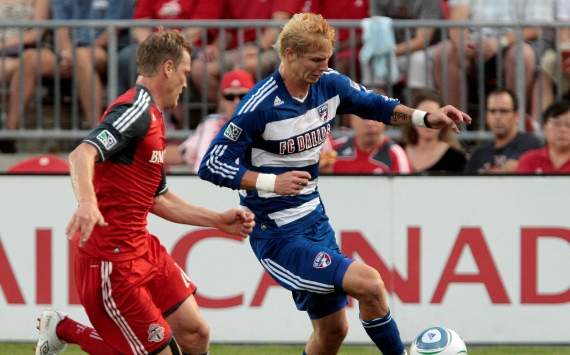 Toronto FC 0-1 FC Dallas
Danny Koevermans and Torsten Frings, Toronto FC's two new designated player, both went the full 90 minutes but couldn't prevent their side from falling 1-0 to FC Dallas on Wednesday night.

Brek Shea did the damage for Dallas, netting his ninth goal of the season just four minutes after the restart with a powerful left-footed shot that flew into the upper corner.

Toronto nearly equalized moments later and actually had the ball in the net, but an offside call on Joao Plata spoiled the chance.

Shea came close to netting his second goal in the 60th minute, but Toronto keeper Stefan Frei came up huge to keep his side in it. But the equalizer was not to be as Dallas' defense held firm and goalkeeper Kevin Hartman came up big when he was called on, preserving the shutout and win.

For Toronto, some solace can be had from a solid performance out of a group of players that have no real experience together. Along with Frings and Koevermans, TFC started newcomers Ryan Johnson, Andy Iro and Eddy Viator.

Colorado Rapids 4-1 New York Red Bulls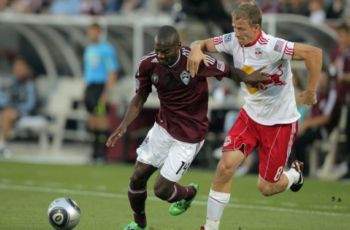 Sanna Nyassi may have Colorado fans feeling a bit better about losing Conor Casey for the season after his terrific night for the Rapids on Wednesday in a 4-1 win over the New York Red Bulls. Nyassi scored a brilliant hat-trick and made the Red Bull defense look amateurish at times in the process.
The show started just two minutes into the match as Nyassi combined with Omar Cummings at the top of the box before putting away a right-footed shot. Colorado got a second through Wells Thompson in the 26th minute after another Nyassi shot rebounded to the midfielder.
Nyassi scored his second 31 minutes in with a slashing run through the Red Bulls defense, which seemed to have no answer for his quickness, leaving goalkeeper Frank Roast with little chance of making a save.
The Gambian finished off his breakout night just after the hour mark by once again cutting up New York's back line, this time megging Carlos Mendes before slotting home.
Thierry Henry gave the Red Bulls something to be slightly happy about in the 67th when he took a pass from Juan Agudelo and netted New York's lone goal of the night, but the result was well in hand and the Rapids walked away with three well deserved points.
San Jose Earthquakes 2-2 Vancouver Whitecaps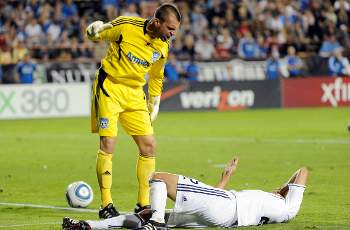 Despite holding two leads against the visiting Vancouver Whitecaps thanks to Chris Wondolowski, the Earthquakes drew with the team at the bottom of the Western Conference table.
Steven Lenhart was particularly guilty of causing fan frustration, missing two one-on-one chances in each half. Add to that two chances for the Earthquakes that came back off the woodwork, and an additional glaring miss from Chris Wondolowski, and it's two points dropped.
The Earthquakes had pulled ahead twice through Wondolowski, once at the beginning of each half. Each time, though, they found themselves pegged back by the work of Shea Salinas, a former Earthquake, who set up both equalizers for Eric Hassli.
A flurry of late chances couldn't separate the sides, and both leave with a point in tow.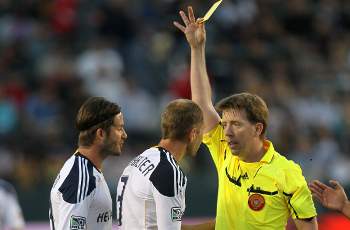 LA Galaxy 1-0 Columbus Crew
David Beckham had a bittersweet evening as his performance led to both a win and a suspension for the Los Angeles Galaxy's next match.
The 36-year-old midfielder delivered one of his trademark free-kicks in the 70th minute that ricocheted off Columbus's defensive wall and to the foot of Sean Franklin, who pounced to score his first Major League Soccer goal in the 1-0 victory. Franklin hugged Beckham in celebration, thanking the former Manchester United and Real Madrid star.
However, it wasn't all smiles for Beckham.
He lost his cool when he was booked for time wasting, almost earning another yellow card before being pulled away by his teammates. Due to his yellow card tally for the season, his eighth of the season, he is suspended for the Galaxy's upcoming match at Vancouver.
Replays show that the former England international was waiting for the defenders to back up the mandatory 10 yards before he attempted a free-kick. This continues the season-long word of wars between Beckham and MLS officiating.
"Maybe you should ask the referee. But when he sprays the lines, you expect him to enforce them," Beckham said. "It's just another bad call by the referee."
Los Angeles remains undefeated at home, going 11 games at the Home Depot Center without a loss.
It was a tightly contested match between the two sides as Columbus had eight shots on target and tested LA's defense. Josh Saunders, starting place of injured Donovan Ricketts, made six saves to earn his third clean sheet of the season.
Keep updated with Major League Soccer by visiting Goal.com's MLS page and joining Goal.com's

page.