The intricate tifos and swirling green (both rave and ponderosa) on display during Sunday's tilt between arch nemeses, the Portland Timbers and Seattle Sounders, indicate how far MLS has grown. But, unfortunately, not necessarily what MLS will become.
This type of tremendous support is unique to the Pacific Northwest and a few other hubs across the nation. Places like Columbus and New England in the foreseeable future won't be able to replicate these attendance numbers or the stadiums' atmospheres. Additionally, a dearth of expansion sites signifies that the string of sterling new franchises could end with Montreal next season.
Therefore, any prognosticating should be from the evidence on the pitch: the players. Portland and Seattle have both taken the latest approach to Designated Players, spurning the luminaries of Europe for the unproven commodities of South America. Diego Chará, Álvaro Fernández, and Fredy Montero are MLS's auguries; comprised of young DPs with reasonable salaries, the trio reveals the course of professional soccer in America.
It's easy for Chará, paired with the dauntless Jack Jewsbury at central midfield, to get overlooked in Portland. The subtleties of the bantam Chará's play, however, make him an ideal cohort for the recently elected all-star. While Jewsbury, the Timbers' captain, provides the tremendous service on set pieces and the grit expected from an MLS veteran, the Colombian possesses a refinement that is typically rare to expansion sides.
Chará, clad in white shorts that appear a size too large, finds spots on Jeld-Wen Field's cramped turf, acting as one of the few distributors in John Spencer's direct squad. He, like Julian de Guzman, makes up for his slight build by harrying opponents. Chará, for example, won a team-high four tackles in the match against Seattle. But unlike de Guzman, a player who has been derided for his exorbitant contract, Chará, only considered a DP because his transfer fee was applied against the salary cap, is able to make these simple contributions with a meager guaranteed compensation of about $144,000 for 2011.
Arriving after the completion of Uruguay's World Cup campaign, Fernández, flummoxed by America's rough defending, assimilated slowly with his new club. Entering this campaign, his acquisition was still being questioned. Luckily for Seattle, El Flaco, a sinewy outside midfielder with adept technique, has flourished in his second MLS season. Up until Montero's two goals this weekend, Fernández had been the Sounders' joint top scorer, having notched a respectable four tallies.
With his array of gaudy haircuts (I'd classify the current one as a gelled rattail) and the adventurous shots from impossible distances, Montero is the consummate egoist. But don't narcissism and audacity, a requirement of great attackers, go hand in hand? His mood swings and underwhelming work-rate might have tempered a move to Europe, but few in MLS can instantly produce moments of genius like the Colombian.
Montero's brace was the most blatant effect any of the three made on Sunday's proceedings, but both Chará and Fernández impressed. The Colombian fought off a swarm of Sounders, donned in their electricity kits, and sprung Jorge Perlaza who would use the break to cause Portland's second goal. Even John Harkes, one who rarely recognizes the understated, highlighted Chará's diligence in the goal's buildup.
Fernández, while no goals can be attributed to his runs or passes, used his gaunt frame to twist away from markers and acumen to unlock a claustrophobic final third. He'd hobble around the pitch, receive a pass, feint, and pass. The simplicity would often temporarily cleanse the match of its clutter.
What was most notable, however, was the minimal hubbub by ESPN or internet commentators about their – I mean Chára and Fernández's, Montero got plenty of press – performances. Now, neither was indispensable to their outfits, but that's sort of the point. Both could operate within their teams and accomplish their jobs without the stigma of the DP status and the constant need to justify their price tags.
Montero, Chará, and Fernández have three similarities: the three are under 25, are South American, and required transfer fees. The initial glut of cash pays out in the end. Once Thierry Henry or David Beckham retire, New York and Los Angeles can import a new round of international stars. This tactic, though, is still unreasonable for most of MLS. Instead they must follow, like usual, the lead of the Pacific Northwest.
Eventually, Chará will no longer count as a Designated Player – this could happen as soon as at the end of this year. The Timbers will still retain Chará, a perfect building block, and at a cut rate cost, leaving Spencer and technical director Gavin Wilkinson the opportunity to find the latest star. MLS's quality of play will swell with every new arrival from South America's obscurity.
Henry, Beckham, Márquez, and Donovan are the names that give MLS its luster, but (Fabián) Castillo, (Marco) Pappa, and Juninho are the reasons to be excited about the league's future.
Juan Pablo Ángel (Los Angeles Galaxy)
Started, played 77 minutes in 2-1 victory against the Chicago Fire.
The former Red Bull's statistics since moving west are fairly damning; Ángel has only mustered three goals in 18 appearances. If the Gals weren't atop the MLS table, more criticism would be directed towards the play of the struggling striker.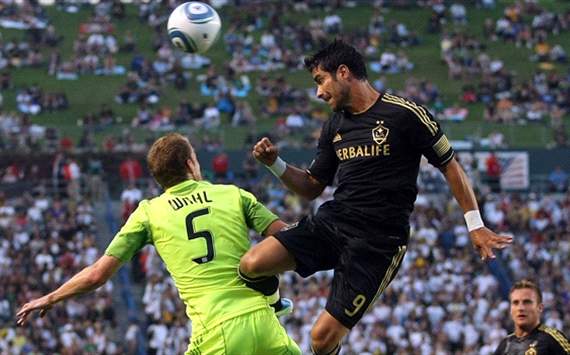 David Beckham (Los Angeles Galaxy)
Started, played 90 minutes in 2-1 victory against the Chicago Fire, assisted on Landon Donovan's goal in the 58th minute, and scored in the 65th.
A typically extraordinary and bizarre week in the life of David Beckham: he swerves in a corner kick for a goal (thanks to the ineptitude of Chicago's defense), names his first daughter Harper Seven, and gets picked to play in the MLS All-Star game. Only you, Becks.
Landon Donovan (Los Angeles Galaxy)
Started, played 90 minutes in 2-1 victory against the Chicago Fire, and scored in the 58th minute.
Donovan will be lining up alongside Beckham when Manchester United arrives for the friendly at Red Bull Arena. The selection of LD to the All-Star game, like his Galaxy teammate's, was fully deserved as Donovan tied Thierry Henry for the MLS lead in goals when he scored his ninth of 2011 on Saturday.
Thierry Henry (New York Red Bulls)
Started, played 90 minutes in 5-0 victory against Toronto FC, and scored in the 33rd minute.

Started, played 90 minutes in 1-0 defeat against D.C. United.
This week was the tale of two Thierrys. On Wednesday, Henry was explosive – his goal a just reward. But against D.C., he looked tired and was unable to accelerate past defenders. The fatigue meant that Henry had a minimal impact on the match despite his best efforts.
Rafael Márquez (New York Red Bulls)
Was not a member of the Red Bull squad in 5-0 victory against Toronto FC or in 1-0 defeat against D.C. United due to a hamstring injury.
Márquez, chosen to be a member of his first MLS all-star match, has excelled at times for New York this season, but I don't think his body of work has enough volume, injuries and the Gold Cup having the limited the Mexican to a mere nine league appearances.
Álvaro Fernández (Seattle Sounders)
Started, played 66 minutes in 3-2 victory against the Seattle Sounders.
Sigi Schmid perfectly used his substitutions to steal a victory from Portland. Fernández probed the left flank before being replaced by Lamar Neagle who used his speed to help create Montero's second goal.
Fredy Montero (Seattle Sounders)
Started, played 88 minutes, scored in the 57th and 74th minutes, and received a caution in the 58th minute for shirt removal.
There's little more to be said about Montero. He deservedly won MLS's Player of the Week honors and his dipping free kick could warrant the Goal of the Week as well.
Andrés Mendoza (Columbus Crew)
Started, played 70 minutes in 1-0 victory against the Colorado Rapids.
After tallying four goals in June, Mendoza has been blanked twice to start July. Fortunately for the Crew, the resolve of its defense means that La Pantera, Columbus' lone scoring threat, can have off nights and the club can still collect results.
Branko Bošković (D.C. United)
Was not a member of the D.C. squad in 1-0 victory against the New York Red Bulls due to an injured ACL.
Dwayne De Rosario told the media that D.C. is yet to initiate any contract discussions. When the club begins to work on retaining the Canadian, the future of the recovering Bošković will also have to be fleshed out.
Fabián Castillo (FC Dallas)
Was not a member of the Dallas squad in 2-0 defeat against Real Salt Lake due to international duty.
As the U-20 World Cup approaches, Castillo struck twice in a friendly against Boyacá Chicó, a club in Colombia's top division. July 30, when Castillo and Los Cafateros host France to start the tournament, can't come soon enough.
Alvaro Saborío (Real Salt Lake)
Started, played 88 minutes in 2-0 victory against FC Dallas.
Finally, some drama in Salt Lake. Sabo was peeved with his substitution from Satuday's match, leading to an argument between the Costa Rican and Jason Kreis. News on this front is a bit murky, but Saborío was left at home for Tuesday's Open Cup match.
Omar Bravo (Sporting Kansas City)
Started, played 90 minutes in 1-1 draw against the Colorado Rapids.Started, played 90 minutes in 1-1 draw against Chivas USA, and scored in second half stoppage time.
Bravo's one deficiency since transferring to Sporting has been faulty finishing. On Saturday, he atoned for any botched chances, hammering home a header at the death to preserve a point for SKC against Chivas.
Julian de Guzman (Toronto FC)
Was not a member of the TFC squad in 5-0 defeat against the New York Red Bulls or in 2-0 defeat against the Houston Dynamo due to knee swelling.
TFC's next match is not until July 20. The lull should give de Guzman time to recover, but the next time the Reds appear on BMO Field Torsten Frings and Danny Koevermans will be making their MLS debuts. The effect of the introductions on de Guzman should be fascinating.
Eric Hassli (Vancouver Whitecaps)
Was not a member of the Whitecap squad in 1-0 defeat against the Columbus Crew or 2-1 defeat against the Colorado Rapids due to a foot contusion.
Vancouver announced the signing of its second DP, Mustapha Jarju. Who? Remember, though, that few knew about Hassli before the Whitecaps signed the Frenchman.
Diego Chará (Portland Timbers)
Started, played 90 minutes in 3-2 defeat against the Seattle Sounders, and assisted on Jorge Perlaza's goal in the 69th minute.
One regrettable incident for the Sounders illustrated Chará's deceptive strength. Jhon Kennedy Hurtado and Chará both charged into a tackle that boomed when they came together. In the challenge's wake, Hurtado was left injured while Chará scampered around the pitch.
For wry non sequiturs follow Goal.com correspondent Avery Raimondo on Twitter @averyraimondo.