D.C. United and New York started the typical summer transfer comings and goings by striking a headline-grabbing deal on Monday afternoon.
On the surface, the trade of one prominent midfielder (Dwayne De Rosario) for another (Dax McCarty) looks like a straightforward swap of players who should benefit from yet another change of scenery.
It isn't quite that simple.
New York's motives, in particular, require some evaluation. De Rosario arrived from Toronto FC to much fanfare in April, but he has suddenly found himself shipped away by the end of June. It is a steep fall for a five-time MLS All-Star and a four-time MLS Cup winner and a curious move by a club with designs on lifting MLS Cup later this year.
De Rosario's contract status – $493,750 in guaranteed money this season (according to MLS Players Union documents), a club option in that neighborhood for 2012 (according to the Washington Examiner) and a vocal desire for a new pact to make him a Designated Player – likely played an instrumental role in his departure.
If De Rosario couldn't provide exactly what New York coach Hans Backe wanted from the most advanced player in his midfield diamond (two goals and four assists in 13 appearances probably makes it a toss-up) and it didn't look like he would fit into the Red Bulls' future plans, then it made sense to move him on for the right package.
By insisting upon McCarty in a straight-up trade, New York acquired an affordable and capable player to fill a different role and carved out an unspecified amount of wiggle room within the salary budget ahead of the summer transfer window.
Toronto FC is currently carrying a unknown, but potentially significant, portion of De Rosario's 2011 wages on its salary budget as part of the trade that sent the Canadian international to New York earlier this year. Although the exact apportionment of De Rosario's salary budget charge is unclear, it is likely that the difference in compensation levels between De Rosario and McCarty ($175,000 guaranteed, according to Players Union documents) will permit the Red Bulls to make a move sooner rather than later. Otherwise, there is little reason for New York to pull the trigger on the deal.
"The trade with DC is a straight one," New York general manager and sporting director Erik Solér told MLSsoccer.com on Tuesday. "We're ending up with some money as Dax's salary is less than (De Rosario's). We're going to do more moves in the summer. Money under the cap is good for us."
While those additions may prompt further inquiries about New York's tactical future, McCarty's arrival will likely force the Red Bulls to shift away from the diamond midfield Backe has preferred so far this season. Such a formation doesn't play to McCarty's strengths as a traditional central midfielder. FC Dallas and D.C. United have tried to play him in more advanced roles with only intermittent success, while a deeper role limits some of his energetic qualities. McCarty's inability to replicate his FCD form from last season – an influential stretch that included a central midfield role in front of the deep-lying Daniel Hernandez in FCD's 4-1-4-1 setup and prompted Bob Bradley to include him in the annual U.S. national team training camp held in January – with United should encourage Backe to cater to his ample strengths in the center of the park.
Flattening out the central midfield department – Solér called it playing two holding midfielders, but McCarty usually operates a bit further up the field than that – opens up another line of questions. It could add a little bit more solidity to a side that has leaked goals in recent weeks, but it will also place more pressure on Joel Lindpere and Dane Richards to assume more creative control in wider areas. All in all, the potential switch creates more uncertainty than the Red Bulls would have faced if they had retained De Rosario for the remainder of the campaign and places the onus on Solér to find an effective and moderately priced player in short order to make the move immediately worthwhile.
United won't have to deal with those concerns with De Rosario poised to slot straight into a free role behind Charlie Davies and Josh Wolff. De Rosario operates best without encumbrances, a fact D.C. coach Ben Olsen will certainly understand from his time in MLS. With De Rosario given ample room to float where he pleases, United should clear up the concerns about its attacking thrust through central midfield and mount an earnest playoff push. De Rosario's injection may, however, leave Clyde Simms with too much to do in his holding midfield role as wingers Andy Najar and Chris Pontius are also likely to push forward more often that not.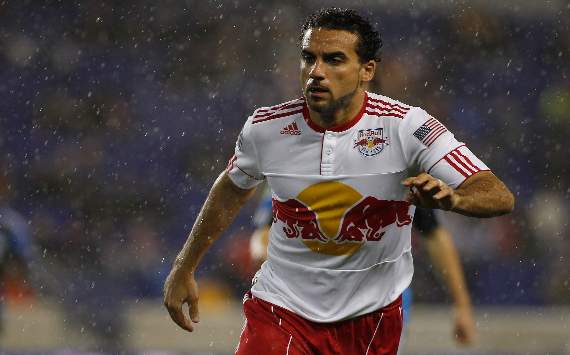 Although United may find itself more exposed at points defensively with De Rosario in the fold, it assumes very little risk off the field. De Rosario's contract demands are well known, but United possesses a trio of options at the end of the campaign: it can cut bait after what amounts to a steeply discounted six-month rental period (courtesy of TFC's salary contribution), it can decide to exercise his option for next season and see what happens, or it can negotiate a new deal to satisfy all parties. All three scenarios – plus McCarty's failure to settle in as a high-impact contributor after his offseason arrival from Portland – gave United plenty of latitude to pursue and ultimately land a player it has wanted for several months.
The sharp move to acquire De Rosario may not even count as the best deal United general manger Dave Kasper closed on Monday. D.C. sent an undisclosed amount of allocation money to San Jose in exchange for center back Brandon McDonald. McDonald has eyes for Europe when his contract concludes at the end of this year, but he should offer a physical presence for a United side in desperate need of some defensive depth for the remainder of the campaign.
San Jose may lose a proven defender, but it gains some flexibility without irreparably harming its roster. McDonald's departure hands the Earthquakes a bit of extra coin to spend during the summer window – San Jose boss Frank Yallop could use a steady right-sided midfielder and has expressed some interest in Preußen Münster striker Sercan Güvenişik after his trial stint earlier this month – while only stripping away one of four viable options in central defense. In terms of roster efficiency, this move deserves high marks.
(Note: Güvenişik's contract with Preußen Münster runs until June 2012. Münster officials expressed hope last week that he would stay with the club for its upcoming season in the 3.Bundesliga, according to German outlet Ahlener Zeitung.)
Although the McDonald deal lacked the complexity and the panache of the DeRo-for-Dax swap, it does provide a timely reminder that even the simplest of trades can potentially carry a significant impact as teams load up for the second half of the season.
Kyle McCarthy writes the Monday MLS Breakdown and frequently writes opinion pieces during the week for Goal.com. He also covers the New England Revolution for the Boston Herald and MLSsoccer.com. Contact him with your questions or comments at kyle.mccarthy@goal.com and follow him on Twitter by clicking here.
Follow Goal.com on

to get the latest soccer news directly. Check out Goal.com's

page; be part of the best soccer fan community in the world!