Charlie Davies, previously the feel-good story of American resiliency and potentially the elite striker the United States so desperately craves, has now ossified his role as a heel.
On Friday, MLS fined the D.C. United striker $1,000 for a dive against Real Salt Lake and publicly condemned the action. The blatant flop has earned Davies universal criticism, with the one-time hero now labeled a diver and a cheat.
"He just kicked it away and jumped over," Chris Wingert, who was whistled for the penalty which Davies converted in the 1-1 draw, said, according to the
Salt Lake Tribune
. "It's almost laughable."
Less laughable is Davies' steady transition from golden boy to villain. Let's start at the beginning.
Davies lunged straight from Boston College to Europe, skipping MLS to join Hammarby in Sweden. He took a while to adjust, but scored a hat-trick in the last game of the 2007 season. ("The hardest part for me was eating the right foods for dinner,"
Davies told me in January of 2009
. "That was the problem for me: really being professional on and off the field.") Fourteen strikes followed in 2008, before Davies headed to the Beijing Olympics, where he clanged a powerful header off the crossbar in the Americans' final game.
Davies first punctured the bubble of mainstream consciousness in 2009, when his insertion into the starting lineup alongside Jozy Altidore proved vital against Egypt in the last group stage match of the Confederations Cup. With the two young strikers playing off each other – Altidore all power and brawn and Davies making explosive runs beyond the defense – the U.S. defeated Spain en route to the final.
In August of that year, Davies became just the fourth American to score in the Azteca Stadium and then struck a brace off the bench in his debut for new club Sochaux in France.
He was, unmistakably, the brightest prospect in the United States. A kind demeanor in person and an upbeat, engaging Twitter personality quickened the courting stage between the soccer public and its new star.
Then the car accident.
The night before a World Cup qualifier in October, which Davies wouldn't have played in anyways because of an injury, the bubbly striker skipped curfew to hit up a night club and hopped into a car with a drunk driver. The one-car high-speed accident killed one passenger, Ashley J. Roberta, and left Davies' body horribly broken.
Months of rehab and scarring followed. In a way, missing out on the World Cup only strengthened Davies' popularity. He couldn't be blamed for the poor finishing or the loss to Ghana. Behind every Yankee fans' disappointed, pleading eyes, he was the lurking hypothetical. He became the 'If Only', and fans still believed the If Only could become reality once Davies fully healed.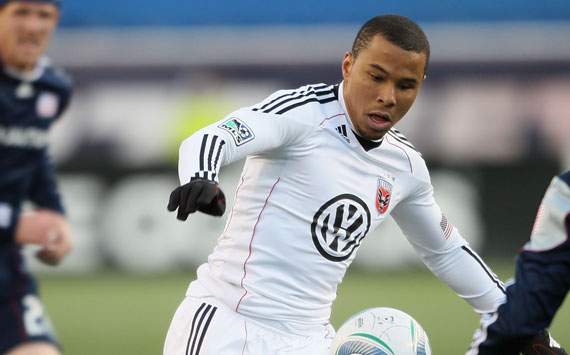 Earning his keep | Davies is currently on a year-long loan with D.C. United
Except that healing is taking longer than Davies' initial optimism led on. The 25-year-old left Sochaux on loan to find some playing time, but even for MLS standards Davies looks sluggish, his fist step behind the pace and his decisions far from sharp.
Even the dives are subpar, obvious and overacted in the eyes of all except the referees', who have awarded four penalties for his cartoonishly slow-motion flops.
Two moments helped ease the transition from starlet to goat. The first was a public attack on his club Sochaux for not clearing him fit enough to play in the World Cup, even when the evidence clearly backed up Sochaux and Bob Bradley's decision that he wasn't nearly ready. The second was a speeding ticket he picked up in France. Though Davies claimed teammate Jacques Faty was driving and that they switched seats behind tinted glass, the situation still rankled.
Now Davies has become the first player punished retroactively by MLS for diving. With the $1,000 fine and sternly worded press release, the league set welcome precedent on a high-profile subject. Yet Davies remains unrepentant.
"He even looked at me," Wingert said to the
Salt Lake Tribune
, "and was kind of like smiling. He knew. He said, 'That's football.' That's what he told me."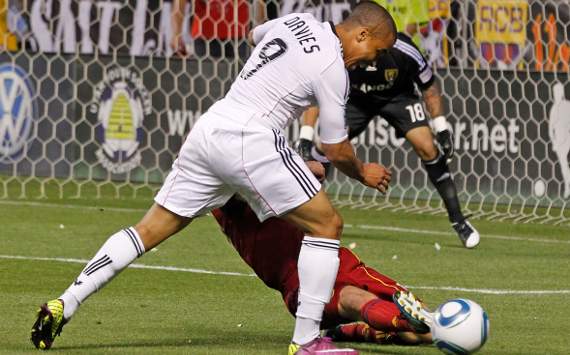 Fabricated contact | Davies went down without any contact from Wingert
"I think the ref made the call, that's what I think," Davies told the
Washington Post
. "I wouldn't use dive. I'd use embellishment. It's selling it, that's the word I'd use."
A distasteful haughtiness seems to prevent Davies from learning from his - by now ample - pool of mistakes. Davies likened his disingenuous flop to some of the best basketball players drawing fouls in the same interview with the
Post
.
"Great players do whatever they can to change the game," he said, clearly including himself in that group of great players. "It's something you shouldn't be ashamed about if you want to give your team an edge. That's part of the game."
Except there are things which should bring shame. Guilt is a useful emotion when channeled correctly, and without it public figures quickly morph into smug, one-dimensional caricatures. Confidence and vanity are not synonymous.
Davies' new-found role as unrepentant heel has started to color past events. Take, for example, his comments to the
Los Angeles Times
about his tragic car accident: "I don't really get sick of telling [my story] because it helps inspire a lot of people, so I'm glad that I can kind of be a way for people to move on past a difficult time in their lives."
Here's a kid who enjoys telling a story in which his friend (or at least a drinking buddy) dies. Not even the late David Foster Wallace, a character of whose in "Brief Interviews With Hideous Men" argues that positives can arise even from rape, could pull that off sympathetically.
Davies won't get sympathy any more. He slurped up what was left in reserve when he took that dive, if not before. For now he'll play the heel. At just 25, and considering the winding, turbulent arc his career thus far, that may not last very long, but it's bone-hard truth now.
Zac Lee Rigg is an editor of Goal.com. You may direct your hate mail through email or Twitter.
Follow Goal.com on

to get the latest soccer news directly. Check out Goal.com's

page; be part of the best soccer fan community in the world!