One potentially fatal flaw in New York's MLS Cup quest reared its ugly head again in Thursday night's 4-2 loss at Seattle.
Hans Backe's side simply does not defend set pieces well.
In an engaging and entertaining match that could have fallen either way, the Red Bulls lost out on any chance at a result because they permitted the home side to score three of their four goals from corner kicks.
The most frustrating part for Backe? It isn't a systemic problem. It is a matter of aggressiveness.
(Note: The Breakdown covered how the Red Bulls usually set up to defend corner kicks in May. The condensed version: New York constructs up a four-person zone in the goal area with two players at the front and back sticks, usually leaves a fifth person free in the middle to chase the ball and asks the others to man mark.)
More urgency from the Red Bulls likely would have likely prevented all three goals. On the first and second goals, Jan Gunnar Solli and Stephen Keel failed to hit clearing headers properly and watched in horror as Erik Friberg and Osvaldo Alonso fired home from the edge of the penalty area in quick succession. A static triangle of Red Bulls then allowed Roger Levesque to head home at the near post for the third goal.
(Note: Red Bulls fans probably cursed Greg Sutton after his generally shaky performance and his shocking contribution to Levesque's second and Seattle's fourth goal, but he's free of blame on these three tallies. His lack of culpability on the opening three goals definitely won't and probably shouldn't quell the discussion of whether it's time to restore Bouna Coundoul to the starting XI.)
Seattle's set piece success continues the Red Bulls' disturbing trend of conceding in dead ball situations. New York has now conceded nine of its 20 goals from set pieces, including five goals stemming from corner kicks. As those statistics suggest, the impending return of Rafa Marquez (an egregious offender against Los Angeles back in May) and Tim Ream won't immediately solve the issue.
It will take an universal uptick in aggression and awareness in order to address the weakness. With several set piece specialists potentially looming in the postseason (and, of course, as the regular season progresses), the Red Bulls can't afford to continue with their set piece status quo if they want to achieve their ultimate ambitions.
Last week: 4/9 (44%)

For the season: 43/119 (36%)
Saturday
Houston @ D.C. United – 6:00p.m. (Telefutura) – Goal.com Preview
Houston must replace the suspended Lovel Palmer in central midfield, but the Dynamo will probably face greater problems concluding D.C.'s decent run over the past seven matches (2-1-4, including a draw at Real Salt Lake last weekend) and overcoming its poor road form (0-3-4 on the campaign) in this affair.
Prediction: D.C. United win.
Los Angeles @ San Jose – 6:30p.m. (FOX Soccer) – Goal.com Preview
The peculiar time of this one – perched in the northern California afternoon to serve as the appetizer prior to U.S.–Mexico – may create some gridlock in a derby that hasn't always had its fair share of it.
Prediction: Draw.
Chivas USA @ Philadelphia – 8:00p.m. – Goal.com Preview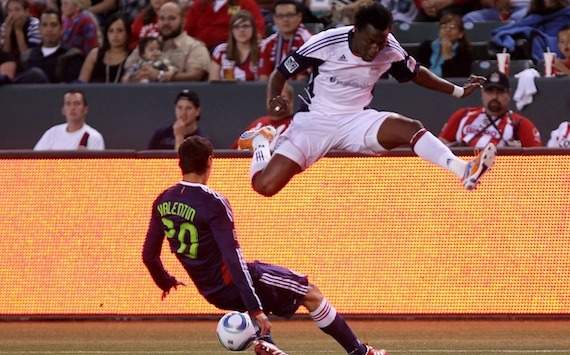 Red-and-White defender Zarek Valentin will return to his Pennsylvania roots for the first time as a professional. He and his teammates probably won't celebrate his homecoming with three points as the Union attempts to conjure up the proper response after a futile trip to British Columbia last weekend.
Prediction: Philadelphia win.
Portland @ FC Dallas – 8:30p.m. – Goal.com Preview
John Spencer's side managed to pull one over on FCD at JELD-WEN Field earlier this year, but the Timbers probably aren't in the type of form required to do the same against the possession-oriented FCD at Pizza Hut Park.
Prediction: FC Dallas win..
Vancouver @ Sporting Kansas City – 8:30p.m. – Goal.com Preview
One remarkable team goal and one cathartic home win won't cure the Whitecaps' ills away from Empire Field. Sporting Kansas City will welcome back Aurélien Collin from suspension after Wednesday's 0-0 draw at Philadelphia, but it must ward off fatigue from its midweek travels in order to secure the expected three points.
Prediction: Sporting Kansas City win.
Toronto FC @ Real Salt Lake – 9:00p.m. – Goal.com Preview
The Claret-and-Cobalt played out a scoreless draw in Chicago in midweek, but it will have to lean on the returning Jean Alexandre to carry the burden in its threadbare attack after Fabián Espindola tweaked his left hamstring against the Fire.
Prediction: Real Salt Lake win.
Sunday
New York @ Chicago – 2:00p.m. (ESPN/ESPN Deportes) – Goal.com Preview
Chicago extended its unbeaten run to six games and its streak of home draws to five (a MLS record) with that stalemate against RSL. With New York fatigued after its trek through the Pacific Northwest and still shorthanded through injury and international duty, the Fire should like its chances of a seventh straight result even with Thierry Henry bound to return from suspension. Cristian Nazarit's presence would help the cause, but he'll sit this one out as he completes his two-match ban.
Prediction: Draw.
New England @ Seattle – 4:00p.m. – Goal.com Preview
New England snatched a surprising win here back in 2009. It hopes to do the same again with Benny Feilhaber (ankle) back in the squad, but Sounders FC should have too much in the tank even with Osvaldo Alonso and Leo Gonzalez ruled out through suspension. Jhon Kennedy Hurtado's return after a one-match ban makes a second consecutive win at CenturyLink Field all the more likely.
Prediction: Seattle win.
Colorado @ Columbus – 8:00p.m. – Goal.com Preview
Both teams were on the end of a pair of shocking results last weekend. Expect a return to form as Colorado rebounds from its heavy home defeat to Los Angeles with Brian Mullan finally available (and Caleb Folan ruled out through suspension) and Columbus struggles to replicate its two-goal outburst in Houston.
Prediction: Draw.
Kyle McCarthy writes the Monday MLS Breakdown and frequently writes opinion pieces during the week for Goal.com. He also covers the New England Revolution for the Boston Herald and MLSsoccer.com. Contact him with your questions or comments at kyle.mccarthy@goal.com and follow him on Twitter by clicking here.
Keep updated with Major League Soccer by visiting Goal.com's MLS page and joining Goal.com's

page.