The Galaxy and Red Bulls each scored three goals in week 14, and each have two players on the week 14 Best XI.
Goalkeeper
Sean Johnson, Chicago Fire: The sophomore goalkeeper was in excellent form over the weekend, coming up with a number of big saves to give his side a well-earned point and cement a solid start under Frank Klopas.
Defenders
Sheanon Williams, Philadelphia Union: Although he found himself on the losing end of proceedings on Saturday, Williams used the occasion the showcase his talents as one of the league's premier right backs. His speed and athleticism allowed him to move up and down the right flank with ease, and while he could show some more aggression in the final third, he was still easily the best Union player on the field against Vancouver.
Aurelien Collin, Sporting Kansas City: An MMA bout was the analogy thrown around the press following Collin's intensely physical battle with San Jose Earthquakes striker Steven Lenhart on Friday evening. In the end, Collin came out on top (and with a nice bruise on his head) and thanks in no small part to his battling play Kansas City earned a clean sheet and its first win at its new home.
Jay DeMerit, Vancouver Whitecaps FC: Alain Rochat will make the highlight reels for his stunning winner against Philadelphia, but the best Whitecaps defender on the field was Jay DeMerit. He helped to prolong Sebastien Le Toux's frustrating 2011 with a battling display on the air and on the ground, and much like Collin, he helped his team to a sorely needed clean sheet and win.
Todd Dunivant, Los Angeles Galaxy:
Dunivant might not be one of the first few names that comes to mind when you think of Galaxy players, but he has quietly established himself as a force at left back for Los Angeles. Against Colorado he patrolled the left flank with ease and denied Colorado effective use of its wingers, a vital tactical consideration.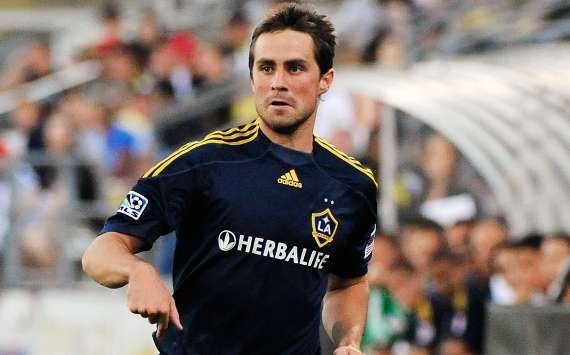 Midfielders
Austin Da Luz, New York Red Bulls: While the young midfielder struggled in his first couple of starts earlier in the month, he showed none of those rookie jitters on a wild Sunday evening in Portland. He opened the scoring with a well taken shot from the edge of the area and keyed Thierry Henry's goal and the subsequent New York comeback with a well-weighted through ball.
Andrew Jacobson, FC Dallas: Jacobson has been quietly getting it done for Dallas in the center of midfield and the results have been nothing to chafe at. He set up both of Dallas' goals in the Hoops' win at Chivas USA and bossed the midfield for good portions of the game, solidifying his status in Schellas Hyndman's first choice XI.
Juninho, Los Angeles Galaxy: Another dominating midfield performer, Juninho showed great vision to catch Matt Pickens out and net what would stand as the winning goal. With the clock dwindling, he then assisted Chad Barrett's goal with a great entry pass, quashing any hopes of a Rapids comeback.
Bernardo Anor, Columbus Crew: The Crew seem to find new contributors to step up every week and this week it was winger Bernardo Anor, who put the Houston defense to the sword with his smart play up the wing. He scored a good goal and set up Andres Mendoza's second with a great run and finish, ensuring his Crew overcame a resilient Dynamo side.
Forwards
Thierry Henry, New York Red Bulls: While the main talking points of Sunday's 3-3 draw at Portland will be his red card and the quality of officiating, it should not overshadow another fine performance from the veteran Frenchman. He not only set up Austin Da Luz's opener, but jump-started New York with a run and finish reminiscent of his Arsenal days.
Freddy Montero, Seattle Sounders FC:
Montero excelled after being given more of a free role by Sigi Schmid against Toronto. The crafty Colombian darted across the attacking line, creating chances for his teammates before winning the game with a stunning free kick.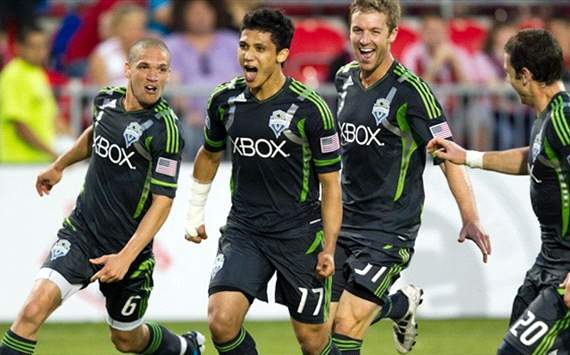 Formation (4-4-2):
Johnson
Williams-DeMerit-Collin-Dunivant
Da Luz-Jacobson-Juninho-Anor
Henry-Montero
Bench: Jimmy Nielsen (Sporting Kansas City), Alain Rochat (Vancouver Whitecaps FC), Julius James (Columbus Crew), Kyle Beckerman (Real Salt Lake), Brek Shea (FC Dallas), Chris Pontius (D.C. United), Dominic Oduro (Chicago Fire)
Coach
Bruce Arena, Los Angeles Galaxy: Arena has been occasionally criticized this season for playing too negatively and grinding out one goal wins, but he got his tactics just right in Saturday night's 3-1 win at Colorado. The Galaxy was aggressive, holding Colorado's wingers in check and staying close to Colorado's imposing strike pair of Conor Casey and Caleb Folan, with Folan eventually seeing red from a challenge partly born out of frustration. Furthermore, Arena was able to guide his team to the three points without the likes of Landon Donovan, David Beckham and Donovan Ricketts, quite possibly the teams three biggest contributors in the 2011 season.
You can follow Nick Rosano on Twitter for more Earthquakes and MLS chatter @nicholasrosano.