FOXBOROUGH, Mass. – Chicago interim coach Frank Klopas and his players forged a bond well before he took over for Carlos de los Cobos on May 30.
Most of the players under his stewardship arrived because he brought them into the club as technical director. His future with the Fire is invested in them. Their future remains in his hands.
The current circumstances in Bridgeview inextricably link the futures of all parties involved. They also explain why Klopas possesses so much faith in his youthful squad.
"I believe in the players," Klopas said after Saturday night's 1-1 draw at New England extended the Fire's unbeaten run to five matches. "It's a new group with a lot of new players. It's always going to take time for them to gel, but I think you need continuity."
Klopas kept faith with the starters de los Cobos preferred, but he altered how he wanted them to approach the game.
De los Cobos vacillated between several formations this season as he attempted to find the best fit for his expansive, possession-oriented approach and the players at his disposal. His tenure concluded with a spell in his preferred 4-1-4-1 setup, though he had also employed 3-5-2 and 4-4-2 formations at points during the early stages of the campaign.
The chopping and changing – plus the usual injury issues – under de los Cobos left the Fire with little consistency and coherency in its outings from game to game. Chicago created plenty of chances with its speedy attacking pieces, but it also shipped far too many poor goals (including six from set pieces) to post results on a regular basis.
Klopas decided the path from also-ran to playoff contender started with picking a formation (4-4-2, in this case), sticking to it and tinkering with the defensive shape to eliminate the soft spots. The new outlook addressed the persistent holes at the back and encouraged quick attacking moves on the counter.
"The one thing that we adjusted right away was team defending as a group," Klopas said. "We were giving (away) opportunities. We adjusted in certain areas, we tried to stay compact – even though the game (against New England) was kind of wide open – and we tried to give players confidence. That's an important thing."
The uptick in results reinforces Klopas' emphasis on confidence and shape. Chicago has collected six points in its four games under Klopas (including its first win since March 26) after snaring just nine points in its first 11 matches. The Fire even cobbled together a 324-minute shutout streak before Rajko Lekic scored in the second half to give the Revs a share of the spoils at Gillette Stadium.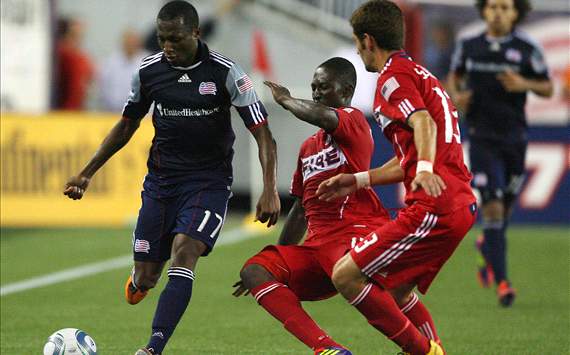 Chicago captain Logan Pause credited Klopas' adjustments in the locker room and on the training field for the recent improvements.
"At the end of the day, systems help, but they can go either way," Pause said. "A lot of it is the players that you have out there, the mindset and the work you put in during training. We've done a much better job of being prepared and going into games as a unit with a game plan of what we're trying to achieve."
Most of the focus under Klopas' temporary watch should fall on shepherding along a bevy of young and talented players. Pause represents one of the few seasoned figures in a callow squad with its best days ahead of it. Patrick Nyarko (healthy once again after a battle with concussion symptoms) and Marco Pappa (poised to return from CONCACAF Gold Cup duty with Guatemala in time for Wednesday's match against Real Salt Lake) already stand out as established and talented regulars who could feature in any team in the league, while Jalil Anibaba, Orr Barouch, Corben Bone, Yamith Cuesta (a tidy, under-the-radar snag from Chivas USA earlier this year), Baggio Husidic, Sean Johnson and Cristian Nazarit all hope to one day reach or exceed that level.
"We're in a good spot," Pause said. "We're excited. We have a lot of youth that I think, with some time, will be a strong core for this team and (the) organization moving forward."
The future may look bright, but it is uncertain how the rest of this season will progress. Klopas must improve his squad during the transfer window – one player on each line, with perhaps a second addition at the back, would represent the ideal haul – to strengthen a group that doesn't appear quite up to par with the genuine playoff contenders. The return of oft-injured duo Josip Mikulic and Marko Maric would also help in defense and midfield, respectively, if Klopas can't or won't make wholesale changes, but both players have struggled to stay healthy so far in 2011.
For now, Chicago can point its improved performances and its satisfactory results as proof of its progress at the start of Klopas' temporary reign. The continued growth of the players already in place – and Klopas' continued faith in them – could prove vital for the Fire as it continues to sort out its direction in the medium- and long-term.
"The most important thing is that the guys have a very good attitude," Klopas said. "We continue to talk about the goals we set early on and how to reach those goals. Everyone's focus is heading one way. That's a good team mentality. It doesn't mean we're going to win every game, but as long as everyone gives 100 percent, I think that's what we're looking for."
Five Points – Week 14
1. Puerari sale creates some, but not much, flexibility for the Fire: In a rather sudden bit of transfer news, Chicago sold forward Gaston Puerari to Club Atlas on Wednesday. The deal didn't catch the Fire by surprise. Klopas said on Saturday that the Fire knew there were Mexican clubs interested in Puerari's services when the club signed him earlier this year. When Atlas expressed its interest and then tabled an offer over the past week, Klopas decided the package on offer made sense for the Fire and for Puerari.
While Puerari's departure may not open up a significant amount of budget room – the Uruguayan forward was slated to make $50,000 in base salary this season, according to MLS Players Union documents – for a Fire side with enough of it already, it does open up an international player slot to use during the summer transfer window. Klopas said the Fire plans to weigh its options carefully before making its move.
"We have players already in our database that we've already followed and looked at," Klopas said. "We need to make a decision on which one fits best for us in the short- and long-term."

2. It only takes one moment of brilliance to decide a poor game: There were few positive talking points in the wake of Sporting Kansas City's ragged 1-0 win over San Jose on Friday night, but the lone goal of the evening – C.J. Sapong timed his run to perfection to poke home Graham Zusi's inviting near post ball – offered a rare glimpse of class to decide the affair. The effort didn't even crack the top three on the weekend – Juninho's long-distance rasper in Los Angeles' 3-1 win at Colorado, Fredy Montero's free kick in Seattle's last-gasp 1-0 win at Toronto and Alain Rochat's stunner for Vancouver (more on that tally later) all ranked ahead of this collective effort – but it did more than enough to settle this encounter.
3. If the Disciplinary Committee wanted to make an example of a diving forward, then it finally has the perfect incident to do so: Charlie Davies has picked up a bit of a rap this season for his willingness to go to ground, but he outdid his previous exploits to win the tying penalty kick in D.C. United's 1-1 draw at Real Salt Lake. Davies somehow managed to con Terry Vaughn into pointing to the penalty spot despite the utter lack of contact made by Chris Wingert on his tackle. Davies tucked away the resulting spot kick to secure a point, but his blatant and unpunished simulation may provide a talking point well into the middle of the week.
4. Vancouver ends its record-setting slump in style: Alain Rochat – with ample aid from Davide Chiumiento's stunning run through midfield – curled home with the inside of his left foot after 12 minutes to give the Whitecaps a 1-0 victory over Philadelphia. Despite a few nervous moments in the late stages against an out-of-sorts Union side, Vancouver kept its lead and snapped a 14-match winless streak at the final whistle.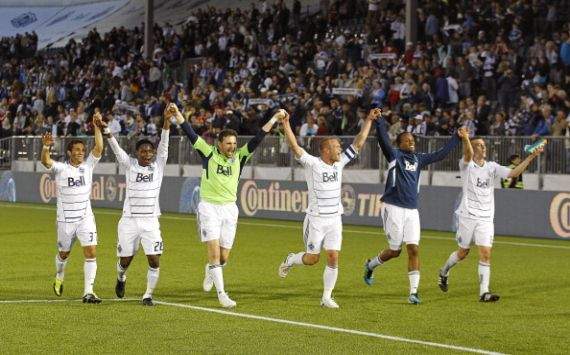 5. Another stunner in Portland as Red Bulls secure late, late draw in crazy game: Dwayne De Rosario's 96th minute penalty capped one of the most entertaining matches of the season as New York and Portland shared the points in a 3-3 draw on Sunday night. This match literally had it all: six total goals, three straight tallies by the home team, two penalty awards, two goals scored in two minutes (by Portland shortly after halftime), one missed penalty (by Jack Jewsbury), one terrible penalty conceded just before the final whistle (Rodney Wallace's handball on De Rosario's cross to set up the tying goal) and one off-the-ball red card (presented to Thierry Henry for some dispute with Adam Moffat). In the end, the result seemed fair after New York bossed the first half and Portland responded furiously in kind after halftime. But this match will be remembered for the journey itself, not its final outcome.
Kyle McCarthy writes the Monday MLS Breakdown and frequently writes opinion pieces during the week for Goal.com. He also covers the New England Revolution for the Boston Herald and MLSsoccer.com. Contact him with your questions or comments at kyle.mccarthy@goal.com and follow him on Twitter by clicking here.
Follow Goal.com on

to get the latest soccer news directly. Check out Goal.com's

page; be part of the best soccer fan community in the world!