SANDY, Utah -- Fabian Espindola converted a penalty kick in the 38th minute for Real Salt Lake and Charlie Davies did the same for D.C. United in the 85th minute as the two teams played to a 1-1 draw in front of 16,841 fans at Rio Tinto Stadium. Both teams will rue their missed chances as both could easily have earned the full three points, and because of that, this draw felt like a loss for Salt Lake's players.
"When you have a late lead and you give it up and tie, it feels like a loss," said RSL captain Kyle Beckerman. "It's a bit disappointing."
As has been the case lately, Salt Lake came out of the gate slowly. United kept RSL pinned back in its own half for the first 25 minutes, but could not manage to get on the scoreboard. Real head coach Jason Kreis felt that his team was turning the ball over too easily, enabling the visitors to keep the pressure on.
"I don't think we were good enough with the ball," said Kreis. "I thought we kept giving it away cheaply. We kept giving it away in our half."
During that time, it was the timely defensive efforts of Jamison Olave that kept D.C. from being able to break through. Twice he came up with potential goal-saving tackles. When RSL did finally begin to assert its dominance, it didn't take long for the club to break through. In the 38th minute, Beckerman dribbled down the left edge of the penalty box and prepared to deliver a cross. Clyde Simms slid in to attempt to block the cross, but he overshot the target and Beckerman's cross hit Simms' hand as it trailed above his head. Though the handball was clearly unintentional, referee Terry Vaughn had little choice but to point to the spot. Espindola made no mistake on the penalty and RSL went up 1-0.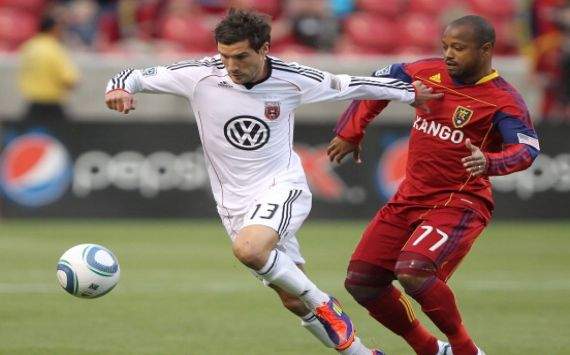 However, Vaughn would find himself the center of attention again in the 85th minute. After a botched free kick by RSL, D.C. had a counterattack that saw Davies isolated against Chris Wingert. Wingert slid to block the impending shot by Davies, but Davies went flying and Vaughn again indicated a PK. Davies took his own PK and converted it to give the final 1-1 scoreline.
Replays showed little or no contact on Davies, so the penalty will doubtless remain a topic of much controversy among fans. There was no controversy in the Salt Lake locker room, though, with Wingert saying "it wasn't even close" and Kreis answering all media questions about the penalty with a swift "no comment." Players admitted that the impact of the officiating made it hard to focus on their play.
"It's frustrating," said Beckerman. "Referees are trying their best, but sometimes it's not good enough."
But tough calls aside, RSL has to feel elated to not lose the match outright, but also unlucky for not putting D.C. away. Twice Chris Pontius hit the crossbar for United, including in the 93rd minute off a clever free kick play. Nevertheless, the controversial penalty call would have been a moot point if Salt Lake could have done one thing in particular better in the second half.
"Score," said Wingert. "It sounds silly but it's true."
It's a short turnaround for Real Salt Lake now as the team must travel to Chicago for a Wednesday night date with the Fire. RSL will be anxious to try to put together a complete 90 minute effort, a feat that has eluded the club lately.
"We need to continue to try to improve in every aspect of our game," said Kreis. "We're not asking for huge improvements, just little improvements. The possibilities are there."