FC Dallas climbs into the second spot as change sweeps through the top five of the Rankings.
1. Los Angeles –
No team has played more than the Galaxy's 15 matches. No team is currently within seven points of the Galaxy's 29-point haul. And no team can match the Galaxy's streak of four wins on the trot. It's fair to say the Galaxy have constructed a cushion at the top for the moment. (1)
2. FC Dallas –
Schellas Hyndman's side has not lost in eight consecutive matches after Saturday's 2-2 derby draw with Houston. (4)
3. Philadelphia –
Scoring goals? Is anybody in Philly still worried about scoring goals? (6)
4. Seattle –
Textbook example of a great response: handing Real Salt Lake its first home loss in MLS play since May 2009 after slipping to a home defeat against FC Dallas in midweek. (5)
5. Real Salt Lake –
RSL allowed as many goals against Sounders FC (two) as it conceded in its previous eight MLS matches this season. (2)
6. New York –
In five matches during the month of May, the suddenly stumbling Red Bulls posted four draws and a loss. (3)
7. Colorado –
Speaking of stalemates, the injury-ravaged Rapids have drawn five consecutive games. (7)
8. Portland –
The fine run at JELD-WEN Field had to end sometime. The bitter carping about JELD-WEN Field's cozy dimensions – and the way it plays into the Timbers' steady diet of set pieces – won't stop any time soon. (8)
9. Chivas USA –
Rest assured that Robin Fraser had a few words for his side after it permitted the lead to slip on three separate occasions in Columbus on Saturday night. (9)
10. Houston –
Is Brad Davis the front-runner in the MVP race right now? (10)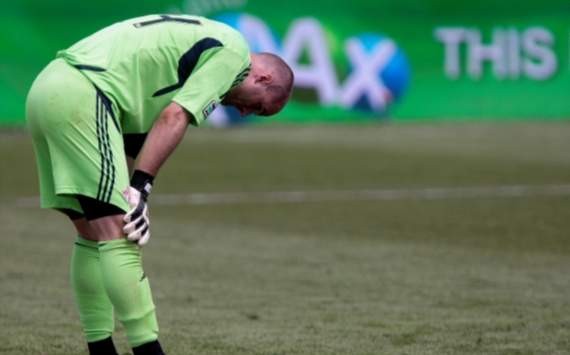 Rock Bottom | Stefan Frei and Toronto FC drop to last place
11. San Jose –
The hard work now begins with Chris Wondolowski away with the U.S. national team for a few weeks. (11)
12. Columbus –
Bad news for the Crew: the city of Columbus is poised to enter a long period of Buckeye-related mourning. (12)
13. D.C. United –
Can United build on its potentially season-changing win over Portland? (14)
14. New England –
Number of goals from the run of play in the past five matches: zero. (13)
15. Chicago –
Did anyone expect Carlos de los Cobos to make it through the season? (16)
16. Vancouver –
Teitur Thordarson probably should have seen the writing on the wall from the moment Whitecaps FC handed him a one-year contract during the close season. (17)
17. Sporting Kansas City –
If Sporting can secure a second consecutive road result after picking up a point in Colorado this weekend, it would carry a bit of momentum into its long-awaited home opener against Chicago on June 9. (18)
18. Toronto FC –
Saturday simply can't happen again. (15)
Kyle McCarthy writes the Monday MLS Breakdown and frequently writes opinion pieces during the week for Goal.com. He also covers the New England Revolution for the Boston Herald and MLSsoccer.com. Contact him with your questions or comments at kyle.mccarthy@goal.com and follow him on Twitter by clicking here.