On Form
D.C. United:
The defense. It was hard to imagine that would have been the case when United conceded eight goals in two games last month. But since that hiccup, United has conceded just two goals in three MLS games. Consistency has played a big part in the resurgence, as Ben Olsen has played the same back four and keeper in the last three matches. Being able to grow as a unit has allowed the Black-and-Red to pick up five points from the last nine available, but they will be tested again in Portland.
Portland Timbers:
Saturday night's recipe for the Timbers: a smidgen of revenge with a heaping scoop of home-field advantage. For Portland, nothing is better than home cooking. At JELD-WEN Field in Portland, the Timbers are nearly unbeatable. In seven matches on their home field, the Timbers have gone 6-1-0 (including U.S. Open matches). That includes a 1-0 win over Columbus last Saturday. Eric Brunner was the lone scorer in the match, helping the Timbers oust his former club.
Off Target
United:
Fit strikers. With both Josh Wolff and Charlie Davies battling injuries, Olsen might have a selection headache against Portland. His two best strikers could potentially miss the match in the Pacific Northwest, and the two likeliest candidates to replace them- Joseph Ngwenya and Blake Brettschneider, have zero goals between them in league play this season. The best case scenario this weekend is that Wolff could make the start, and Davies could come off the bench, but for the time being, that is a stretch. Without either of them playing, goals will be difficult to come by against Portland.

Portland:
It came as a pleasant surprise that Timbers defender Steve Purdy got a spot on the El Salvador roster for the upcoming CONCACAF Gold Cup. Purdy will join El Salvador when they take on Honduras in a friendly match on May 29 in Houston. Purdy joins fellow-MLSer Arturo Alvarez (Real Salt Lake), along with 21 non-MLSers in Group A, kicking off June 5 at Cowboys Stadium in Dallas, Texas, against Mexico.
Tactics
United:
Olsen has three options up top, assuming both Wolff and Davies can't start. He could play Ngwenya and Brettschneider up top, but Blake is inexperienced, and that would leave him with few options off the bench later in the game. What is more likely is that either Chris Pontius or Santino Quaranta is played as the second forward alongside Ngwenya. Neither is a true forward, so it may appear to be a five man midfield, but both have experience playing further forward, and Pontius has three goals to his name already this season. That might make him the more logical choice for Olsen, which would mean that either Quaranta or Fred would play opposite of Andy Najar in the midfield.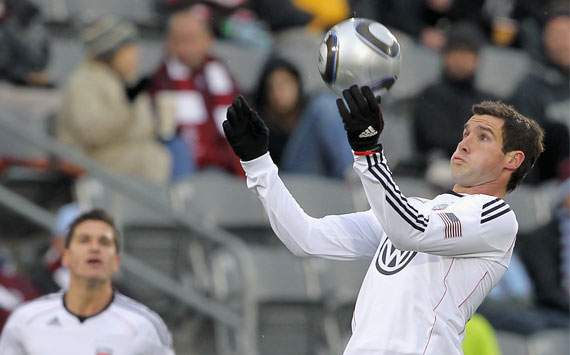 Pontius | Could see time at forward Sunday
Portland:
Coach John Spencer switched things up in the match vs. Columbus last weekend, going to a 3-5-2 formation from the traditionally-used 4-4-2. They won the game, but didn't generate much offense. Portland only possessed the ball 46 percent of the game, taking ten shots, only two of which were on target. Against a DC United team that usually boasts a 3-4-3, it would serve them best to return to a four-back defensive unit.
Intangibles
United:
This is the first matchup between Portland and United as we know them today, but with Portland's unbeaten streak at home, the chance to be the first team to take something from JELD-WEN might give enough motivation to D.C. to earn a point or three away form home. Their away form has been woeful so far this season, but with Olsen at the helm, this team can manage a surprise or two.

Portland:
Jake Gleeson held his own for the Timbers in his spot duty in the early going. In four games, Gleeson made three starts, going 2-0-1 and only allowing six goals on 17 shots. But even with his success, the Timbers have really hit their stride since originally-slated starting keeper Troy Perkins got back in the nets. After a rough 3-0 loss in Los Angeles in his first start of the year, Perkins has gone 3-0-1 in his last four outings, allowing one goal. Perkins' leadership from the back has led to the team's three regular season clean sheets.
Outcome
Steven Streff:
Does anyone actually expect United to be the first team to take a point away from Portland? No, and there is a good reason why. United just doesn't possess the winning mentality yet to go into a difficult environment, and come away with something to show for it. United will score, but fall 2-1 to Portland.
Giovanni Albanese Jr:
The expansion club has really been on a roll of late. DC United is well rested, not playing since May 14- a 1-1 draw at home vs. Colorado. A raucus crowd in Portland should prove to be the difference, with the Timbers prevailing, 1-0.
For more on Major League Soccer, visit Goal.com's MLS page and join Goal.com USA's Facebook fan page!